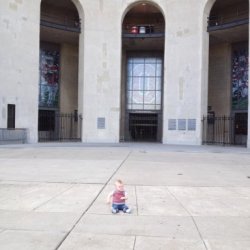 SuomiBuckeye
---
MEMBER SINCE April 04, 2016
Recent Activity
Win and we're in. Doesn't matter what a poll right now says IMO.
It's a tie for best price between this one and the one where Dwight puts on the CPR dummy face as a mask!!
You have no idea the physical toll three vasectomies have on a person!
Has this guy been right about anything so far??
Just watched the clip. He states that an 8 game schedule has been put out by Scott Dochterman and then breaks it down and analyzes each schedule. Clearly it's a just a suggestion and does not provide any solid info.
This is not only a great meme but also a great ep of Friends!!
I need to actually get some work done today so if they could just figure this out and I'll let myself off this rollercoaster, that'd be great.
This guy also tweeted yesterday that B1G ball is back on the table for fall and the presidents and ADs were meeting at noon, which turned out to be totally inaccurate. I think he's playing some folks.
Which is worse: this drama or the drama on the day that UFM's suspension was announced???
My Garmin synced today for the first time! But manually uploading is also easy in the event yours isn't firing on all cylinders yet.
Running mine on Saturday. Though I did run 6 this morning and I should have just thrown the shirt on but that's okay, I've been planning for Saturday all along.
If you need more recommendations I have plenty: Pancake Rock (bit of a drive but wonderful), Section 16 / Palmer, anything at Garden of the Gods, Raspberry Mountain, Blodgett Open Space, Ute Valley, Pulpit Rock is decent for being a little more "in town", Barr trail for as much as you can handle (but at least up to Barr Camp), Cheyenne Mountain SP, Roxborough SP up closer to Denver is really cool. Alltrails should have good routes for all of these!
Oklahoma. Lived in Tulsa for 10 years and their fans are insufferable.
We almost hit up State Forest State Park last time we were there! But then we decided to go to Strawberry Hot Springs for a 2nd day instead LOL. I'm a sucker for hot springs (hence why Pagosa is also one of my faves).
I live in Colorado Springs and the hiking is phenomenal. My local fave is anything in North Cheyenne Canon (Columbine Trail, Buckhorn loop, etc). My husband's favorite is Red Rock Canyon. The possibilities honesty are endless. We've lived here 4 years, are pretty avid hikers, and still discovering new places. Outside of the Springs, Estes park, breck, steamboat spring and Durango / Pagosa all also offer great hiking options. This fall we are headed to Moab (without the kids!) and we're super psyched to spend a few days exploring the parks there.
My boss, who is also a good friend, knew I was looking for a new show. She suggested the Good Place. So I started watching it. I texted her within the first few minutes and said "um, why did you recommend this show to me when Kristin Bell is decked out in Michigan apparel for a bunch of the first episode. She told me I'm crazy and is likely the only the person that even noticed. DOUBT IT!!!! But it is true that we notice things like that and it shapes our opinion of the show!!
BSBA and BA French, 2007

Born & raised in the Chicago suburbs by two alumni parents. Ohio State was the only school I even applied to. Wanted to get the heck out of the town I grew up in. Graduated, married a man from Oklahoma State, so at least we are still an all-OSU family. Now live in Colorado out of choice, because if it's beauty and our love of nature. My 6 year old talks regularly about attending tOSU!
Thanks! I have run a bunch of halves, and last year ran my first 25k. It went pretty well. I know I can finish the 30k, I am just hoping my time is respectable. The race gains about +3400 feet in elevation so that will be the hardest part. But thanks to Covid, I've had more time to get more mountain running in so far this spring / summer than ever before so that will hopefully pay off. Trail running is a lot different than road running- the miles take longer but also time seems shorter? It's weird. I can spend 3 hours trail running and not get bored with it but running 3 hours on the road? No thanks. My goal for next year is to run the Ascent, a half marathon up Pikes Peak. The best part about training here is that when I go back to sea level and run, I pretty much feel like I'm Shalane Flanagan out there! So fast!
I am signed up for THE Ohio State University! My whole family is running, my parents also for OSU and my sister & brother in law for the Fighting Illini. We are all running together but separately. The Big 10k is the week right after PPU- Pikes Peak Ultra, where I'm running my first ever 30k!!! I'm super psyched and nervous. Currently plotting out my final big long run thru the mountains.
Am from Chicago and my birthday is April 19. Alright! Lockdown birthday is looking good.
We have been watching all the games I listed above on YouTube with no problem. As you browse, just look for ones that are 2+ hours or you can search for a specific game. Granted, we are watching on our YouTube channel on Roku, not sure if that makes a difference, but we're not having any problems getting full versions. Maybe search for the full games??
We find them on YouTube!!
My husband literally got a vasectomy 3 weeks before the lockdown. He obviously hasn't taken the 3 month "all clear" test yet but still was great timing!!!