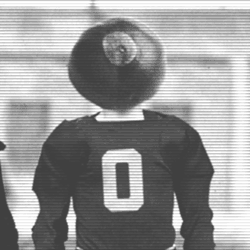 Sunny Buck
---
Central Florida (via Oregon, Ohio)
MEMBER SINCE October 22, 2018
Born in Oregon, Ohio. Played football through high school. Navy veteran.
Favorites
SPORTS MOMENT: Watching my son run over people as a fullback
COLLEGE FOOTBALL PLAYER: Archie Griffen
COLLEGE BASKETBALL PLAYER: not a fan
NFL TEAM: Cleveland Browns
NHL TEAM: Montreal Canadiens
NBA TEAM: not a fan
MLB TEAM: Cleveland Indians
SOCCER TEAM: I don't even know one.
Recent Activity
"The truth? You can't handle the truth!"
Jack Nicholson in A Few Good Men.
Welcome TexBuc! You really have Buckeye trees in your yard? They grow there?
BTW, I am older than you and not exactly a social media guru. This is a great site and a great place to get an OSU fix.
Buckeyes 2020!
In 1984, Brigham Young (BYU), went 13-0 and won the national title. In 1985, they went 11-3 and finished 16th in the final AP poll. That was quite a drop in one year. Just for comparison.
LSU caught Bama in an odd year IMO. But, Joe Burrow will be very difficult to replace. Next season will be interesting. I wonder how the Tigers will be ranked in the preseason. They get Texas, Bama and South Carolina at home. Florida, Auburn and ATM away.
As you grow older your perspective changes on almost everything. It's just the natural order of things. Kind of like a reality "reset", so to speak. You like songs you used to hate, food tastes change and your memories of certain things aren't always historically accurate. Looking at things through the prism of age is supposed to make a person wiser and more realistic. Experience is the best teacher.
Joe Burrow sounds like a fun guy with a streak of confidence. You earned it young man, enjoy yourself.
The Hall of Fame has some members who don't really belong and others who should have been in years ago. Never been a 100% fan of it.
That Amazon driver position sounds like a lose/lose for the drivers at times. I dealt with many delivery drivers over the years and it seems to stay stressful. I guess I'm just too old. We are in an age of we need it now, now, NOW! Patience is a lost virtue IMO.
Well, he did do the math...
Yeah, the PAC 12 conference loves the SEC. Never mind....I'm not falling for this one.
Buckeyes 2020!
Agree UFest57. I retired a couple of years ago with 34 years in material management and inventory control at an electric power utility. Things are happening faster every year in the electronic and robotic fields. There are many areas where people are being replaced by electronic devices.
Computers and robots don't need pay, benefits or time off. They work 24-7-365 with mostly minimal maintenance or repair. I still believe the work force will adjust because people adapt, but it's changing so fast now.
I wouldn't call it satisfying to me. More like relief from more clemson off season hyperbole. Also, an Ohio guy now holds all these records. Mixed feelings for me. He just had the wrong jersey on but that's football.
Now I know how TTUN fans must have felt in 2002 when we won a title with michigan born Craig Krenzel.
I tuned in twice to check the score. Glad Burrow beat them but it's still an SEC title, albeit with a Ohio boy at QB. I am very glad clemson got beat handily but regret and disgust are still with me. Just a weird way to end the season. I hope JB breaks records with the Bengals. I might actually watch more NFL games if he ends up back in the Buckeye State playing again. Don't screw this up Cincinnati.
I know you're being sarcastic, but UCF should have played for a title. Things need to change in CFB.
The stage is set for the Bengals to turn the team around. Go get Joe and win some titles.
Didn't watch the game, but glad clemson got beat handily.

Ah, memories. Sorry for your situation but it brings back memories as a youngun in the 1960's in Oregon, Ohio. My dad and uncles remodeled our basement and one year the sump pump malfunctioned and flooded our basement. All of that new paneling on the partition walls was ruined. What a mess.
Naturally, I hope you can rectify the situation, but I remember the foot deep water in the basement.
BTW, can't you rent/ buy a gas driven portable water pump to assist the main pump in flood situations? Some of those pumps push a lot of water.
Good call. Forgot about that one. Yeah, the old war movies fascinate me. Grew up watching them in the 60's and 70's.
From Here to Eternity, any old John Wayne war flick, Jimmy Stewart movies, etc. The Spirit of St. Louis was one of my favorites.
Love the old westerns too. No computer enhanced special effects, just great acting and dialogue.
MT III will do just fine next season. He has a great skill set, strength and speed. Good thing coach Day gave him so many reps this past season. That will pay off well in the future.
Buckeyes 2020!
Showing my age here but; Gone With the Wind, any old gangster movie with James Cagney or Humphrey Bogart.
+1 for The Longest Day. Also add Midway, the 1976 original.
Hang em High, A Fistful of Dollars, The Good, Bad and the Ugly, Outlaw Josie Wales. Clint Eastwood classics.
American Graffiti. The cars, the music, everything about it. I have seen it at least 20 times, but I am a classic car guy.
Also, Sergeant York with Gary Cooper. Great WW1 movie based on a true story. You need to see it.

I think the Gators take the East next season. Georgia's window is closing IMO.
Very happy to have Cooper back. He will be a man on a mission.
Sorry to disagree Kevin, but I hope Clemson loses 5 games next season. I don't care who we play for the title, just win it all.
Buckeyes 2020!
Plus 1 for the obsidian spear reference but who the heck is Oog?
I used to be a big NFL fan but in the past 10 years or so the game has become unwatchable for me. I remain a Browns fan but don't expect great things from them. Living in Florida for so long, my son turned me into a Dolphins fan too. The Buckeye connections on certain teams has never really resonated with me either. I wish them all success but not their NFL team necessarily.
Bowl games are fun to watch and I love it when OSU beats, USC, Notre Dame or any other big name team.
To me, their is no NFL equivalent to Buckeye victories. A Cleveland Super Bowl victory would not compare to a national title for the Buckeyes. Besides, will that ever happen anyway?
As long as Ryan Day is the coach, i believe our playoff chances will be great. I think we are even with Bama and Clemson now. OSU could beat both of these teams right now. I know, we lost last week, but we all know why. Mistakes and officiating.
The trick is to stay there once you get there. Bama and Clemson have stayed there recently. Can we?
Thanks Mike. Finally a playoff and Super Bowl season without the Patriots and/or Steelers. Now, if they can eliminate the Ravens, I might actually watch some games for the first time in a long time.
Not an NFL fan anymore but I'd kind of like to see Minnesota win a Super Bowl. They are 0-4 all time.
I know, they are playing the New Orleans " Buckeyes" as some call them, but it would be cool to see the Vikes actually win one. If the Saints win, oh well, at least the Patriots are out.
Starting to look like NFL free agency, don't you think?