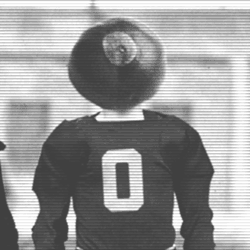 sumaic
---
MEMBER SINCE June 02, 2015
Recent Activity
Yup
Boom?
When i was young Landon Donovan and I were on competing club teams. We were both forwards, and only saw each other at kickoffs, but neither of us cared for each other. We were in the same league for 3 years. One Saturday morning, after our team went up 3-1, he kicked off, and shoulder checked me...we both ended up with red cards. We won the game, but fell in the playoffs before playing him again. Always thought he was arrogant...he was really really good though
Not an expert, but im gonna cheer like hell for them win, or lose. Personally, i hope he goes younger with the linups to give more experience to prepare for next year...and recruit bigs
We dont know when he declared, we only know that he will be training at Exos, and i thought the deadline was tomorrow.
Get some young man, best of luck to you, and I'm certain the New Orleans Buckeyes will be getting a good one
Who will they replace him with?
Likes Championship Trophies
I think both sides, offense and defense, struggle early, like 1st third of the season, but settle in and become dominant by the last third. I think they drop a game in the middle somewhere, but go 11-1 in the regular season. Beat ttun, and win a other championship. I think they still get left out of the playoff because this year the committee has deamed that the color grey is an automatic disqualification though
I logged in hoping i would be the first to say that!
Thank GOD this isn't another duplicate thread!
wrong thread though, this needs to be in the "anything else" thread
I like ot for the most part. After last season, it should be easy for them to look like saviors
Great write up. I agree that this year's defense was young, and lacked experience, but as the season went along, they improved greatly. Hoping that this unit will be lights out next year.
I didn't mention what schools the committee members were from because, quite frankly I forgot. I looked up the committee makeup months ago, but I know that the BIG 10 was represented by Gene Smith, therefore, when discussing Ohio State's inclusion, Gene had to recuse himself, so the BIG 10 didn't have a dog in the fight for seeding. Meanwhile, if memory serves me correctly, I think the SEC was represented by folks from schools like Florida, Vandy, and like Kentucky...schools that weren't even in consideration for the playoff, therefore no recusals...same applies to ACC.
Point being...tOSU was hurt by representing the BIG on the committee.
It must be because we both live in Kansas
Thats what i said
Couldn't agree more. This isn't the playoff I signed up for. SOS is irrelevant and 9 conference games is more of a hinderance than a bonus.
Im also not fond of the conference representation in the committee...3 from the SEC, 3 ACC, ND, 2PAC12, 1 BIG 10, and 1 BIG 12, then 2 power 5, and 1 IVY. That's not even an equal representation of the conferences, and is anyone surprised that the SEC, and ACC are in every year?
God Speed sir. I would assume youre looking at 24 hours of driving, probably over 2-3 days. I would personally take the long way around and enjoy the sites
I think Arnette goes pro. I don't think he has much more to improve on at this level. I do believe Sheffield should stay. He improved over the season, and I think one more year will benefit him.
As far as Lb's I think a coaching change will happen, and pray for improvement. I believe Harrison is a lock for a spot next year. I'm not as negative about Tuf as some are, though I understand that his sideline speed is an issue. Werner for me felt lost this year, but I feel as though this was as much of a scheme issue as it was an experience issue. I would love to see him and Browning compete next year. Browning is a natural OLB, and him manning the middle put him out of place.
As far as DL goes...whatever LJ does is aces with me.
I do feel as though the defensive coordinator (Schiano) needs to move on though. At times this year, all three individual units looked stout, but unfortunately it was never at the same time, and I associate this to be solely on the coordinator.
Thanks for the heads up. I will dig into it.
Urban has trained him well
One of my favorite players on the team. Did not know that about the young man. Great article, thanks for sharing
CONGRATULATIONS Dub!
I would say it speaks for itself.
Hey Cal, im praying for you my friend. God Speed, and the next time we play Purdue, we need you on the sidelines as our equalizer...just kidding. FUCK CANCER, miss your posts, and get well