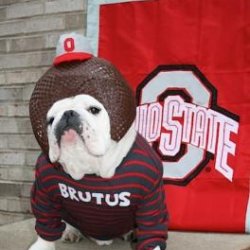 suit
---
Columbus (via Worthington)
MEMBER SINCE August 20, 2015
Favorites
SPORTS MOMENT: 2014's CFB 3-Game Post Season Stretch
NFL TEAM: Browns
NHL TEAM: Blue Jackets
NBA TEAM: Cavs
SOCCER TEAM: The Crew
Recent Activity
Yeah, probably the best (and most likely) outcome.
I obviously don't know what Taron Vincent is going through, but I'm wondering if we're looking at a medical redshirt with him. I REALLY want to see him get back out there - soo much potential when he came on.
"Meh, he seems like a nice guy" - Tommy Boy
How have I not seen this before!? This is pure gold!!
Rule #57: No excuses, play like a champion!
I'm in sales, so my entire career centers around performance-based incentives. When I get "good grades", my family eats steak and goes to Disney World.
Man, I feel like I just went to a funeral. I still can't believe he's gone. I am so thankful for everything he did for this great state. I feel so blessed I got to witness greatness. He did EXACTLY what he said he was going to do - that's rare these days. Love you, Coach.
Ahh, good point. Didn't think of it that way.
Is there no bonus for beating TTUN? That type of incentive might speed up the indoctrination process for coaches who aren't indigenous to Ohio.
I said the same thing. I love Gus, but damn, bro!
I feel the same way. In fact, at times, I've been embarrassed by my entitled behavior. Most fans just don't realize how good we have it. I told the wife if he hangs around for next season we are going to a game, and we'll spare no expense - craft beer and all! ha
I thought the garage sale analogy was spot-on.
Never underestimate Vegas linemakers. They could find the cure to cancer if there was a spread involved.
I say this as a fan, not knowing anything, but I feel like every day that goes by without him getting fired is a good sign that we'll weather this storm. Or maybe that's just me lying to myself. I'm a grown man - why am I so emotionally attached to a college football team!? ha
Man I fricken love this kid! He's got one of those spirits in him that can't be broken - you can just see it in his eyes when he talks. God bless you, son!
Ha, yeah I should have clarified. They're good people.
My football knowledge outside of OSU is slim, especially at the pro level. I knew I'd be roasted for my ignorance ha.
I just don't understand the Clemson spot. Their loss was to unraked Syracuse, while ours was to Oklahoma. And they don't have any top 10 wins either, right? So doesn't that mean Ohio State has a better resume? I feel like I'm missing something.
I loved seeing all of the cops in the back of the end zone jump/cheer in excitement when he threw that dagger.
I always do the same thing and it pisses them off even more. They basically call me arrogant for not being arrogant ha.