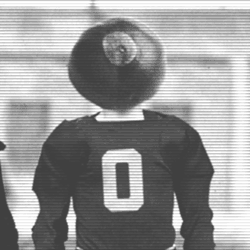 stxbuck
---
MEMBER SINCE May 10, 2015
Recent Activity
Big difference between disappointment-an honest emotion, and illogical finger pointing/hottaking.
He was involved in sexual misconduct-the victim chose not to press charges.
Yet he kept ZS around.......
18'-Snead was the alpha back. He signed w/ tOSU
19'-James was the was alpha back. He decommitted and Alford promptly replaced him w/ a better RB-Crowley.
IMO, Ramzy should set the young uns on the 11W staff straight-he's been around this stuff since the mid 90s and should encourage a bit of common sense perspective on things like this amongst the staff-he-and I-we are about the same age-have seen much "worse"-and I use that term advisedly.
IMO, the article author has some unresolved butthurt over the recruitment of Miyan Williams. Next to Milton, Knighton, and Robinson, Williams was essentially the #4 RB on the staff's board-but they knew they could slow play him and did so. This, of course, completely freaked out the fanboy/nervous Nellie contingent on 11W.
As for the two preceding years-tOSU got it's top target n Sampson James, then, imo, upgraded to Crowley after James decommitted. Crowley was the Gatorade PoY at a national powerhouse school-he wasn't a last gasp space filler. In the 18' class, tOSU had it's top target as the first commit in the class-but we all know what happened when he reached campus.
The bottom line is that Alford has done a very good job of scouting and recruiting the past 3 classes-but injuries and/or off field issues have gone the way things sometimes will. I understand recency bias, but maybe the 11W cub reporter staff should occasionally take a longer view of what they covering in recruiting, instead of loading up on buzzwords and hottakes.
I really doubt there is much difference between Wolfe, Hart, and Pugh, but Wolfe already has an offer so Day isn't going to tank it for an in-state late riser-Pugh, who just decided to switch his concentration from hoops to football.
Yes, I think Sueing starts along w/ D Wash and Muhammad comes off the bench.
No doubt. During his first 7 years, JT lead the Buckeyes to 3 NC games, winning 1. In 7 years at tOSU Urban made it to 1 NC game, which he obviously won.
Could Urban spit recruiting game better-yes. Could he coach as well as JT-no. Urban obviously made the fanboys happier on signing day, but Tressel got equal/better results on the field.
First non-Trainspotting reference to Histoplasmosis I have ever seen! Stay safe!
Exactly. 9 out of 10 years Kiner is a quick take for tOSU.
6'1 210. Nice.
I think the corona thing is going that play havoc on the recruiting business this year. Who knows what HS football seasons will look like and late rising/low income players won't get the exposure that always comes with senior film/exposure. A lot more talented kids might slip through the cracks to local schools-UAB, East Carolina, Fla Int'l, MAC schools etc.
That is a good comparison-Braxton Miller or Jalin Marshall, but Henderson is going to play RB-which is a good thing-that's where great runners usually belong. Don't "scheme" to get the ball into their hands-just give them the damn ball!
No, I don't know Alford personally. I just don't like seeing people on 11W throwing idiocy and expectations at a situation they know nothing about. These are teenage kids and their families making one of the biggest decisions of their lives. To suggest that there is something that Alford can magically switch up in his approach to make you happy w/ the results is utterly ridiculous. Throwing angst and buzzwords out isn't going to change things-but it could provide a negative impression to recruits/recruits families who read the board.
If coach Alford had a dysfunctional relationship w/ the rest of the staff-Warriner, or was clearly doing inappropriate things on company time-ZS-yes, there would be room for criticism. Freaking out b/c a kid loves his grandparents or a S. Fla kid stayed in his milieu-that's just idiotic and unfair criticism. I love to talk about the Buckeyes-but like an adult, not a 4 year old throwing fit b/c they didn't get candy at the grocery store-which is the mentality that gets promoted about recruiting quite often.
TV revenue is MUCH bigger than gate revenue. Enough that the NFL admitted the sellout/local blackout rule was anachronistic. I think we might see fanless games if necessary b/c the player and owners have too much $$$$ to lose.
The NFL and big time cfb are such valuable TV franchises that it wouldn't shock me if they played fanless games If absolutely necessary. The players will want to get paid and the college players won't want the rust. Would it be exactly the same-no-but people will be desperate for some normalcy being by able to watch football will help.
I saw the reliability rate of the best testing at 80% today.
Fans are packed ass to teakettle in the stadium. That's the risk. Players could be tested and social distancing to boot off the field and n an empty stadium.
Truth. This thing-shutdowns- might go on everywhere until May. The rest of the country isn't going to shut down for NYC's benefit for 9 months.
The Jets and Giants can play their home games in Harrisburg or Happy Valley or Birmingham.
Given that both the NFL and CFB make the majority of their $$$$ on TV rights, not playing in the fall might not be an option-get out there and give the people what they want. Fans in the stands are secondary.......
Today's fanboys would crap their pants and go crying home to momma if they went through what Buddy Ryan did in the Korean War. Buddy would have kept Henderson as a DB. Shaun Gayle all day long......
Most of the time you want see your RBs split carries. Sometimes, though, you need a RB to man up and give you 35 carries for a victory, like Dobbins did several times in his career. You can't always tell who the war dog will be based on HS highlights.
Did you ever consider that Alford didn't "improve" but the recruits just got smarter/had situations that fit better for them attending tOSU?