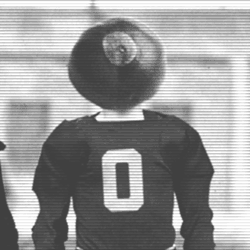 stxbuck
---
MEMBER SINCE May 10, 2015
Recent Activity
Ryan Day and Chris Peterson certainly don't suck. Tressel didn't suck. Herm Edwards doesn't suck.
The site has a heavily prevailing ethos, with a minority of dissenting voices.
Good to see the team coming out swinging against the big boys. Having Carton+Walker and a more svelte Kaleb Wesson adds a whole nother' element to this years team.
People want to whine continuously about ESPN, then whine even more when they don't show up. I can't figure out the logic of this site sometimes.
Personally, I like the idea of sending their crew out to South Dakota-give the Jackrabbits something to get excited about, and the crew, well, they have to go to South Dakota. Unless you own a huge ranch/farm there isn't much to recommend the place.
Urban couldn't handle not being able to out-recruit opponents in the NFL, nor could he handle not being able to use his QB as a battering ram-safety blanket. Also, if he got upset about President Drake justifiably slapping his wrist over Smith, imagine how he would handle it the first time Jerry or Goodell pulls rank as the boss man on him, on stuff like the Smith or Torrance Gibson situations, which happen regularly in the NFL.
This is true, you gotta let a loss or 3 every year roll of your back in the NFL-it's gonna happen.
Newsflash-great coaches have great players.....show me a great NFL coach who didn't have a boatload of HoFers.....Barry Switzerland w/ the Cowboys-that's a better argument.
IMO, what I think people are overlooking is that Fields has not thrown even one stupid pass/bad read all year. Has he missed on a few throws-high mostly-sure, but no passes where you ask "What the hell were you thinking?". The DB made a great read on his pick and the WR was quite in sync on that play either.
Day is not dialing up a lot of short passes/screens,etc. The WRs are running big boy routes downfield and over the middle-not a lot of deep go or post routes, but not a short passing game is not predominating by any stretch of the imagination.
Fields is only averaging 23 pass attempts per game. That's not gonna rack up the passing yardage. Unless a team plays Bethune Cookman every week and doesn't pull the starting QB, you are not going to see 350 + yards passing and 270 yards on the ground (about what the team is averaging on the ground per game).
The team/OL has absolutely not been relying on Fields athleticism in pass pro. Day has been dialing up longer developing routes on the regular and it has taken the receivers a bit of time to get into them. Sometimes this still isn't enough and Fields doesn't throw the ball away quick enough. When the starters are in-not NPF-Fields in getting enough time to operate, or bail. Coverage sacks/pressure are a fact of life in football.
As for WR, Devin Smith was a one trick pony-a deep threat-but there isn't a WR on the roster with his level of skill on the deep ball-which is a skill Fields is also still working on.
If someone tweets an actual observation to a coach, good for them. That's actual filmwork, even if the coaches probably noticed it. Paranoiac exhortations-that's just bad journalism or overwrought fandom.
FWIW, Cedarville is a DII school-they play in the same league as Wayne St., Ferris St., Grand Valley St.,etc. A decent opponent for a local scrimmage, they are as good as some lower D-1 programs.
Just curious, aside from whining more on 11W, how are the fanbase (and the reporters covering the team) supposed to "take warning signs more seriously"? E-mail the staff? Hire a balloon to float over the WHAC w/ a sign?
B/c if the author is trying to justify paranoia and panic amongst the more susceptible members of the fanbase, that's just not cool.
I was surprised by Wisky not being able to put Illinois in a choke in the 4th quarter. I think the PSU environment will be too much for scUM, but it won't be a total blowout. Most unexpected blowouts happen within a relatively short span of the game, where mistakes snowball and a team finds itself down to far to come back w/out a similar loss of focus/snowball effect from their opponent-like scUM against Wisky.
Marching down the field for a TD on the first drive equals flat? The other teams are playing the game too-just b/c they don't screw up and immediately allow massive chunk plays doesn't mean tOSU is necessarily starting flat.
I've been on 11W long to have received the collective wisdom that any other program not located in Tuscaloosa or Clemson (rotating basis for the second-could be replaced with Baton Rogue shortly) is "garbage" and coached by idiots who don't deserve the job.
Great coaches don't necessarily have massive playbooks, they just run their core plays and routes very well, sometimes out of lots different formations.
A-the Badgers are going to come into Columbus psychologically deflated
B-Maybe Iiinois is a tad bit better than many on here want to give them credit for
C-the Wisky QBs missed an open read on 2nd down for a first, then made a bad throw for the pick on 3rd. Wade, Fuller, and Okudah are licking their chops
Agreed. Besides, if point shaving or other shenanigans occur, the profile of the team involved doesn't matter to the wiseguys. Why go after the QB at Bama or tOSU when you could find someone vulnerable at Middle Tennessee or Fresno State? The lines are on those games too, and any funny business is far more likely to be quickly noticed at a high profile school.
Colorado's recruiting hasn't improved noticeably in the past few years. SEC teams haven't had problems getting kids to leave weed legal states. Much ado about nothing.
Chryst is a good dude-no need to compare him to evil Pooh Bear! Chryst was the OC at Wisky for years before going to Pitt, so it was hardly a shock when Alvarez called him back home-he was a product of the program culture.
He is from Wisconsin-alum and knows how to recruit to school, along with being a very solid game manager. Wisky has "Wisky" since the early 90s under Barry Alvarez, and every HC since, except for Gary Anderson, has understood the formula for the place.
I think think a lot of 11W types don't understand the challenges of coaching at a school that doesn't have access to local talent on the level of the SEC states. Talent acquisition and program building is about a lot more than being swaggy and epic cookie cakes and chirping Tony Robbins bs.