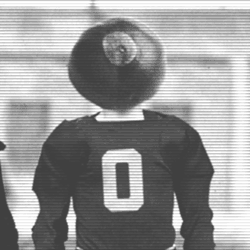 stxbuck
---
MEMBER SINCE May 10, 2015
Recent Activity
No doubt, Clemson unis look like that video game character Q-Bert.
Who had an offer from Kent State? Leroux? If someone is 6'8 335, they can be a helluva low post monster. Some kids like hoops better. Dawand Jones was a hoops phenom in Indy before he decided to focus on football. Back in the mid 90s Mike Marshall was a LB from Cincinnati who was as highly regarded as Andy Katzennoyer and went about 6'3 235. He had tOSU/ND/NFL written all over him. Guess what-he loved hoops-signed w/ Butler and played as a 6'3 PF.
Back in the 50s and 60s top black athletes in the South has to go north or play at HBCUs. Now they can stay home near their families. Also, academics have vastly improved in the South, even since the 1980s, so more kids are eligible/prepared.
Finally, many of the immigrants who play football-Caribbean and Nigerian-are heavily concentrated in Florida and Texas.
Honestly, the vibe around this feels like when Magic Johnson announced he was HIV positive. We all know Magic's successful management of the disease has now made it almost an afterthought to any consideration of his on and off court careers, but when it was announced, in 1990 or 91, if anyone who saw it thought anything but "OMG, Magic just announced his own death!", they are lying to themselves. The atmosphere was funereal w/ Magic announcing his retirement.
I salute your service and your industry knowledge as it relates to this tragedy.
I highly doubt Coach Day's opinion of Gee Scott had any influence for the starhanderouters playing their silly rankings shuffle w/ Scott or anyone else. Scott did nothing but ball out and be nice to homeless fans since his verbal over a year ago.
If a coach suddenly finds reason to cut bait on a committed recruit-that might be a case of them actually signaling their opinion on a player.
Didn't his brother get busted for coke at FAU?
Coach O knows Pelini can coach D-especially if that is all he has to do. People overrate the whole "he's a great/awful recruiter" thing-if a coordinator knows his shit, the younger assistants will pick up some of the slack if necessary in the "swaggy" department for younger people. I've never heard of Dave Aranda being described as an awesome recruiter-just like Coach Orgeron is a great DL Coach, HC, and recruiter, but isn't known as an Xs and Os wizard.
Before Urban came on the market I used to tease some Nebraska friends of mine, telling them tOSU was going to steal their coach.
Southern college/sorority girls care more about looking good and being flirty than Northern college/sorority girls. If you go to your average Alabama or Florida trailer park or Wal Mart, you aren't going to see "talent" like at Ole Miss or LSU-and a lot of those girls are from all over the country, daddy could could afford to pay for the "Southern experience" for college.
FWIW, I've heard, but not seen, unfortunately, that Arizona St. will blow any SEC school out of the water when it comes to hotties.
Are you really this flamingly obtuse? The OL coach at Wyoming or Bowling Green or Coastal Carolina can recognize that Paris Johnson or Wyatt Davis is a great OL. They also recognize that they don't stand a snowballs chance of signing them over tOSU or Bama or Stanford, so they concentrate on guys they know they can sign.
When Urban Meyer was at Bowling Green-w/ Coach Studrawa-I'm sure they both recognized that Nick Mangold and Bobby Carpenter were HS monsters. They also realized that it wasn't a good idea to waste their time pursuing them heavily for Bowling Green when their competition was tOSU and ND.
Clemson has recruited, arguably, the 2 best QB prospects of the last 7 years or so-Watson and Lawrence, and a boatload of 1st round DL. Those are the position where NCs are made. Squawking about star ratings for RBs or Ss-not as important in the grand scheme of thing. Clemson got the best of the best where it counted.
I had an interesting conversation about this topic w/ a current tOSU player. A kid from his league transferred to IMG and wound up signing w/ NW as a LB-he had offers from Wisky, Purdue, Minnesota,etc. Given that he had these offers before going to IMG-and the fact that the tOSU player earned a very early tOSU offer playing in the same league in Ohio, we both concluded that going to IMG was a bit overblown for football purposes. The IMG/NW kids dad called it a "business decision" in the paper.
IMO, '06 w/ Oden and Conley was better, but you are correct-that was tOSUs best NC shot since the Bearcats beat them almost 60 years ago.
"What you have just said is the most insanely idiotic thing I have ever heard. At no point in your rambling, incoherent response did you come anywhere near to a rational thought. We are all dumber for for having heard it. I award you zero points and may God have mercy on your soul!!!"
He just committed to FSU. He liked what Norvell did there-he said you could already see a change in discipline under him, plus he liked the idea of being the next Kenny Gainwell.
People forget that Davis started the last couple of games in '18 in place of Knox and did quite well. I don't think most people were expecting RS year for him-I wasn't necessarily.
If you are going to say the staff screwed up, explain your differing source of information. Explain WHAT about Leroux's circumstances-character, skill, 40 time, whatever-cause you to come to this conclusion., not just "he only got offered by Illinois and UC".
Orgeron is almost 60. Barring a scandal or a complete program collapse-like consecutive 3 win seasons, he will be at LSU for as long as he wants. He is to LSU what JT was and is for tOSU-a native of the state who "gets" the state, and relationship the program has with the fans/state.
If someone wants to claim that Leroux should not have been taken, they should man up and give tangible, skills and/or character based reasons-NOT simply the fact that he appeared lower on the starhanderouters lists than they are used to for most early tOSU commits. If they know differing information than the staff-by all means share and debate it. If they saw him play live and were less than impressed-by all means share it If you just want to bitch that Day and Studrawa did a deeper dive than the starhanderouters-give it a rest-or admit in your post that you, personally, trust the evaluation of starhanderouters more than the tOSU staff.
It's the judgment of the starhanderouters-and unlike many on this site, Day doesn't give a flying rat's ass about Scott's fall or JSN's rise in the rankings.
The coaches at Kent State or Wyoming recognize top end talent as well as Day or Saban, they just know getting it to Laramie is pretty much a pipe dream unless serendipity dictates otherwise-Josh Allen.
Giving Zeke the damn ball against Sparty in '15.
Truth. It's pretty sad how unaware or unappreciative so many posters are about tOSU's consistency of excellence this century. They would rather whine/panic about the next shiny object as opposed to stepping off the ledge and realizing that tOSU has never stopped competing as a top tier/playoff contending program consistently.
FSU and Miami being hot messes helps Clemson a lot, same w/ Tennessee. If those programs get their shit straight, it will be much tougher sledding, recruiting-wise, for Dabo.