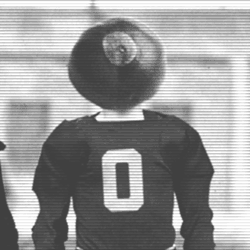 stuckupnorth
---
MEMBER SINCE October 26, 2015
Recent Activity
Really couldn't afford it then
If Nebraska was not named Nebraska no one would think twice. If they were same team and named Rutgers would it be the same? People would say oh they should be solid. Or they alright. The amount of play they are getting is out of control. It's like the old Saturday night live skit. Ditka vs the hurricanes. The super fans would always choose Ditka.
I know the game is played on the field. On paper it should not be close. It should be a 30 point win. I would bet that there are not 5 players on Nebraska that OSU really wanted. I would go as far as to say 3 players. Sure there might have been guys with offers but not guys who OSU recruited the crap out of. Who at Nebraska would start at OSU?
It could be me but the Nebraska hype is unwarranted and out of control. Yes they will be better than last year. Are they the Patriots? Well I don't think so.
This list is a very generalized list. It takes Two linebackers from a prestigious school and says your it. Alabama has 3 Miami 2 Michigan a couple so on and so on. Next year two more buckeyes will be on it as well.
My wife who hates sports, watched that game with me. She said is it always like this. I told her no. I couldn't believe it. It was a beatdown from the jump.
I know he is from Northeast but you don't feel any other geographical location would work. Dallas LA and other southern teams seem pretty good to me. Spending winter in a tax friendly state like Texas where it's 60 in winter seems better than a tax anchor Buffalo or NY winter in the negatives.
I think both go to NFL with continued success. We as fans love college football. Most (most not every most)coaches consider NFL the pinnacle of thier profession. Money really isnt an issue. OSU pays as does NFL. I think it all matters if coaches consider it the peak and want to push themselves. If they do then they leave. Courting teenagers for three years and wrking inside the confines of the NCAA or dealing with millionaires in a union. Recruiting to me seems very tedious and round the clock. I think they are gone considering age and both run NFL style offenses
As far as linebackers go. I see three scenarios from last year. 1. The players behind Borland/Werner are really bad and could not beat them out 2. Coaches didn't want to put more talented players on the field. Either they are not talented despite being highly ranked and wanted by every program. Or they are not able to pick up the defense/ uncoachable3. The scheme and coaches put players in a bad spot. I kind of lean towards 2&3. Meyer has a pattern of loyalty to both coaches and players. Whatever the reason with the prestige and the abundance of talent available at OSU they should have all big ten performers at linebacker year in and year out. I understand that you can't have it every year as there are finenplayers in the league. However last year was probably the worst I've seen linebacker play since I can remember 25 yearish. With the historically bad defense I don't think I'm too out of line on this. I'm excited for this years defense
I agree, everyone was capping on Michigan last year. Leading up to the game this board went bananas on Michigan defense.After the game it was so much worse on this board. People saying overrated, they slow, poorly coached, media darlings, Brown to old cant recruit...........Then a bad Florida team put up numbers on them and it got worse. All of a sudden those two guys are buckeyes, then the forum acts like it's Nick Saban and Bill bellicheck joined the staff. It's the scarlet colored glasses. I know Don Brown BC led nation ...........I just find it humorous that because they are buckeyes they the best in the buisness.No homerism on this site
This is on point. It's depth that separates. There are Mac level players that can play well for a series. OSU brings in waves. That is just as good as first unit. The second team is an all Americans waiting to happen. Having a d line man go 100% is not sustainable. OSU substitutes Joey Bosa for Chase Young, Mike Weber / Dobbins Hyde to Zeke All American for future all American.
Like you said eventually you strike gold on all of your top recruits and there is no drop off off in depth.
I thought the same thing. Day and the whole staff are doing a great job. I am shocked actually. They went from possibly the best recruiter to do it, to a relative unknown. I know he has been in living rooms in last year but come on. He is crushing it.I thought it would be around 10-15 ranked class. This dude come in and land a top 5 class maybe top 3.
Don't think he's gonna be in heisman talk then do you
I live near Lansing. MSU fans love Dantonio. He seat is cold as ice.He has made MSU relevant. MSU was a checkoff win every year (damn you Saban damn you). Now they are a team that has talent and play thier guts out. 9-10 wins are achievable now and expected. Even when they fall short it's ok. Fans know it's a basketball school.Dantonio has built that program up to be respectable and desirable instead of getting 2-3 stars they can get 3-4 star kids and have pulled in a couple 5star I Believe (not so much recently).
Poster above pointed out some good names. Matt Campbell I think would be on the very short list as would Fickell with another good year.
I agree man Cricejr. I think it's because people liked him because A. From Ohio B. Coaches sonC. Played well in high schoolD. Wasn't heralded recruit(buckeye level)E. Was a clean cut kidF. He was ....... not mobile.G. He was from Ohio H. From Ohio
As far as the once a ..... always a ..... that's fairytale stuff. To me it's either you with me or you ain't. I ain't got no time or patience for used to be. To me it takes out legitimanacy of being something for life. You live on the block or you don't.
I agree hypothetically if LSU beats those teams burrow will have to play a part. That said it will be LSU defense that wins those games. Burrow hasn't not shown the ability to carry a team offensively, let alone have multiple big games against elite teams. I think at best people should accept Craig Krenzel (my favorite OSU QB) more than a heisman contender. Do just enough to win and not screw it up. To think he is going to go out and throw 3 tds and 300 against good teams consistently is seeing through scarlet lenses( even though he plays for LSU?). He has not shown that ability. To be a heisman talking point that's what you gotta do. The 4 scores and 400 yards against Tulane don't matter. I think LSU has a shot at a very good year. I just don't think it's because Burrow turns into Haskins. It will because they run the ball and play defense. Burrow will be sprinkled in a little bit but not featured. In my opinion he is a middle of the pack SEC QB at best. He will not make all SEC let alone heisman
If burrow is in the heisman talk college football is deep trouble. Statistically, Burrow was one of the worst QB in what our fans call an overrated conference. He did most of damage ina couple games. I have no ill will towards him. However he is not even remotely close to a heisman candidate. If LSU beats those teams and Burrow goes for 3 scores in each game different story. Statistically Burrow is never gonna put up numbers
If he played for Alabama he would be a punk good for nothing. Since he played for buckeyes we are judgmental and on a high horse for staying the obvious. It's not being on a high horse at all. No one acting like they better than him. People are simply stating the truth.
A passionate post game after MSU (he was right he should have touched ball more) it was how he handled it. The domestic stuff in Columbus (Columbus doesn't find anything go figure)The head shop in Seattle ( I know it's legal it's perception and knowing when to act like a grown up, just because you can doesn't always mean you should)Then the pulling girls shirt down on camera, then the domestic stuff rehashed( enough to suspend him, I think Columbus prosecuting attorney got some nice seats) then drunken tough guy act at the rave.Dude has a history of making poor decisions.
I hear you there. If you can vote. That excuse does not apply.
This comment should shut down the internet. You are so correct. Dude is a whiny spoiled privileged rich suburban punk. No one will say it though. He gonna get lippy at the bar and someone is gonna destroy him. No one ever said no to him. I hope he gets himself under control. Forget the football part of life, dude is heading down a bad path. Get yourself in check Zeke.
Lol man here we are arguing about something stupid. "It's a small world after all" let me get any fast passes you got. 3 hours for avatar ride sucks.
Thanks for clarifying that. I got my point across. That's all that matters here's an upvote.
No i didn't backtrack. I was quick typing in the sun at Disney. I admitted the error of my typing. I did not proof read. I messed it up.
Actually I do know a bit about him as far as a fan is concerned. I'm sure you know more. That's fine by me.I read the winners manual. I followed him as much as a fan could without being weird. Jim Tressel has done a lot but that does not erase what he did to the ncaa. He lost a lot of credibility with me as far as having integrity. That's my opinion.
I never seen where you brought up the probation and bowl bands from the Florida teams. They are the worst schools ever correct?They are so bad dirt should be easy to get on them,
OSU will recruit the best players regardless of questionable character. Just a lot of the guys you hear about OSU was never in the running. You are not gonna believe that OSU is not Disney land of sports.
The JT comment has nothing to do with the off the field stuff. As a player I'm sure you loved him. That's what I was referring to.
These players get away with murder from the Columbus police department. The same as Ann Arbor and Tuscaloosa. So to think that they ain't doing wrong because they ain't charged is ludicrous. They are famous that's why they ain't charged.
Most schools do a great job of recruiting "high caliber" athletes. They don't have records because they are athletes they get a free pass. You gotta take off the scarlet glasses. talk To anyone in the nfl and they will tell you athletes get away with everything. That's why they ain't charged.
OSU is pretty clean considering all things. However they have faced a bowl bowl, been on restriction, basically had a coach fired, and was on probation. Please tell me all of these southern schools that everyone loves to hate on has done that in last ten years.OSU will take a ball player any day of the week. That may not fit the narrative bits it's true. The only player I've seen them back off of was parsons from penn st. I think that has more to do with him meeting espn crew and possible violations that went with that more than anything. People can spin it however they want.
I messed up that comment. It was supposed to say the equivalent of committing perjury.I typed that wrong in 95 degree heat waiting in line for rollercoaster. He lied and knowingly lied to his governing body that he answers to. There was no civil infraction committed.I am a fan of Tressel. That said he ain't a saint and put winning above "good moral character". I lost respect for him when he knowingly lied. He was one of the greatest coaches of all time but not an example of high moral character.