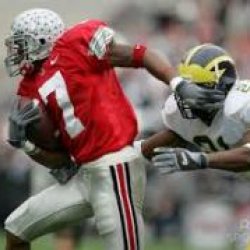 stubbzzz
Nashville, TN (via Lima, OH)
Member since 13 August 2013 | Blog
professional musician living in Nashville, originally from Lima OH.
Favorites
SPORTS MOMENT: 2006 Ohio State vs Michigan ... GLORIOUS.
COLLEGE FOOTBALL PLAYER: Touchdown Teddy Ginn Jr.
COLLEGE BASKETBALL PLAYER: Jamar Butler
NFL TEAM: Cleveland Browns
NHL TEAM: Nashville Predators
NBA TEAM: Cleveland Cavaliers
MLB TEAM: Cincinnati Reds
SOCCER TEAM: Whatever preschool team my Nephews play for
Recent Activity
Hey! Making some great progress!
Same here. I've been through some intense hell with panic attacks over the years, but being aware of what was happening is like the anchor that helps you hang on and wait it out. Knowing that eventually, it will subside and you'll be okay.
But that first time is crazy, because you have no clue what is going on. I remember my first time, it was coming on, but I had to go to class so I tried to walk across campus, like normal. 3 minutes later and I'm literally on my hands and knees crawling across the parking lot and gasping for air. I crawled to my car, climbed inside and called my friend and tried to talk to them. She said, "it sounds like you're having a panic attack." And I remember thinking, "Ooooooh. So this is what a panic attack feels like".
Yes! that goaline, mid-air fumble punch against Wisconsin was one of the most epic football moments I've ever seen. That's my favorite play of his too.
as a recently disabled person myself, I understand Shazier's motivation. I'm sure he knows it's probably not wise to play football again. But for right now, it's crucial that he has the mindset that he will. That mindset is what will give him what he needs to eventually walk again. He can worry about whether he actually should play again, or not, later. right now, it's battle time.
Is that for real? He hasn't really lived up to it yet I guess, but I've always wanted Noel on the Cavs, since we had the chance to draft him.
A 6'11 version of TT except quicker and a better shot blocker. I think we need a tall, quick defender to throw at KD and rough him up a little. But he can't be slow or KD would blow right past him easily. I just think KD is usually guarded by guys who are 4 inches shorter than him, and hasn't ever had to deal with a defensive monster who is the same size and is just as quick as he is. It could potentially slow him down just enough to give us a chance.
I'm still excited from watching that game. I definitely appreciate the fun returning
I don't know who keeps down voting you, Cooper, but it's ridiculous. you're not saying anything inflammatory or anything. But I agree, about the Bledsoe and PG deal. and apparantly so does Lebron. I'm still upset about that. that would have given us 4 All-starts to match up with Golden States 4 all-stars, and all things being equal, the team with Lebron is usually going to win.
But I don't blame Altman. I think he's done the best he can with what he's been given to work with. I blame Dan Gilbert for getting rid of David Griffen. Griffen was a great GM. He was the stabilizing force for the whole franchise. sure, he caved a little bit too much in negotiations with Rich Paul, a few times. But I'll take that, if it comes along with smart, stable, leadership.
I also wish Ty Lue and Lebron would run an actual offensive system. I get jealous of teams like Golden State, Boston, and San Antonio. it seems like running a legit system allows your mid level players to overachieve, and ultimately makes the team better.
Good luck in Sweden! That sounds like an excellent adventure
Galloway was my very first favorite player when I was a little kid. Ginn later replaced him. Both were lightning fast and exciting returners, who wore number 7 and had bad ass visors on their helmets.
I'm going to have to say Ginn though. He just blew people's minds. Especially Game announcers the first time they saw him in person. You can hear their minds exploding during their commentary, sometimes.
My uncle swears that Dustin Fox's uncle, ( I forgot his name, something Fox). Was the fastest he's ever seen. But I think that was long before my time.
Ah the memories. Thanks for making this. Man, that 2014 offense was a machine!
Wow, a tech fall in less than 2 minutes?! Unbelievable! I have to see that
It's Beautiful, isn't it?
personally, I would LOVE that. But I have a hard time even imagining that happens. Why would 9ers trade a sure thing for an unknown? a bird in the hand is better than two in the bush, and all that.
Woooooooo!!! That's great news!
I don't know what we're talking about, but I just want to up vote you for Gary Moore. That man is a legend who deserved so much more fame, at least in the U.S. Thin Lizzy might be my favorite classic rock band. Here's another video of his solo blues stuff. I'm not very easily impressed when it comes to guitar playing, but this has got to be the greatest single electric guitar performance I've ever seen.
Man I still love this song and listen to it fairly often. I was five years old when this came out. I think it was maybe the first cassette tape I ever had. it was definitely the first tape I ever listened to in a walkman. I still remember thinking I was so cool as a 5 year old, walking down my street with a rat tail haircut, a skateboard I couldn't ride at all, and a walkman blasting the Bangles...
that opening guitar riff kicks so much ass
yeah. why aren't draft analysts taking him more seriously? the only flaw I can see is that he's skinny and looks fragile. other than that, he looks amazing. But then again, I'm not one who can always tell if a quarterback is reading the defense and checking all the mental boxes he is supposed to be checking. and I've only really watched his highlights. I haven't heard anyone say exactly what it is, that makes them question his ability to be an NFL quarterback yet.
hahaha! wait, what? ... he put a hot tub in his dorm room? hahaha Draft him, this instant. the kids got ambition.
Rosen. super accurate, quick thinking, can read a defense. That's exactly what the Browns need. I would just hope that his personality and leadership abilities can develop as well. I have a hard time rooting for jerks, but the thing with Rosen is, I have yet to actually hear anything specific about his character concerns. Like with Mayfield and Manziel, they were both in the news constantly with specific things that they were getting in trouble for. We knew exactly what was going on. With Rosen, it's at least possible it could be just another case of Pre Draft scrutiny overdoing it to the point of painting an inaccurate picture of the guy. If he's just similar to Jay Cutler, that's not THAT bad. Jay Cutler was a douche, but he never destroyed a team, really. Rosen's personality makes me really nervous, but I don't even know why. I need to hear some specifics first.
Can we just get Kirk Cousins, please?
seriously man. the Browns boards and Cleveland.com are so mind numbingly dumb and negative. I'm always in a worse mood after reading what those guys consider to be "thoughts".
Yes! I think Minkah would be almost like picking two players, because it would also, allow Peppers to move into the SS role that he is more naturally a fit in. assuming Minkah plays FS and not CB. I've felt our safeties were not NFL caliber ever since they let Whitner go a couple years ago. But the fact that Minkah can play FS or CB is a plus in my book. He could even play CB and move McCourty to FS as he ages. either way, we finally get better at both safety positions.
2015 is still an open wound. so I'm going to go with 2005. two of my all time favorites AJ Hawk and Ted Ginn. Troy Smith at QB. Pittman. The Receiver trio and the Linebacker trio were both legendary.