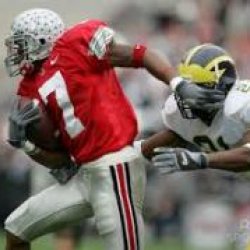 stubbzzz
Nashville, TN (via Lima, OH)
Member since 13 August 2013 | Blog
professional musician living in Nashville, originally from Lima OH.
Favorites
SPORTS MOMENT: 2006 Ohio State vs Michigan ... GLORIOUS.
COLLEGE FOOTBALL PLAYER: Touchdown Teddy Ginn Jr.
COLLEGE BASKETBALL PLAYER: Jamar Butler
NFL TEAM: Cleveland Browns
NHL TEAM: Nashville Predators
NBA TEAM: Cleveland Cavaliers
MLB TEAM: Cincinnati Reds
SOCCER TEAM: Whatever preschool team my Nephews play for
Recent Activity
The look on AC Slater's face is priceless.
Carmen Ohio borrows the melody from the hymn Allelujia Amen. I used to always change the Amen to Ohio in my head. Couldn't help it.
Also, a few years ago, I wrote a Buckeye Anthem intended to be sung by a raccaus crowd in The Shoe. I swear one day I'll get around to recording it and I'll post it in the forums to share with everyone. It's called The Empire Of Ohio.
Those shoulder stripes look great on that color jersey!
Thanks for the response man, I appreciate it. 11 Warriors definitely helps keep me entertained. your comments, specifically, usually crack me up, so thank you for that too.
1) What is your optimistic guess for when we will have an understanding of and a cure for Autoimmune disease? What's your pessimistic guess?
2) Have you ever heard of using super low doses of Naltrexone ( like between 1.5 and 4.5 mg) to boost the immune system? I started taking it a couple years ago and it was amazing. I felt fantastic. Unfortunately, I have been stuck in bed the past 13 months with Lyme Disease, so the benefits of the Naltrexone are kind of going to waste, maybe.
Man. I don't know what to say, except that this really makes my heart hurt. Chris wasas so talented, he was just on another level. I don't care what band he was in or whose songs he was singing, almost every song sounded better with him singing it.
and I have a feeling we might've just been robbed of some great music he still had left to give. While most rock stars his age are content to just keep riding the wave of manufactured teen angst, Chris seemed to be one of the rare ones, who actually kept growing and getting better as a musician and a songwriter even in his middle age.
He was a special one. What a voice.
I totally don't get this reference, but I. Can still tell that it's brilliant.
it's frustrating that they're asking for so much for Jimmy G, but I think you're right. It would improve the team more overall, if they could get Garrett and some nice secondary pieces. eventually, the team will be filled out enough, that even just an average QB could step in and start winning.
If they can't bring anyone in this year, worst case scenario might be to use all the assets we've acquired to move up and draft Sam Darnold next year? assuming we don't have the #1 overall pick again.
Personally though, I really like Garoppolo. I think he is clearly better than Matt Cassell was, as well as Ryan Mallet and Brian Hoyer. It's seems obvious to me. When you watch his tape, he's got super precise accuracy, and super fast processing speed. ball gets out in 2.5 seconds every play. you can't fake that.
Pouring one out for Chuck Berry tonight. He was the man.
(except I think he stole all of his good ideas from Marty McFly at the Enchantment Under The Sea Dance.)
You're referring to the actual teams, during last season. In that regard, you're right, but there's a lot of drama in Washington right now. After the events of yesterday and today, Washington is in worse shape as an overall organization, as of right now. Would be even worse if Cousins gets the trade he is demanding.
What the shit?! Why?
Pryor was the best player on the team last year, and one of the most popular. You can't just let that guy walk. The fans need their favorite players to cheer for. The Browns are the only team that gave Pryor a chance, put in the work to help him develop and it actually worked out for a change. How can you just turn around and let him walk?
But you can afford to give the same money to Kenny Britt? Or make the guy from the Bengals the highest paid guard in NFL history? Or absor Osweiller's $16 million cap hit? But you can't pay your own best player? Hopefully that guard from the Bengals can score a few touchdowns too, cuz someone is going to need to.
I am so mad right now.
Exactly. That's his point. It only took Pryor 1 year to match or even exceed the best season Kenny Britt has had in 6 or however many years. Pryor is better than Britt already. And logic assumes that He will keep getting better with more experience.
Like that Iron Maiden song, the number of the beast?
Btw, I'm pretty sure the lyrics to a lot of Thin Lizzy songs were inspired by Celtic Mythology.
Holy Crap. Haha That's Perfect. A Celtic Legend. Well played, Earle...
Do you know any good books of ancient Celtic mythology? I've always been curious what their mythology was like, Especially from Ireland. The Irish are so skilled in the art of storytelling, I would imagine that they're ancestors could really come up with some really great ones.
Whoa, I had never heard of melonheads before. They should totally make that the plot for a season of Stranger Things.
No offense taken at all man. It's a completely understandable question. I used to wonder the same thing myself.
Sometimes the handicap isn't about immobility, but more about stamina. I recently became so ill that I lost the ability to walk for the past year. I'm in a wheelchair now, so it's obvious. But for the past several years you wouldn't know anything was wrong with me on most days. Even my friends didn't really understand because it wasn't very visible. But then on some days I'd try to walk across the parking lot, like I always did and then collapse in the store. I did that several times. And people always looked at me like I was on drugs or something. Pretty embarrassing.
But the point is, I really needed one of those handicapped stickers for at least 7 years before it was actually visibly noticeable to any one else.
Also, maybe you're catching the offenders when they happen to be having a good day? These diseases are like a roller coaster from day to day. Up and Down.
Also, if you have a hard time accepting the handicapped sticker, just wait until you need to use one of those scooters to get around the store. Now, that's embarrassing. People laughed at me because they thought I was just some college kid goofing around. I actually got followed around by security officers who thought I was up to something.
I totally understand your mentality, I used to be the same way. Until I was 32 and started collapsing in public fairly often. Or taking naps in parking lots for an hour waiting until I had enough energy to walk inside. Finally I lost the ability to walk and have been stuck in bed for the past 11 months, so I can't really drive now anyway. But if I could still drive, you better be damn sure I'd have one of those handicap stickers now.
It's tough to swallow that pride, but after you do it, you'll realize it's not really a big deal, and be glad you did. In fact it might even make people realize how strong you actually are, when they understand the sheer effort required, and see you keep putting one foot in front of the other.
Yeah, you're a bad ass just for being here. That's the way I look at it anyway.
Even though everyone is saying no, I still appreciate the OP's main point. If Hooker really does become as good as we all think he can be, in hindsight, no one would regret taking him number one.
Although, I have my fingers crossed tight that the Browns can somehow pick up both Hooker and Garrett.