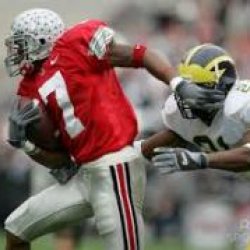 stubbzzz
Nashville, TN (via Lima, OH)
MEMBER SINCE August 13, 2013
professional musician living in Nashville, originally from Lima OH.
Favorites
SPORTS MOMENT: 2006 Ohio State vs Michigan ... GLORIOUS.
COLLEGE FOOTBALL PLAYER: Touchdown Teddy Ginn Jr.
COLLEGE BASKETBALL PLAYER: Jamar Butler
NFL TEAM: Cleveland Browns
NHL TEAM: Nashville Predators
NBA TEAM: Cleveland Cavaliers
MLB TEAM: Cincinnati Reds
SOCCER TEAM: Whatever preschool team my Nephews play for
Recent Activity
Man, those jerseys are sweet though.
Clay Travis is a relatively accessible guy, who likes to party, in Nashville. But he doesn't cover recruiting or watch film does he?
Im not super into recruiting so I don't know the reporters names.
I mean he's a Winner, right? He just knows how to win in crunch time.
Hahaha .... wow. Those are amazing
I just hope he doesn't burn our Brownies.
I'm nervous about this. I hope this is not a case of the Peter Principal.... or whatever it's called.
Kitchens was on fire as a coordinator. We had a good thing going there, and I was hoping to keep it going. Hopefully adding on head coaching responsibilities, after only 8 games as a coordinator, doesn't end up being too much and ruining the offense we had going.
Man it would be rough to finally get a quick taste of fun and success, as fans, and then have to go back to shaky coaching. .... anxietyyyyyyyyyyyyy
Yeah this is what I was thinking too.
Maybe he is an Auburn fan, and his motive was somehow connected to sick and twisted way to trash talk and acquire mojo for the bowl game?
I don't know. This is disturbing no matter who this guy is a fan of. It's not a fan base problem, it's a this guy is a psycho and the Internet is full of emboldened, anonymous psycho's, problem.
Hello son, you like basketball? Can you make a hook shot? Here, have a Butterscotch...
"Fully immersive experience" is a horrifying choice of words to describe a toilet
"My girl wants to Potty all the time, Potty all the time, Potty all the tiiiiiiiiiiiiiiiiime"
Potty in the U.S.A.
Every Andrew WK song ever written.....
I bet he would be an awesome motivator. He seems like he has the personality to make a great coach. This just makes sense if you ask me.
we could do it like captain planet and give each one a magic ring. and when their powers combine.........
Really going to miss Urban. The last 7 seasons have been a whole lot of fun. That guy is irreplaceable. But I'm also really excited for Day, next year.
Congrats Paris! You're doing us proud out there
Does the whistle mistakenly blowing the play dead when the Ravens fumbled on the goalie today and Peppers picked it up and was running free to the end zone, and costing the Browns 7 points in the first half today, also count as the refs costing Cleveland a win? That's 7 points we never got back. If it happened at the end of the game I feel like people would be making a huge deal about it.
I know what you mean. I quit checking ESPN like maybe 6 years ago? But it's like my thumbs STILL automatically want to type it in the address bar, when my mind is blanking. It's like a subconscious default.
I've noticed that Baker does the Michael Jordan thing, where he will use imaginary motivation of someone doing him wrong, or slighting him, and then pretend it's very real so that he's always playing angry.
That's what he's doing with Hue, and that's the same thing he did against the Buckeyes. Acting like our tradition of singing a reverent and very slow tempo, literal hymn, Carmen Ohio, was a disrespectful act and that slow hymn was actually our fight song. He used that imaginary disrespect to get him fired up for the game. If he left it to just the confines of the game, it would be cool. But to never break character after the game is not cool. It's the post game animosity towards Hue, twice now, and the actually disrespectful planting of the Oklahoma flag in Ohio Stadium. All because of his imagination. It's a useful tactic for competition, but he needs to be able to turn it off after the game is over. Its okay to be a psychopath on the field. Not anywhere else though.
I don't mind if he pumps himself up that way, but I think he should keep it more to himself and his teammates. I guess he can't help it if the cameras are always on him during the game, but he just takes it a bit too far. It's not the WWE.
All that being said, it is really fun to watch him play. I'm glad the Browns have him.
Congrats to Snyder. What a Manimal.
I love the idea of a program to help assistant coaches learn how to become head coaches. I don't know if other schools do this or not, but with Urban at the helm it could really be a great way for him to continue his legacy and his already impressive coaching tree.
It almost guarantees sustainable success for OSU as well. Could be a great selling point to attract all the best assistant coaches, and when some of them inevitably go on to become good head coaches, it would ensure that there are always quality head coaching candidates out there with ties to OSU. It could be great for self sustaining longevity.
Liberty University is not that bad. None of the actual kids that go there are hateful, mini Jerry Falwell clones or anything, like everyone imagines. My old band played there a couple times, and at first we were super nervous and uncomfortable, even though we were Christians ourselves, (we are just a different breed) but as soon as we got there, it was a really positive and memorable experience. They loved us and I got to have some really great and deeply personal conversations with the kids there, that hopefully left a lasting impact on all of us. I learned that you should not assume you know what a person believes, until you actually talk with them about it. Beliefs, no matter how common, are ultimately unique to each individual, just like all other thoughts are. There are some really good people at Liberty.
I did catch a glimpse of there football stadium too. It looked legit. Hugh Freeze is a funny choice for them, but I would still enjoy seeing Liberty have some success on the gridiron. Good Luck to them.