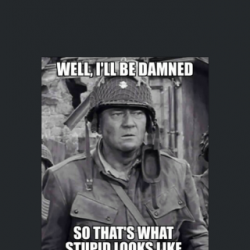 Stronzo The Great
---
Greensboro, NC (via Bellefontaine )
MEMBER SINCE April 17, 2015
I am the 6th of 7 children, all born in Western Pennsylvania, except me. I was born in Bellefontaine. We moved back to Pa. 2 years later, the only Ohio thing I latched onto was the Buckeyes.

I began watching in 1968, and learned to hate USC and TTUN. I also loved Penn State because it's what you did in W. Pa. Until they joined the Big 10. I still watch them and revere JoePa. Sorry. Woody too fell on hard times.
Favorites
SPORTS MOMENT: Being a Pirates and Steelers fan i the 70s.
COLLEGE FOOTBALL PLAYER: Archie
NFL TEAM: Steelers
NHL TEAM: Penguins
NBA TEAM: Lakers
MLB TEAM: Pirates
Recent Activity
It isn't over til we say it's over! https://youtu.be/q7vtWB4owdE
And first Big 10 team to win 3 titles in a row!
The head of the selection committee said it came down to the Buckeyes having a complete team. LSU has a suspect defense. And I figured out why Rece Davis hates OSU so much...he is an Alabama alumnus. Go figure. OH...
Is there anything sweeter than a pretty, female Alabama fan crying? I'm not sure. You might think TTUN fans are more fun, but they aren't very pretty. They sweat in a snowstorm.
Maybe even a Fields day!
Walt needs to posterize the Brutus horse setting the trap for Sparty. The Buckeyes will climb out and attack.
What I truly like about Dobbins is his football knowledge. I am watching the replay for the 3rd time and again noticed, as I did last year how he looks to the sideline on audibles, just like a QB. He is 100% invested and aware.
I was born in Bellefontaine, but we moved back to PA. when I was 2 1/2. We lived in Ohio only 7 years. I watched Penn State every week (they were never supposed to be in the same conference!) So, in '68, at the age of 11, I asked my Dad if there was an "Ohio" State. He said, "Yeah, it's a small school.". I saw Archie and was hooked, though I was still a PSU fan, too. Man, was I conflicted! I had lived in Phoenix and cheered for the Sun Devils over the Bucks, because I have never seen the Bucks live but had ASU season tickets. I finally got my shit together after the Lions joined the Big 10 and Jerry Sandusky sealed it. I apologize for ever wavering.
Why are all the doofusses named Carl? Caddyshack, commercials, cartoons? Why couldn't I have been named Gus or Lou? I used to play a word game and Carl was a word...a boorish person. I am doomed!
How come Goofy was the only one who admitted to fathering a child and being married? Mickey and Donald lived in sin and had "nephews". Minnie and Daisy were whores!
I love the black or pewter helmet game, and the fans all wearing red as opposed those white outs. We need some new fan inclusive tradition. Think Terrible Towel, 12th Man, flash cards spelling Go, Bucks! And maybe we can put a 9 volt charge in the seats so fans jump at the right times!
I suggest the team name "Whatsa Matta U?". Probably another copyright infringement but, hey....
These are the things I perceived as Coach Meyer trends. He didn't play Zeke in the Championship game the year after our big win and it cost us a title. He came back after his suspension and the success was harder to find than it had been with Day. And the yesterday, he didn't get Mike the yards in the first half and then rarely played him all second half. And it seems to me his coaching is what let Washington come back. I am thankful for him, but I am anxious to see Ryan Day take over. I just hope we have a good QB. I don't really see Martell doing what Dwayne did. I don't like running QBs.
Those are lost yardage. And obviously, statistically and production-wise, he's been great. But, the lost yardage is the QB runs, Q draw, et cetera. The read plays. So, you have to pick up that yardage somewhere else," Meyer scares me. I'm so afraid he'll alter the success with the running QB crap he loves so much. He did it with Tebow, Braxton, JT. It worked then but I am afraid he'll mess up this great thing we have. Who cares about "missed yardage"?
I'm one who lives inside my fears. I'm a little worried about Urbs coming back. I really loved the job Day did and am afraid The Coach will much it up. He loves a 2 QB platoon system. Think Tebow. He also held Zeke back saying he was injured and never left his script. Please don't screw it up. As for ifs and buts, if we hadn't dropped passes... or if TCUs trick return wasn't a forward pass...or if the ACC refs called all of the pass interferences on both teams, or the targeting...and if we hadn't missed the FG...or the holding call that they didn't call on the Bosa injury...it would have been a different score and ballgame.
I believe the 90 minute rain delay had a lot to do with the 3rd quarter. Plus, Pierce is fast. It's not as if we can't correct this. Enjoy the romp!
I lived in Greensboro for 25 years. The idea that furniture is cheaper there is false. Especially not at the company's stores. It is jacked up tremendously. Maybe after the Markets, but it's a racket! Anyone see the Buckeyes beat Sparty last night? 6 runs in the 9th. Terrible pitching. Great comeback.
I look forward to the day no one talks about Brady!
When I had ablation, the anathesiologist introduced himself as Edmund Fitzgerald. Sure enough, that's what his ID said. Can't laugh. He could kill me.
Upvote for the Caddy shack reference.
How 'bout the punch to the helmet that dazed Baker, I think, allowing them to get to the red zone? Why do you think he fell?
Its spelled SUCKcess.
If they think the refs cost them the game, my hatred for the same refs must be warranted. The last TD TTUN scored was because the refs missed the punch to Baker's head. That's why he fell and missed the tackle. There was a lot of holding. It was tough to watch.
If Hairball signs a perpetual contract, it guarantees eternal SUCKcess for TTUN! What a Christmas present!
Are the Bucks showing their hand if one or the other is in? I mean, Dobbins means a run play is coming. Weber means he can run or block. I hate to be predictable, unless the opponent sucks at stopping either.