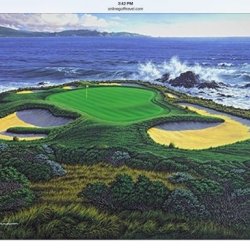 StrongBuck
---
Allen, TX (via Lexington, MO)
Member since 05 December 2013 | Blog
Favorites
SPORTS MOMENT: Tie - KC Royals winning the World Series in 1985 (watched with my Dad) and the Buckeyes winning the NC in 2002 (watched with my son)
COLLEGE FOOTBALL PLAYER: Eddie George
NFL TEAM: Cleveland Browns
NBA TEAM: Cleveland Cavs
MLB TEAM: Cleveland Indians and Kansas City Royals
Recent Activity
Reality check - The Browns would beat the Buckeyes by 30+ points.
This kid took it way to personally and sometimes Urban's transparency/honesty may be a little hard to take for these kids.
That mower's all you need.
You might as well use scissors.
I bought the Toro Timemaster with a 30" deck in 2013 and haven't looked back. It cut my mowing time from 45 minutes to 30 minutes. It's a monster compared to a 21" mower.
You poor bastard, at least you aren't in the picture.
Bell pulled his hamstring - he won't run.
Interesting. This is first I've heard of this.
I live in Allen, TX and the money that stadium generates would blow your mind. The concession stands alone are equal to what you see in a pro stadium. They issued bonds separate of the school finances to build the stadium. People tailgate as if it's a college game and the product on the field speaks for itself. I'm not defending the practice, but after living in the Cleveland area for over 20 years and attending several High School football games, it doesn't come close to Texas High School football and the pageantry, etc.
PWO is a big thing. Urban wouldn't offer a PWO if the kid couldn't play.
The recruiting world never stops turning.
you guys are sick bastards...
Deion Sanders ran a 4.17 hand timed.
Keeping up with Joneses: trying to impress people you don't even really like.
I could live anywhere but the wife has to be in a subdivision with a Jones on both sides.
I having 2 Live Oak tress cut down next month, so that should help with things falling in the pool and spa - I hope.
I haven't tried that. Is it in the city of Amarillo?
I have a gunite pool with an attached spa. It's a lot of work but fun to have. Of course, I'm in the Dallas area and can use it at least 6 months of the year. The pool only gets drained every five years or so and then refilled. If you're in colder weather, it's expensive draining the water and refilling each year.
I'm rooting for Zeke, but not the Cowboys - please.
Kerry is in charge and the secondary will be ready.
David Yoder is an angry Amish man.
I'm not climbing any trees!
Romo is still the QB and the Cowboys still suck!! That's the saving grace. However, I wish Jimmy Haslam was half as good as Jerry Jones in the PR/Marketing of himself and the team. Haslam is trying to squeeze tax payers for the move to Columbus and Jerry Jones made a deal with the Local High Schools in the Frisco area, allowing them to play their home football games in the Cowboys new 18,000 seat indoor practice facility. His move to Frisco, TX is sparking the $5 billion mile. The Cowboys new Headquarters is less than a mile away from the Dallas MLS team, the Rangers AA baseball team, etc. Jerry Jones is Jerry Jones but he knows business and he knows how to get the community to love him.
http://friscoblog.dallasnews.com/tag/the-5-billion-mile/
I hate being a Browns fan because I get abused by idiot Cowboys fans here in DFW. And I can't say anything to defend myself to these followers of Jerry Jones.