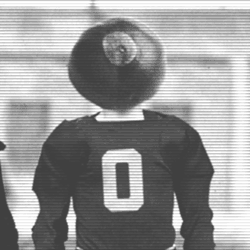 STRAWMAN
---
Member since 24 September 2012 | Blog
Recent Activity
Any day that has an Ice Cube reference is a good day.
Notre Dame landed pretty well all things considered from a hockey standpoint. In fact one could make a pretty decent argument that the BIG's hockey league hurts the individual teams depending on how their out of conference scheduling goes. However, I still like the move for the BIG overall because it is apart of their long-term goal of being the premier national athletic/academic conference and it makes the BIG network much, more attractive.
But it only hurt Notre Dame's wallet for hockey, the league they are moving to is probably better than the CCHA, if only slightly.
Now I could be wrong, but I believe that this is something that Urban has been consciously trying to avoid bringing in at Ohio State. There have been a couple of kids that have been recruited and even committed who I could see getting into trouble at some point(not going to name names) but on the whole we are bringing in some quality human beings.
There was a great article on ESPN last week about Northwestern and how Fitzgerald tries to only recruit captains. Said something about how over 70 players on their team applied to be on their leadership council. The council sort of represents a player's government on the team. Pretty cool of Fitzgerald to do that and although I think OSU doesn't need to go to that extreme, it's gotta be a niche that is incredibly attractive to the recruits Northwestern targets. Makes me more excited for James Clarck if he passed Fitzgerald's character test.
Not Alex, but it just seemed like Quick kept both coaching staffs in the dark. There is nothing wrong with that and it is his perogative to do so.
I doubt that those tweets were anything other than last minute recruiting.
He might mean in terms of recruiting battles. That taking someone from the South who is placed near the top of Alabama's recruiting board is his biggest accomplishment thus far as head coach. Apple was set on Ohio State as a program, regardless of coach and Spence was a heavy Penn State lean until that situation happened.
Likewise taking Webb from Cass Tech would be a huge grab for Meyer next year. As big of a steal as USC stealing Audrey Walker (in what may have been our worst O Line class for decades).
Agree completely. This is one of those rare recruiting situations where an equal case can be made for both schools in complete honesty. Each school will offer a very good opportunity for him.
In fairness to the Nebraska players they haven't been (the QB and RB) that team's problem this year. It's been their defense.
The rise of Iowa is scary. If their coach can beat us at Siena, he can beat us at Iowa.
Ehhh I think the strongest part of your argument is the failure to do anything with his national team. The average number of goals per game in (2011 stats) England's top flight is 2.72, while in La Liga its 2.74. And while England is generally regarded with having a stronger top 8, La Liga is widely considered with having a stronger bottom 12. You can find people that will make arguments to the contrary, sure, but I've read a ton of literature on the subject and I tend to agree that the bottom 3 of La Liga would destroy the bottom three of the Prem.
And on the subject of his national team--->he actually performed well in 2006 when Argentina had a competent Head Coach (Peckerman). Having Maradona coach in 2010 was just a total mistake, the ultimate signs of hubris. But still it's a good point in the discussion for GOAT. I think Messi's reign as the best player on the planet has been especially long (3 years) for this era.
This! The lack of Dorian Johnson's name ANYWHERE in this roundtable gives a pretty good indicator that the mystery player could very well be Pocic. We need more offensive lineman.