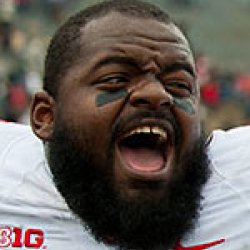 Stoicpaisano
CHI (via Shaker Heights)
Member since 22 January 2014 | Blog
Favorites
NFL TEAM: Cleveland Browns
NBA TEAM: Cleveland Cavaliers
MLB TEAM: Cleveland Indians
Recent Activity
Gene Smith can't dress for shit.
That is kinda out of the blue, though all the V-Tech picks were interesting given Gervin's offer list. Like him as a nickel with Banks and hopefully Cook.
Going back to 04, there was a WR that year and the aforementioned Jenkins in 08. No other 4 stars until Stills this year and Nester/Wright in 19.
Ryan Switzer (UNC) was underrated in 13, going from mid-3* to a 4th round pick.
By signing day '19, he'll be 11 years out, but Josh Jenkins was a strong candidate to join the Brew Crew in the 2008 class. Stayed home at WVU and had a decent career.
Should I tweet a recruit? Flowchart goes here.
3rd round pick of the Saints. Hopefully he doesn't tear his labrum a third time.
Listening to Keels is like watching paint dry.
Oklahoma University?
Is that like the University of Ohio State?
Bubba Bolden decommitted from SC last July and pledged again in January. May or may not apply to Parsons, but there is precedent.
I wouldn't count them out and have them with PSU and Fla as 8-10. Not sure if Bama gets any current 5*. With regards to overall ranking, I only looked at current classes plus balls for the Top 100 guys. There may be a team with a half-dozen 101-150 guys who slips in at 10 or so. ND could crack Top 10 if they get Gouriage or Griffith...I only gave them Amon-Ra and Jurkovec.
They don't have ANY crystal balls for the majority of those guys. I think they land Friday and TE Muhammad (#100), but they have no Top 100 guys at the moment. Simon might go their way, but ND is climbing, according to 247. This can change with a '17 division win, but their class is very "blah" right now. Not sure how many they can take, but I wouldn't be surprised if they slip out of the Top 10.
PSU should be a lock for second in the division. Dotson and Parsons are probably the only Top 100 guys on the board, but Mustipher and Isheem Young are in that 101-120 range. I think they match M in total Top 200 guys, with better top end talent (Slade, Shorter, Asiedu). Probably 6-10 nationally after FSU and UGA make moves.
UGA could zoom up if they land Corral/Zamir/Salyer. They need momentum for a LOADED in-state '19 class.
OSU, TEX, USC, UGA, FSU, CLEM, MIA are seven safe picks for Top 10.
when Texas head coach Tom Herman showed up unannounced.
??
UT joining the camp was announced on twitter yesterday afternoon. I'm betting either TxSU or Herman gave Urban the heads-up before the post. Meyer wasn't exactly surprised by seeing the UT head coach at a Houston camp.
Better career than Pittman or Tommy Brown, who also took the Columbus-to-Akron route.
Marcus will at least get into a couple preseason games with the Browns.
More interested in watching UM fall out of the top 10. I know crystal balls will change, but they may legitimately end up with one Top 90 guy in DT Friday.
Of course, they'll try to convince you that Frey is some OL whisperer who will turn every mid-range 4* into Jon Jansen or Jake Long. I want them to battle for that 400# Polynesian gimmick Faalele just to see the ridiculous predictions. And then watch him pick USC like most other Polys.
M stands a real risk of finishing third in the division. PSU holds balls for five 90-150 guys and has good top-end talent with Fields and Slade. We'll likely land 4 Top 60 guys. M thinks they'll go to Cali and steal someone USC wants or a Notre Dame legacy (Amon-Ra). Good luck with that.
Not sure that's happening. If McCall "earned" #2, why not give it to him in February? Instead, Dobbins got it from Day 1. Might be mind games from Meyer, but the fact that there was no "battle" could be telling.
Sheffield moved to 8.
But yeah, Jalyn Holmes, Sheffield and now Riep have all worn 10 at some point in their careers.
Does Dadbaughd get an 86th scholarship for the guy he "discovers" in Louisiana? No?
In reality, his carpet bagging ass starts a cascading effect, because there are a finite amount of scholarships available each year. It is simply reshuffling bodies amongst CFB divisions. This clown thinks people don't see past his fake moral high ground.
Fada, Burger and (I believe) Durbin were all awarded scholarships for 2016 based on late attrition (Felder not qualifying, Burrows retiring, the idiocy of Dunn and Gibson). It's likely that the team starts under the limit as in past years.
"Rostered" is a verb now?
Why, because they shared some nebulous uncle/nephew relationship? Keyshawn threw more weight behind some 2017 Nebraska commits, let's see if it works out for them.
Glad to see the young DBs bounce back from a pretty awful first half.
Didn't see much of 3Q, did DE Slade or TE Hawkins ever make an appearance? It seems Dylan Thompson is hurt yet again as he was in sweats.
I'm guessing Jones/Price/Prince will only play a couple drives at T/C/T before giving way to Bowen/Taylor/Myers. The former 3 are all in that 2000 rep club or whatever it's called this year. Wohlabaugh can handle the other squad -- hopefully Price stays healthy and Jack takes over in 2018. Taylor is a good interior swing man but probably not a full time starter.
Interesting that Burrell is ahead of Knox and Pridgeon at the non-Jordan G spot.
$110 ain't bad as that's the price for the Metcon 3 -- there's traditionally been a $10 hike for NCAA-branded gear.
That said, the gum sole kills this for me. They had an easy "Bulls" colorway to work off of but went old school with it.
The Underwood brothers, JT twice fell for the "preacher's sons" garbage, and got burned twice.