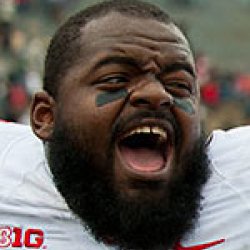 Stoicpaisano
CHI (via Shaker Heights)
MEMBER SINCE January 22, 2014
Favorites
NFL TEAM: Cleveland Browns
NBA TEAM: Cleveland Cavaliers
MLB TEAM: Cleveland Indians
Recent Activity
Clemson has given up two sacks total and one was on a corner blitz.
For those who are into that, expect the media guide to be released on the OSU website next week. I don't know the holdup, as it's been done and media has access to it.
Who in the hell is "Ethan" Spencer?
Also, some names I've not heard in a long time. A long time.
It took them like 72 hours to post all the changes/updates and it was piecemeal. Sort by class and you have redshirt freshmen abbreviated four different ways, "graduate" and "grad", misspelled hometowns...I'm OCD at times but this is just sloppy editing.
Here's what wasn't spoken for by upper classmen/retired jerseys: 16 (Stover), 28 (Hickman), 33 (Harrison), 30/34/35 (walkons that could switch). I agree their numbers look weird, but there simply wasn't much available this year.
3, 4, 9 will be available next year, 1, 2 likely as well if Okudah and Young live up to the hype
Babb takes 7, so Olave goes back to 17.
Jean-Baptiste slides to 8.
Jameson Williams - 6
Stover - 16
Harry Miller - 77 (this'll change since Petit-Frere has it)
Dawand Jones - 79
McKenzie - 90 (this'll change as it conflicts with A. Jackson)
There were a bunch of guys who had to switch midseason due to possibly being on the field with someone who already had the number. Olave, Pryor, Williamson, Proctor, Banks. Then they all got their originally assigned numbers back this spring.
I'm not tryin' to get shot with no AK47 over a frank.
- Charlie Murphy
I believe they are grooming GA Kenny Anunike for the position. Grad degree, Super Bowl ring, immigrant son? Other than experience, he's the perfect guy to wow parents.
He should be kicked out for trying to rock that fade.
Cool, he can bookend with Jake Moretti.
FWIW, the 2015 class has seen five drafted and ten are returning for their fifth seasons in Columbus. I'm not counting Jamel Dean, who went Saturday, or Josh Norwood, who is a returning starter at West Virginia.
Stupid NFC North kept us from divisional bingo.
I get it, like Tiger Woods driving a Buick or whatever.
Nothing about JC Penney's is quality, especially a suit. I hope Nick and Strahan are getting major $ In exchange for their disgusting fashion statement.
He's Mormon. With two years left, he'll probably be a dad before his eligibility expires.
Lol Mike Weber in a bootleg KJ Hill jersey.
Williams was at 260# in the 2018 media guide. He's not Gholston ripped, but probably the biggest guns on the team.
That would be freshman Ray Small in '06 getting lit up.
Backstory on zebra logo on Fields' shirt?