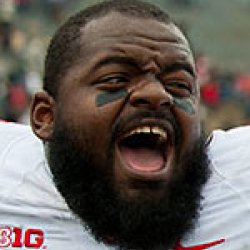 Stoicpaisano
CHI (via Shaker Heights)
Member since 22 January 2014 | Blog
Favorites
NFL TEAM: Cleveland Browns
NBA TEAM: Cleveland Cavaliers
MLB TEAM: Cleveland Indians
Recent Activity
Wayne Davis
Now that's a name I've not heard in a long time.
Congrats to everyone.
Central McClellion? I know he has lots of love for his Alma mater but is still based out of Florida. If Dee Miller and Meech Stanley are still in the media, they'd have prime seats or sideline passes.
Lori -
who do I look like, Pantone founder Lawrence Herbert?
Watching past halftime helps.
It'll be interesting to see where they see Brendon White fitting long-term. Maybe they moved him back to WR as cover for an injured Harris and the redshirting Grimes and McCall.
Williamson played and had tackles on two kickoffs. He replaced Wint after the early KO debacles.
Goins. I don't know why they didn't update the roster.
Taylor replaces Price at C with 5:40 left and plays there the rest of the drive.
Im not sure what team some fans are watching if they are confused as to why there is a six-man rotation at WR. I would invite them to watch a BYU game, where they'll give ten guys some time.
Yeah, a mid-career switch to the other side of the ball is usually a final effort to get some value out of a player. Other than OL to DL or vice-versa, I can't remember a successful move under Meyer or Tressel.
I bet you at least 3/6 receivers get their name called.
We went 4WR more than all of last year. The quick pitches are Wilson's, as are the multitude of crossing routes. Barrett doesn't have the arm for 9 balls, so maximize his strengths by flooding the middle zone and let our WRs YAC it up. Liked seeing Victor body people out on his score.
Short-yardage and red zone (Victor notwithstanding) still a bit of an issue, it seems Meyer takes over and makes it the Barrett veer/option show.
Pryor was on at least some kick coverage and at safety the final drive of the game. Not sure why the spotters didn't notice him.
Debuts for Pridgeon, Wint, Farrell, Chrisman, Borland.
No problem, it's been known for 18 months the knees were a big issue. The only roster decision I'm surprised about is the continued existence of Dylan Thompson.
LB Nick Conner not listed on the roster. I think he's the only removal other than random walk-ons.
Those scarlet boxes over Holmes' and JT's eyes are triggering my OCD.
IS maurice Washington the photonegative of kevin BEMOLL?
That's a weak Cleveland-area class.
Basically this.
I'm glad to see Lonnie Johnson made it into a school on his fourth try. Good luck to him at Kentucky.
Terrell Hall changed his last name to Lewis. I'd imagine Goodell will call that name in 20 months. Can't win every battle with Bama, but we have a great staff to oppose them.
If nothing else, he can teach Grimes and Babb how to come back from major high school injuries.
This is being kind - he needs to exercise his brain more. Academically ineligible last year and reportedly hasn't earned back grant-in-aid for 2017.
I chuckled when he showed up to the pre-enrollment spring game in a pair of Timbs.
I trust your judgment. I haven't been back for a couple years and would do Catfish Biff's or Adriatico's when visiting.
Be on the team. The Silver Bullets and Goins' (photo 1) Zone 6 shirt are for individual units and done in-house.
Those, at least, you can order frozen and shipped.