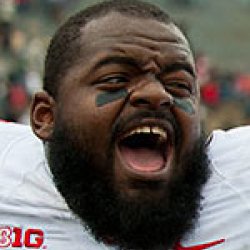 Stoicpaisano
CHI (via Shaker Heights)
MEMBER SINCE January 22, 2014
Favorites
NFL TEAM: Cleveland Browns
NBA TEAM: Cleveland Cavaliers
MLB TEAM: Cleveland Indians
Recent Activity
FWIW, the 2015 class has seen five drafted and ten are returning for their fifth seasons in Columbus. I'm not counting Jamel Dean, who went Saturday, or Josh Norwood, who is a returning starter at West Virginia.
Stupid NFC North kept us from divisional bingo.
I get it, like Tiger Woods driving a Buick or whatever.
Nothing about JC Penney's is quality, especially a suit. I hope Nick and Strahan are getting major $ In exchange for their disgusting fashion statement.
He's Mormon. With two years left, he'll probably be a dad before his eligibility expires.
Lol Mike Weber in a bootleg KJ Hill jersey.
Williams was at 260# in the 2018 media guide. He's not Gholston ripped, but probably the biggest guns on the team.
That would be freshman Ray Small in '06 getting lit up.
Backstory on zebra logo on Fields' shirt?
Good to see Coach Cooper still hanging around.
That 'pink sand' gear needs to die quickly. It's not a school color and the OSU logo gets lost.
Air Force's Robinette is an interesting guy...finished in 2016, earned a combine invite, 27.4 (!) yards per catch his senior year and 6-foot-4. But the Air Force reversed their plans to allow pro athletes to defer their active duty, so he's been serving the last two years. I'm glad he was able to hook up at a pro Day now that he's back home (Bexley Grad).
Gene pops in every so often. I think it's more having football in his blood than anything else. The AD HQ is at Fawcett, which is literally .5 mile away.
Meyer is a good guy to bring over when there is a visiting coach. I'm sure he'll be at Pro Day.
There's always a former player or two around. I don't know if any of the seniors are still enrolled, but they roll through fairly often. Parris was in on Wednesday.
Ed Terwilliger and Tim Hinton are not the same person.
Both Haubeil and Jackson had no black stripe at yesterday's practice.
In all seriousness, who is the guy in shorts/hoodie here? He was observing Anunike/LJ more than doing on field work. I know the name will be familiar when identified.
Probably not much different than past years, just more sets of 11W eyes (assuming Colin and Dan were at WHAC) noting who split their time. Anyone can list the out for spring dudes (Fuller/Munford) and obvious orange jerseys, but I appreciate knowing who was limited.
Even with that, there are errors. Lehman's photos clearly show Vincent going through drills.
Arnette committed on 2/2, according to 247. Norwood during the season in October.
Exactly. Dean was the first recruit in the class and the AD allowed him to enroll early. People pushing nefarious intentions just look ridiculous for not doing five minutes of research on this stuff.
The AD pushed the NCAA to grant Dean immediate eligibility at Auburn, for goodness sakes. Why do that for a malcontent who got in the doghouse one week after enrolling, before any football activities? Because it's a figment of their imaginations.
The doctors made a judgment call, it happens. Dean wanted to play, it opened a scholly for Arnette. Everything worked out.
Just a reminder that Dean's replacement was Damon Arnette, who is a more accomplished player (with as much NFL potential) and we get him for another year. I still like Carlton Davis best of the three, though.
How would this defense fare vs. screens, especially out of 10 or 11 with the TE flexed? You better have some LBs who can run.
DL is the strongest unit on the team, so no need to take one off the field, but I like Pryor or Proctor as the joker if we ever felt like running 3-2-6.
Wasn't trying to frame it as make-or-break, just surprised that we never hear him talked up. Alabi moving over? I can see that. We've had converted DTs at OT with Baldwin and Farris. I don't understand the Bowen hype...he was a tweener before and needed three surgeries to correct one injury. No live snaps in nearly two years. Just interesting that we hear more about those two at ROT than Petit-Frere or Wray.
Is Max Wray way behind, or just being ignored by writers because of his brother's decommit? I'd think he'll make a play on the ROT spot, especially since we only have 4 true OTs here for spring.
I'm leery of putting any RFr/true SO on this list, but I'm interested in seeing if Alex Williams can actually play football or just look like a beefcake.
I'd Jaylen Harris or Gardiner on this list over Saunders. I don't think CJ will get many offensive snaps, but he's valuable just as the second KR. Harris/Gardiner have lots of younger talent below them that could pass them up.
The second unit DBs will be interesting. CBs (Banks, Williamson, Tyreke, Cam Brown) are highly ranked but have barely any defensive snaps. There's no one coming in the summer so hopefully the top unit stays healthy during camp.
I still think Pryor could have a career here, though obviously not as an every-down player. Wint and Riep are in danger of being passed by Proctor/Hickman. Can't get a read on Hooker due to idiocy/injuries. Shaw doesn't seem like a guy who will be in the defensive discussion until 2021 or so.
It was muddled but I was trying to emphasize how LBs were a strength, though Barnes had to wear many hats. I hope ST turns out the same way here now that he can 'drill down', so to speak.