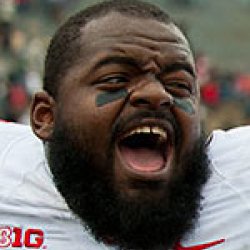 Stoicpaisano
CHI (via Shaker Heights)
MEMBER SINCE January 22, 2014
Favorites
NFL TEAM: Cleveland Browns
NBA TEAM: Cleveland Cavaliers
MLB TEAM: Cleveland Indians
Recent Activity
Be nice if Real Life Wednesdays was open to genpop.
Eat the rich.
You can find some student manager names in the AD staff directory, though not what their specific responsibilities are. There are a couple ex-walkons and Glenville/Illinois alum V'Angelo Bentley. They don't have individual pages.
Surprised the coaches don't have top-tier airline/hotel/car rental status. They're high value enough that you don't want them in line with teh poors in case of a delay.
#4 - a greasy Dan Hope pornstache?
He failed his physical. That's what actually happened.
Smith put hands on a woman and ratted on Herman. Of course he's blackballed.
Yeah, ZS is a sociopath but a helluva recruiter and an above-average coach. Glad we were in a position to upgrade to Hartline. Dennis has come up through our 'farm system' and as mentioned, speaks Day's language. No qualms with this hire.
First college pass attempt: pick six. I'd laugh if he goes out the same way.
Crowley and Chambers look like twins. Who's the potbelly on the left?
Can't have duplicate numbers on the field at once, though it happens fairly often on special units with teams that give out low numbers like candy. I don't know why the equipment staff doesn't pack a couple #35s or some other unassigned number.
Better than janky ass Alibaba knockoffs. If you can afford tuition and tickets, you can afford real fan gear.
Woidke is on scholarship. I know Hoover [emergency k/p), Robinson (emergency long snapper), Rossi and Xavier Johnson (both on various special teams units) will all travel.
4-40 (Wilson false start, Victor false start, Arnette u. conduct, Wade face mask)
1-5 (12 men)
6-75 (Chug delay of game, ZHarrison u. conduct, Wint face mask, A. Williams roughing-the-passer, J. Williams illegal block, D. Jones hold). Middle three infractions were on consecutive snaps, as were the final two.
2-21 (DPI x 2 on Tyreke Johnson)
Just letting the vets have some fun in a blowout game. Berry/Williams/Potter aren't going to get any meaningful defensive snaps this year, whether or not Cooper/Young are back.
Harrison/Friday/Smith/Jean-Baptiste is plenty of depth, and Cornell could slide out if need be. The offense runs 12 personnel enough that Berry is needed over there, even if he's not a receiving threat.
Alex Williams can take his meathead self back to the weight room if he's gonna play like a meathead.
Interested in seeing the WR snap counts. I missed most of the first half and haven't had the time for a second viewing...did Victor miss some snaps or did we not look his way? Box score has no targets for him (or any of the TEs).
Hope for Mack and Saunders to get back healthy because it's hard to run an 11 personnel offense with only four dependable receivers. (Victor, Hill, Olave, Wilson)
Looks like Gill took a DNP with McCall lining up at slot for garbage time snaps with Jameson Williams and Harris. I've been hard on Harris but he made a good block on Wilson's punt return. Buckeye sticker for that, at least.
Gill is supposed to be spelling KJ Hill in the slot, he's had a golden opportunity with CJ Saunders out, but hasn't done anything with it. KJ is leading the unit in snaps by almost 15%; you'd like to keep him fresh but there's no capable #2 slot at the moment.
Hopefully, they pick things up quickly.
We signed 7 receivers in 2017-8 and only one got offensive snaps last night. Blue Smith and Grimes are gone, Babb can't stay healthy, Gill, Gardiner and Harris have been passed by freshmen.
Olave and Wilson are easy starters, but there are a ton of snaps up for grabs.
I'm assuming you have access to the isolated SkyCam through the ESPN app? The interface sucks, but at least the kickoff/KR teams are easy to ID. I was surprised Hooker didn't get yanked after his idiocy.
Washington missed second half v. Illinois due to various injuries...something potentially to watch this week. Frost moved Wandale to RB since Mills was gimpy as well. When the RBs are healthy, Robinson in the slot makes Spielman more of a headache. JD is super tough; he took three hard shots v. Illinois and barely missed any snaps.
Martinez will get his yards from designed runs, but can be contained on passing downs. His LG and C are new this year, and he's bailed them out a few times this season.
Defense is pretty soft, just don't throw at CB Lamar Jackson. Run at him (he hates contact) and on the 3-4.
Depth is still bad pretty much everywhere, even on defense with 9 upperclassmen starters.
Clemson has given up two sacks total and one was on a corner blitz.
For those who are into that, expect the media guide to be released on the OSU website next week. I don't know the holdup, as it's been done and media has access to it.
Who in the hell is "Ethan" Spencer?
Also, some names I've not heard in a long time. A long time.
It took them like 72 hours to post all the changes/updates and it was piecemeal. Sort by class and you have redshirt freshmen abbreviated four different ways, "graduate" and "grad", misspelled hometowns...I'm OCD at times but this is just sloppy editing.