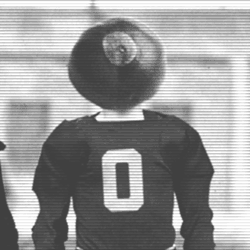 stlbuckeye15
---
MEMBER SINCE August 22, 2019
Favorites
MLB TEAM: St. Louis Cardinals
Recent Activity
Nice to see athletes look outside of themselves. Good for him.
5 first round picks in 6 years. What else do recruits wanna know about the guy?
Coach Day with another great hire. If anyone can help these less experienced DB's become better and more confident, it's Coombs. Go Bucks!
So many sweet victories. Definitely got #1 right. Here's to another decade of general dominance and beating our rival.
Day is a brilliant offensive mind. Having RB's with different strengths than JK should not put a damper on the offense, especially with how many O-line starters we have returning. If they stay healthy and Fields stays healthy then our offense should be elite once again. Also, don't sleep on Steele ya'll.
I agree with you in principle but when there is someone on FBI wiretap admitting that Clemson pays its football and basketball recruits then it's no longer based on bias or jealousy, it's based on evidence. When there is evidence of wrongdoing then it's ok to call it out. Ever wonder how Clemson came out of nowhere and became a powerhouse? Might be something besides the family atmosphere and "aw schucks" likability of Dabo.
You're just saying what most of us are thinking.
Happy to see Victor improve his stock. His performance against Penn State alone makes me a big fan of the guy.
Had we landed a commitment from either Bijan or Knighton almost no one would be complaining about Alford. We were locked in on BOTH and then unexpected things beyond Alford's control happened and they flipped. Don't think it's quite time to hit the panic button and I imagine we land at least one commitment from a top 10 back this cycle. If he whiffs in 2021 I can understand why people are upset but I would call this year an aberration. Just my opinion.
That quote caught my attention too. I know winning helps recruiting but are kids really that fickle? Do we want those kinds of players?
I don't disagree with you. I'm not irritated by the lists and I'm happy for athletes that get to play at the next level. I just think it's virtually meaningless to come out with a long list of schools. Absolutely their prerogative and their life though.
Man it has been quite a decade. So grateful to be a Buckeye.
The top-15(or 20 or anything higher than 5) lists are silly to me. "I've narrowed my list down to all the blue bloods, my state schools, and several others that are generally regarded as decent programs."
Lucky enough for them they won't play many teams with a defensive pulse.
I would choose Dobbins over him every day. I think you bring up a good point about quality of competition but when he has a full head of steam and he's in space he doesn't go down easy. Can see that in games against Bama, us and LSU. I agree though that if he's not in space he's not nearly as big of a threat.
We have a talented group of backs and I'm excited to see who steps up next year. Don't sleep on Steele ya'll...
Playing for Dabo probably is fun but I'm not sure that explains everything. Think $omething el$e might be involved. Although Etienne quoted a bible verse that seems to indicate he'd rather win or do something else glorious than make money so I could be wrong.
Boston College or Buckeye College? Wish Hafley the best.
I never said he beat us running the ball, just said he was talented and tough to tackle. I believe he led the nation in yards after contact. I agree Taylor is better overall though.