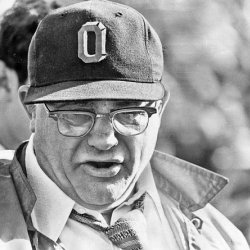 Stinson
---
Canal Winchester, OH (via New Holland, OH)
MEMBER SINCE May 14, 2013
Favorites
SPORTS MOMENT: "The Game" 2006
COLLEGE FOOTBALL PLAYER: Ted Ginn, Jr.
NFL TEAM: Cleveland Browns
NHL TEAM: Columbus Blue Jackets
NBA TEAM: Cleveland Cavaliers
MLB TEAM: Cincinnati Reds
SOCCER TEAM: Columbus Crew SC
Recent Activity
"I'm crestfallen over this shit."
So you're saying I should take OSU -27.5?
@ Nebraska & @ Northwestern worry me a bit.
"Ass cheeks" is the nicest thing I've ever heard the 2019 Ohio State defense called.
Urban's team would win, but I felt feelings reading through that Tressel defense/special teams roster.
I'll always be a Cleveland Brown, but I've got some Redskins games to watch this season...
"Idiot" is a little harsh. My guess is he simply got caught doing something every college student does. Unacceptable maybe, but it doesn't make him an idiot.


So "Idiot" is too big of an assumption, but he probably "got caught doing something every college student does"?
I'll support the Buckeyes, and hope for the best, but not drink a gallon of the kohl aid just yet.
Hey, Kohl's actually has some decent shoes.
I read an article a moment ago stating that the team name and schedule will be announced in the next few weeks.
"Conveniently, that schedule fits the AFL season right in between Ohio State's spring practice and fall camp."
The AFL choosing a major college football market with no NFL team is certainly no coincidence. I'm just not sure what they think will be different this time around.
I'm impressed with Hafley.
If Rex Grossman can go to the Super Bowl, Matthew Baldwin can go to the National Championship.
Checked out his profile on 247 a moment ago. Life's funny.
"but never started a game in his three seasons with the Buckeyes,"
Could he have been worse than what we saw this year from that group?
+1 to offset people downvoting you just because they have a differing opinion.
"Imagine being so universally loathed that a strong majority of voters consider you more malicious and embarrassing than a dude who photoshopped a head coach into a picture of a lynching."
and yet here we are.
I guess I just don't get it.
I should've gotten into coaching.
Tate's going to be competing for a starting job at another school, so I'm not sure he'll have time for all these antics.
"Yes, an athlete can remove himself or herself from the portal. However, once an athlete puts his or her name in the portal, their current school is not obligated to take them back if they decide not to transfer. It is up to the school to accept the athlete back on the team."
Innnnnnnteresting.
And that's KIrby Smart's fault.

Todd Boeckman had Ohio State in the National Championship in 2007-08 and was benched the year after for a freshman. The best players play.