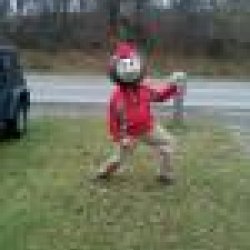 Steve_Not_Chad
---
Member since 07 June 2011 | Blog
Favorites
NFL TEAM: Cleveland Browns
NHL TEAM: Columbus Blue Jackets
NBA TEAM: Cleveland Caveliers
MLB TEAM: New York Yankees
Recent Activity
This philosophy makes me happy.
Not trying to be a downer, but with this much talent at DL I can see some transfers in the next couple of years.
What exactly is so bad about booing? Maybe our team, and some people here, need to toughen up. I mean if people booing really affects you that much I'm gonna have to call you soft. If the team doesn't like the boos, then do something about it. It is clear that this team and some of it's fans lack the mental toughness to overcome the gigantic, mental nuclear bomb known as the "Boo". This really saddens me.
Overall the ideas of paying players and endorsements has to many holes to ever be implemented. With that said, I do think athletes (in all sports) should be given a fairly descent monthly stipend for their dedication to botjh academics and athletics.
In my opinion endorsement deals may breed resentment within a team. While the star QB, RB, or WR is making money through endorsements, the players that do the dirty work (linemen and most defensive players) most likely aren't going to have companies knocking on their doors for endorsement deals. I don't see a scenerio where non-star players are going to not care that a few on their team get to live high-on-the-hog and they don't.
I understand that the stars get all the endorsements in the NFL. However, in the NFL, linemen on both sides of the ball are pretty well compensated. How are linemen going to be compensated at the college level?
Also, the Olympic model seems to be geared more toward individual sports and not team sports.