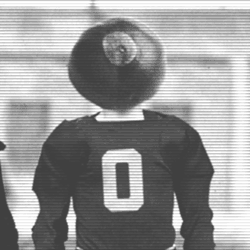 Stellar
---
MEMBER SINCE January 29, 2012
Recent Activity
Ohio State's WRs are better than the Philadelphia Eagles. Seriously
The Giants don't have the #2 pick. The Redskins do. Giants pick #4
Over/Under 2 Full seasons before this guy is fired and they start over again with the next coach?
They sucked under the previous ownership too. The Browns are just cursed. They really shouldn't have build the stadium on that ancient Indian burial ground.
Raise your had if you ever heard of Jeff Hadley before Ohio State went after him... My guess is if it's not Combs then it'll be someone off the radar. I trust Day to get someone great
I don't. Multiple losses in one season? Unacceptable. Ohio State should be undefeated in everything every year. Now that Ryan Day lost a game he should be on the hotseat too. /S
Dan Wetzel of Yahoo Sports had a really interesting idea about changing the top heavy recruiting and lack of parody in college football that you mentioned. And it has to do with the impending change to allow players to profit from their own NIL - Name Image and Likeness. Basically everyone is afraid that allowing players to profit from their likeness will lead to them all going to the biggest teams that get the most exposure. But that's already what happens now. Wetzel argues that by allowing players to have payment deals arranged anywhere allows for a legitnate way for the mid-teir teams to compete against the big dogs. The example he uses is Ohio State and Purude going after the same 4 star recruit: "Right now if a high school player is choosing between Ohio State and Purdue, he'll almost always pick the Buckeyes. It's been that way for generations. The hysteria against NIL is that if enacted, Ohio State would be able to dial up one of its local Ford dealers and have a recruit agree to a sponsorship/endorsement deal prior to signing to assure the recruit is well-paid while at OSU. If so, Purdue would be locked out. Fine, but Purdue is currently all but locked out. Besides, they also sell Fords in Indiana. It's not like Purdue doesn't have money. They have alums and fans that own businesses too. The program would have more than enough resources to smartly build a team. It'll come down to priorities. Ohio State is going to go all-in on its top recruits — five-stars that it will continue to battle over with Clemson, Alabama and others. That will likely continue. What about for Ohio State's 13th-best recruit? Or 20th-best recruit? Those guys are often still big-time, four-star prospects who would be crown jewels of a Purdue class (12 Ohio State signees rank ahead of Purdue's top-rated recruit this year). If the Boilermakers focus on that player, they could easily outbid OSU and plaster the kid on Ford dealership billboards all over the state. Once you can make more money playing at Purdue than Ohio State — and being the star, rather than another cog in the machine should assure that — then all of a sudden there is a very compelling, and likely convincing, reason for the recruit to do what almost never happens now … choose the Boilermakers over the Buckeyes. Suddenly that's one more good player for Purdue and one less good player for Ohio State, closing the talent and depth gap that has allowed the best teams to pull away from the pack. Now do this exercise over and over. It could be Purdue for this linebacker. It could be Michigan State for that running back. It could be like that everywhere for mid-level major conference programs — Ole Miss or Iowa State or Arizona State or Boston College or whatever" https://sports.yahoo.com/how-name-image-and-likeness-could-shake-up-college-footballs-balance-of-power-011557638.html It remains to be seen if allowing players to profit off their NIL will in fact lead to more parity, but it's certain changes are coming. I would argue that NIL rights will have a much bigger impact on the future of CFB than the transfer portal will.
They won't find you if your not on the field. In a different world Joe Burrow could have been the second string QB at Ohio State this year bring RS Junior Dwayne Haskins. Instead Burrow won the Heisman trophy and is likely to be the #1 pick in the draft. Transferring sure made him more visible to the NFL
Probably be someone not on anyone's radar here. Most Buckeye fans had never heard of Yurich or Jeff Hadley before Day hired them. Trust in Day. I'm sure he'll find someone great.
There are a lot of ways to steam a game other than ESPN. They're a bit less than legal but they work pretty well. If you are set on using the official streaming service then just get a VPN - that'll let you access American only services from anywhere in the world. I've steamed Buckeyes games quiet successfully from Greece, Germany, Cambodia, Thailand and I do it regularly from China.
sportsurge.net This is the remains of what used to be the Reddit CFB streaming forum. Best place to find good steams of any game.
Listen to the game? What is this? The 50s? Just stream that shit
Far too early to worry about tournament seeding considering that Big 10 play has barely started. Still a lot of basketball left to be played. In my book it's far too early to worry about basketball at all until football season is over, but no doubt the Buckeyes are making some noise on the hardwood this year. Hopefully they can keep it rolling.
Just blew it in the Championship game. Foolishly started Mike Boone in the Flex and lost by 4 points while several players went off on my bench that could have won it for me. This F***ing game
Star Wars films are trapped in a Catch-22 with fans. If it's what you're expecting then people complain it's just a rehash of the originals. If it's different than what you're expecting then people complain it's not what they want (see Last Jedi, The). Fans have been writing their own Star Wars stories in their heads for so long that there's no way to please everyone with these legacy sequles. Personally I enjoyed it. I had a fun 2+ at the movies, which is all I expect from a sci-fi opera about magical space wizards. If you want to sit back and pick at plot holes all day then you can, but movies like this are supposed to be fun and I've had fun watching all of the new trilogy, regardless of what the fanboys say.
Oh No! Not equal representation for minorities. The horror! Everyone knows only straight people can be characters in a fantasy film about space wizards... /s
Better than All-American Wyatt Davis?
Has Carman been Clemson's starting LT all year? For some reason I thought he was playing Guard for them
Ohio State has adopted a truly national recruiting recruiting approach. Florida is still an important territory for the Buckeyes, but not as important as it once was. It used to be that Florida was Ohio State's primary recruiting territory outside of Ohio and the surrounding area, but that is no longer the case. Not only have they established pipelines to other huge recruiting like Texas and California, but they have shown the ability go almost anywhere and recruit against anyone. From North Carolina to Washington, and from New Jersey to Hawaii, the Buckeyes can recruit from coast to coast in a way few other schools can.
Multi-sport stars are even becoming a thing of the past at the high school level. It used to be that a star athlete would play every sport but now they're becoming more specialized and focusing on one sport year round. Things have gotten so competitive and everyone wants an edge, and they think training for one sport year round will help them.

Urban Meyer always said he prefers multisport athletes as recruits, and I've heard him lament many times recently that this is becoming a thing of the past as kids now are becoming more and more specialized at a younger and younger age.
Here's a link to one recent article with Meyer talking about this issue https://247sports.com/college/ohio-state/Article/Urban-Meyer-discusses-multi-sport-athletes-Ohio-State-Buckeyes-Malik-Harrison-LeBron-James-138124289/
Murray has the talent to do it, but not the time. Being an NFL starting QB is far too much responsibility for the player to also have a side gig in another major sport.
To be fair they say that winning any specific game matters very little. But an overall pattern of winning certainly means a lot. And when you have a big game that confirms a pattern of one side of a recruiting battle dominating the other, like it did with Harrison, then that can obviously matter more.
How good is Clemson's d line this year? I'm sure they're talented but the lost so much from last year with 3 first round picks gone
Get us to Atlanta if we're not playing Clemson or LSU. If we are then get us to Arizona!