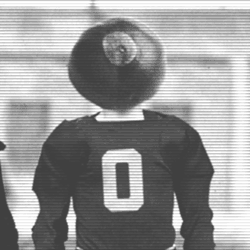 Stellar
---
MEMBER SINCE January 29, 2012
Recent Activity
The first one. Sucking is not impressive
That was part of it but they also need they had something special in Day
Before Urban Meyer was suspended a couple years ago I don't think anyone would have expected Ryan Day to be named his replacement. Greg Schiano and Kevin Wilson would have seemed more likely candidates as they has been on staff longer and both had substantial head coaching experience.
Hurray for the primetime game on Halloween but boo to the 7:30 kick off. They scheduled Trick or Treat for our neighborhood from 6-8pm on the 31st. Don't want to miss the first quarter so my kid can get even more candy...
Wearing a mask in public is a pretty small price to pay for the public good
Because this is part of the problem. The problem isn't solved yet but people are "moving on". The virus doesn't disappear because you ignore it, it just spreads more
Don't count out the Denver Broncos in this race to the bottom. Seemingly all their good players are on Injured Reserve and they're this close to having to start Blake Bortles at QB. I know they like Drew Lock but if they're in position to draft Fields or Lawrence it'd be really hard to pass. They would actually be a pretty good landing spot for a rookke QB with a excellent group of young skill players (Courtland Sutton, Jerry Jeudy, Noah Fant, etc) and some elite defensive talent (Von Miller, Bradley Chubb) - assuming they get healthy.
I think they mean watching football more so than playing it. And you can certainly sit on your ass and get fat while watching football, trust me.
I would be interested to see where you got those participation numbers though. I am not surprised that football participation has declined in part due to the increase concern of injuries and brain damage, but I wonder how much lower overall participation numbers compared to something like basketball is due to the fact that there aren't really many organized girls football programs so half the population is eliminated from even considering playing football.
Go for it. You'll like it.
Gambling and sports go hand in hand. It's always been that way. It's great to root on your team as a fan but they're not always playing (and if you live in Ohio chances are they aren't playing well). There's tons of games on that don't involve your team. Having a little skin in the game when "your team" isn't playing makes the games much more interesting.
Have you watched The Good Place yet? They just dropped the last season on Netflix I think. Excellent comedy with brains, heart, and really clever writing. If you haven't see Community yet it's worth a watch. Also a really well written comedy with an excellent cast (At least the first few seasons are). The same goes for Parks and Recreation. Also if you want more "rich family loses everything" comedy Arrested Development is on Netflix, but thats been big for a while so I assume most people have seen it.
Fantasy is one of the biggest reasons football is as popular as it is nationwide. Fantasy drives a lot of the tv ratings as it it pushes people to watch games they otherwise wouldn't care about. Without it fans in Ohio would have little to no reason to pay attention to Jacksonville vs Miami but if Gardner Minshew is on my fantasy team I'm gonna tune in. Fantasy fans need to follow nearly every game and so they watch more football than almost anyone else.
This has actually helped football and they've played into it well as Fantasy Football is huge ratings driver for the NFL. Me and millions of others spend a good chuck of Sundays both watching football games and constantly checking our phones for updates.
I thought it was injecting unsolicited political opinions into every conversation
Can you watch football without drinking? Is that even allowed?
And arguing about politics
I'll feel a little bit bad that we have to blow out Nebraska considering how much they were a part of the fight to bring Big Ten football back. I won't feel very bad about it, mind you, but I will a little bit
Disagree that we'll have an average defense. Less talented than last year's? On paper, yes. But below average? No way. This is still the silver bullets and they'll be ready to roll.
Day and the staff should get a boost in the 247 ranking if they bring back Wyatt Davis and Shaun Wade - those guys are way bigger than any 5 star prospects.
Captain Hindsight here to help: You really should have taken a RB with one of your first 2 picks. Someone like Austin Eckler, Miles Sanders or Nick Chubb would have been worth the pick there. WR is so much deeper than RB so it's a lot harder to make up ground at RB in the draft. As it is you've got to hope some of those RB prospects you have hit big. Akers has a chance for a featured role as does Gibson. I'd probably start those 2 in week 1, but I'd actually bet that Zack Moss ends up being your most valuable RB by the end of the year as I think he takes over the lead role in Buffalo. You may need to serjojslh consider trading Hill or Kittle for a RB at some point.
-
No way! Social justice is bad. I hate social justice. Anyone advocating for social justice is an anarchist or a domestic terrorist. They're trying to destroy America. If you don't like things exactly the way they are and you want change them that means you hate America, and if you don't like America then you can get out! #imnotracist
Actually the bland lies with the people who refused to comply with the shutdown back in the spring. If everyone just did what they were supposed to do back then then infection rates would be lower now and the situation would be under much better control. The point was to sacrifice for a short time in order to make things better in the future but people refused and so here we are.
Odell Beckham is on board for that
We lose a lot to the NFL every year. It's Ohio State. But our recruiting has been on fire for several years and there's plenty of talent and experience at every spot. And Justin Fields is arguably the best QB Ohio State has ever had. With him back for his second full year in the program I'd take Ohio State's chances against any team anywhere anytime. As Ryan Day said when the season was cancelled: "What I said to the team the other day is the truth: As a player, you work your whole life and as a coach, you work your whole life for an opportunity to coach a team like this. This team is special. It's special because it's talented. It's special because it has leadership. It's special because of the character. It could have been in a once-in-a-lifetime team. "Certainly the team last year I'll never forget. It was the first time as a head coach, and what they did was awesome, but there was just something about this team that had it. It had it. They came back hungry after their last game on the field. They were determined. And this quarantine, this virus was not going to get in their way."