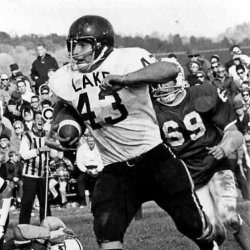 StarkCountyBoy
Arusha, Tanzania (via Hartville, OH)
MEMBER SINCE July 30, 2017
Born in Stark County, Ohio, aka God's country. OSU 1977-81. Now living in Tanzania, East Africa. It ain't for sissies.
Favorites
SPORTS MOMENT: Kicked winning FG in 4th quarter to beat Tuslaw in 1975.
COLLEGE FOOTBALL PLAYER: Don Taylor, PK, BGSU, 1972-75
COLLEGE BASKETBALL PLAYER: Alan Hornyak "The Bellaire Bomber"
NFL TEAM: Browns pre-1996
NBA TEAM: Cavs
MLB TEAM: Indians
SOCCER TEAM: seriously?
Recent Activity
Maine, you a such a buzzkill!
Most southern fan bases are similarly passionate and delusional. I lived in GA for 25 years. Some of it was during the dark ages between Vince Dooley and Marc Richt. They still considered themselves a top-10 program then, and to suggest otherwise offended them deeply. Better to impugn the sexual mores of their mother than to talk poorly about their football squad. I worked with a former Clempson walk-on in the mid-90's who was convinced Clempson was a top-tier program back then!
Every SEC fan base believes their team would dominate in any other conference.
Old joke in GA: After losing to Tennessee in football, the newspaper headline the next day read, "Dawgs finish 2nd, Vols next-to-last."
Well, when you only leave SEC country once or twice a dedade, you can save up for it.
Chryst has 2 Fewer losses than Harbaugh, and he has 3 losses in the B1G championship game alone! Take those out and he's a full 5 games better than Jimmy in 5 seasons. Let that sink in: Wisky under Chryst averages 1 more win per year than TTUN under Jimmy. Move TTUN to the West and they'd STILL be looking up! In the words of Carl the greenskeeper, "I have to laugh."
Pat Narduzzi. You heard it here first. Or second maybe...
Oh and mod, Narduzzi was the DC under Dantonio before he left for the Pitt job. Tressel was NOT the DC for the entire Dantonio era.
"The force farce is strong with this one."
My short answer is - no, they are not. Sports is ruining itself, just like many other aspects of western society. However, ESPN certainly falls on the side of "part of the problem", not on the side of "part of the solution."
I think another, perhaps better, parallel than music is the mainstream media and news. When news became about ratings, it became entertainment. Objectivity took a back seat to ratings. Fake news exists because fake news sells. Welcome to the brave new world of bread and circuses, my friends. Huxley was right - we are amusing ourselves to death, and taking western civilization down with us.
Here's another one. Bring to your mind the last big headline you remember concerning art? A banana taped to a wall? Piss Christ? A 1-km long pole buried in the ground?
All of the changes we are seeing - in sports, music, news, art - are symptoms, not causes. The causes? Well, that'd require more than a forum post could hold.
Found it.
https://www.cleveland.com/osu/2016/08/how_long_since_ohio_state_bott.html
For you tl;dr types - Last back-to-back losing seasons.
1. Ohio State 1923-24.
2. Alabama 1956-57.
3. USC & Nebraska 1960-61.
5. Jawja 1962-63. That's Georgia for those who aren't fluent in speaking Southern.
Doug Lesmerises over at Cleveland.com did a series on this a few years back, probably after the 2014 or 2015 season, if memory serves. It is worth the research to find it if you are interested. His criteria was back-to-back losing seasons. By that criteria, OSU came in #1 and it wasn't close. I think it was back in the 30's or 40's the last time we had back-to-back losing seasons and the next closest team (Alabama I think) was a couple decades behind.
1. Row the boat
2. Champaign Lovie
3. Tom Allen
I also think that opening drive was a "statement" drive. 1 pass attempt, 91 yards on the ground against a defense that wasn't allowing that many in an average game. OSU ran it down their throats, used Fields' legs on several designed runs (not all his runs in that drive were scrambles), and basically told PSU that they were going to do whatever they wanted that day. PSU had that one good 75-drive, got 2 short fields for another 10 points and from then on, Day did what Urban Meyer often did - let the air out of the football - get a TD to push the lead to 2 scores, then rely on the defense, run the ball and get a few 1st downs to eat the clock. Very Meyer-esque the way OSU squeezed the life out of the opposition and the game clock like an anaconda.
I used to own a business that provided fantasy stats for all 4 major pro sports for almost 30 years. My first fantasy football team was in 1983. I slowly walked away, 1 sport at a time, and haven't been in a fantasy league in at least 7-8 years. Don't miss it a bit.
I found that it inhibited my ability to just root for my favorites teams. I also couldn't just watch a game to enjoy it, with no real rooting interest or investment in the outcome. It is also the same reason I don't gamble on sports. In short, I was able to just be a sports fan again. I am never going back.
Now, I will say that I had a lot of success as a fantasy owner, so it was also easier to walk away when you've won a time or two or twenty.
As my handle implies, played my HS ball in Stark County, Ohio, waaay back in the mid 70's. Others have touched on some of the aspects of sports in general (comradery, etc.) and the physical nature of the game that is nearly unique among sports (rugby being the other). Hazing and lack of communication are the two things I look back on and laugh about - young folks today would be appalled! And rightly so. My sophomore year, the seniors were pricks and treated us like crap. Who remembers getting a "red belly"? If their equipment was below their standard or just broke, they just took ours. I was one of the few sophs. to play at all (Placekicker, PAT/KO), as our coach rarely let first year varsity guys play. During games we literally rooted against our own team, we hated the seniors that much. Our senior year, we remembered and treated the underclassmen better and the result was an overachieving team that started 7-0 before fading down the stretch.
Best player I ever faced was Bert Vaughn. Played QB for Mogadore. Recruited by Michigan State and started some games for them in 1979 & 1980. Knee injury derailed his career. He was 6'5" and had a rocket.
The older I get, the less I hate. Except Xichigan. Still hate them. Now, when I watch college football, I never root against a kid. I will root for/against a team, but never a kid. Every one of them is somebody's son.
I went to OSU, I love OSU. I am a Buckeye for life. But I do not derive my self-worth or my happiness from the football team. It's a game, enjoy it as such. Some folks lose perspective. I can't say if those who haven't played the game are better or worse than those who have when it comes to that.
Ironically, until they started to be great under Dabo, Clemson fans topped this list. Used to work with a former walk-on at Clemson in the mid-90's. They weren't even good in the ACC then and he and his buddies felt their program was above Ohio State!
Good analogy. LSU gave up 402 yards rushing to Ole Miss last night. Now Ole Miss was 14th in the nation in rushing going into the game, at 247 yds per game. But geez, you cannot beat elite teams with a defense like that. Their QB went 21-212 with 4 TDS - rushing! They averaged 9.1 per rush on 44 attempts.
Stats are from:
http://stats.ncaa.org/rankings?sport_code=MFB&division=11
If you are basing it on only watching OSU games then 1) change the topic title - you ain't watching college football, you are watching OSU. And 2) otherwise, there have been a ton of great games this year - this weekend alone we had OU-Baylor, 2 competitive B1G games (PSU-IU, Minn-Iowa), Tulane-Temple, Iowa St-Texas, KSU-WV.
Through 10 games. Defensive team stats (yds per gm, yds per play, pts per gm)
LSU 2019 - 367.8 ypg, 5.39 ypp, 23.8 ppg.
OSU 2018 - 385.0 ypg, 5.66 ypp, 22.0 ppg.
Oklahoma 2018 - 416 ypg, 5.60 ypp, 29.8 ppg.
Through 10 games. Offensive team stats.
Oklahoma 2018 - 577.1 ypg, 8.91 ypp, 49.0 ppg.
LSU 2019 - 556.0 ypg, 7.64 ypp, 47.8 ppg.
Ohio State 2018 - 527.2 ypg, 6.48 ypp, 40.6 ppg.
Watching LSU this year, they remind me a slightly better version of 2018 OSU and a noticeably better version of 2018 Oklahoma (at least on defense, their offenses are similar). 2019 Clemson is slightly below 2018 Clemson. Despite their weak schedule, they are destroying everyone lately. 2019 Clemson is pretty good, let's not fool ourselves. 2019 OSU is significantly better than 2018 OSU, particularly on defense, and the offense, while only slightly better statistically, is more balanced.
So for me, Clemson and Ohio State are the top two teams and are in a tier by themselves. LSU is #3 in their own tier. #4 begins a third tier with a bunch of really good but flawed teams in it. Georgia, Alabama, Oregon, Utah, Penn State, Wisconsin, Xichigan, Minnesota, Oklahoma, Baylor, etc. Throw in Florida if you like.
I think LSU will struggle against Clemson or OSU because both have elite defenses to slow down LSU, and elite offenses to expose LSU's defensive shortcomings. It wouldn't surprise me if Georgia beats them in the SEC title game, not because Georgia's elite, but because LSU might not be.
Best SEC non-conf. win is Auburn over Oregon. What is B1G's best win non-conf?
The challenge is always to get talent in return that has more years under contract than what you are giving up.
I live in Tanzania and sportsurge works okay. Also, most games are on YouTube. Not talking about YouTubeTV, just plain old YouTube. Just search for "teamA teamB live" and voila! Some ask you to click on a link in the comments section. Those ones are usually a pain. However, some just take you to the game when you select them. Easy peasy.
Anything by Ambrose is good. He's a very good writer of history.
I use website http://vipleague.lc which has pretty much any sporting event in the world. Lots of annoying pop ups at the start, but usually ok after that. Not the best site, but it's an option.