stantmann
---
Sedona, AZ (via Columbus, OH)
Member since 12 January 2012 | Blog
Favorites
SPORTS MOMENT: Holy Buckeye!
COLLEGE FOOTBALL PLAYER: Eddie George, Joe Germaine, Troy Smith
COLLEGE BASKETBALL PLAYER: Jon Diebler or Jim Jackson
NFL TEAM: Bengals
NHL TEAM: Blue Jackets
NBA TEAM: Anywhere Lebron plays
MLB TEAM: Redlegs
SOCCER TEAM: really?
Recent Activity
Salty, I think you missed his point. OSU is the most hated team in the south. Auburn plays SEC schools, and the also play Mercer and Georgia Southern, Ohio State is the only team on the list that does not have Auburn on their schedule. Haters...

9.5 million are you shitting me? most techies would do it for a fraction of that costs, 10's of thousands, not millions, and that would include a couple T1's. Somebody there needs to get a reality check. Seriously though, who needs wifi while at a game??
I don't think you fire Thad Matta, and (basically) hire another Thad Matta. This is about a big name guy already chosen IMO.
If Lyle was the first to go, I bet we still have 3, maybe 4 of the others.
Iowa is always said to be a trap game, and it seems like they always play OSU tough, but in my lifetime, they've only beaten OSU 4 times and I'm 49 years old. Stats: Minnesota only has 7 wins all time against OSU, Indiana 12, and Purdue, MSU and Iowa only have 14 wins all time against OSU.
John Cooper used to say, "If a dog's gonna bite, he's gonna bite as a pup". Prince didn't bite as a pup. With his size, you would think he would be dominant. Wishing the young man positive vibes, so he can do well this year...
To be fair, it's not like that offensive line is much different than last year in pass protection.
That 94 PSU team was something to behold. One of the best teams I've ever watched. They should have easily won the NC in a normal year, and even so, they should have gained a split. When a team is that good, blowing everybody out, including our beloved Buckeyes, you have to admire them.
BuckeyeLurker0509: OSU should have had a championship banner with Diebler, but Buford wouldn't stop shooting the ball. Still pains me to this day... BoxScore: http://www.sports-reference.com/cbb/boxscores/2011-03-25-kentucky.html
Bukirob: I'm talking about OSU losing a linebacker coach to a promotion, and suffering in the backer corps because of it. I'm talking OSU losing an O-Line coach to a promotion and suffering on the line because of it. I'm hoping the same wouldn't happen with Kerry. I am rooting for Fickel too, for the most part - Have to be a little cautious since he is recruiting some of the same people in our state.
Moving a position coach to a Coordinator position is always a risky thing. Look what happend to Fickel when he became HC, and his 1st year as DC (before Ash), and also look at Ed Warriner, you can even throw in Walrus, but one might question him as a OL coach too. When you hire a Coordinator from within, you lose the great position coach you had, and you are hiring a 1st time Coordinator at The Ohio State University. Like I said risky, but let's not get ahead of ourselves. An example of when it did work, was Freddy Pagic, dude was a star. Heacock also worked out well, although I was never a big fan of his.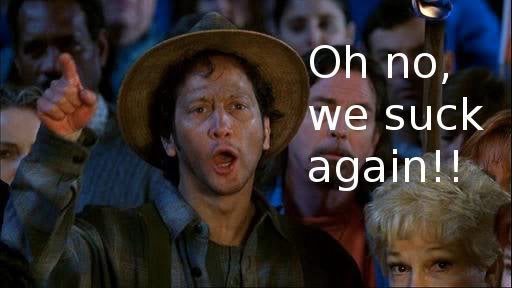 Pretty sad when OSU is almost 4000 seats per game behind Nebraska, and 3000 behind Arkansas...
Herbie - He makes OSU proud in the booth, but playing QB, yeah.... not so much. In fairness, he was part of one of the greatest "wins" in OSU history
In fariness, I was at the game, and I can't remember one play where someone actually went vertical deep in the first half. I'm not talking throwing deep, I'm talking actually a play where a receiver actually went vertical at all. In the 2nd half it changed, but after the fumble by our RB in the first series, our college team was demoralized...
And an upvote for you to counter a DV for having an opinion, on someone having an opinion.
Love the MSU and Um dummies. Love it even more that there is no PSU lol
Unbiased opinion, Conley, Hooker, Lattimore - Those are the only guys I can give the tag future NFL stars to. If the pro scouts want to know what we Buckeye fans think, they should take a poll, and most agree those are the three potential superstars.
I really wanted the Buckeyes to get that TD to make it 48-13. Only then would we know if Urban was Woody reincarnated by, if he went for 2 to make it 50. I'm saying Urban was going to go for 2...
Hey, our starters outscored their starters 77-53.
There should be a list on who WANTS to play for the Browns, that list will be much shorter...
Consolation prize season, we still have to hear from the sorry ass UM fans all...year... long....