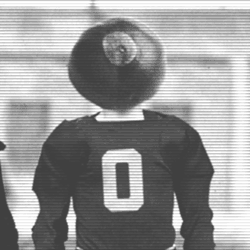 Standtall
Columbus
MEMBER SINCE March 01, 2015
Recent Activity
Who did you play for?
Struck out Brandon Joe in Clipper stadium. Was 12 or 13 at the time. Boom....lol.
He acted like an ass on the buckeye cruise. has a drinking problem and got to it with staff on that trip.
Wesson should not be traveling with the team. They dont win against Purdue with him, but they do beat NW with him. It's a joke he is traveling with the team.
The sound is way off. Swear I heard a whistle like 3 seconds before the foul. The sound needs fixed ASAP.
We will beat them in the only events that matter in wrestling and that is the BIG tournament and NCAA championships. Duels in wrestling are not nearly as important as the tournament. There are no duel championships.
I dont think you actually ran through what the matches may look like. PSU, and OSU will more than likely come down to bonus points. 125-OSU 133-OSU 141-OSU 149-OSU 157-PSU 165-PSU 174-PSU 184-OSU 197-Toss up, but edge is PSU HWY-PSU Obviously upsets can/will happen, but that looks competitive to me. What is your definition of competitive?
I mean TWO before any grammar folks show up....lol
Newsflash, they are. them and PSU are the alpha dogs right now in recruiting. We have to guys we are redshirting that would AA this year at 49 and 84 plus the guys coming in next year.
lol, you actually think the basketball crowds are good crowds? You hear more noise from crowds at musicals. I go to a number of games and its embarrassing. The OSU wrestling meets they have there bring better crowds ×10.
martin started off 0-3 against him his true freshman year and bo is a red shirt. There is no gap any longer. Martin will have a better freestyle career as well IMO.
Myles is the better wrestler. Myles got stuck last year, but if that match goes 7 minutes he wins. Was just to aggressive going for the back points on that take down last year.
That is two matches now just recently Desanto has given the throat slash. He is a ticking time bomb. I know he is autistic, but the Iowa coaches need to do something otherwise when he does blow up on the mat they will be held accountable as well. Tht clip does not show the throat slash as he is walking off.
Flo wrestling is one place but usually need a membership. a good free place where you can view individual weight classes is https://intermatwrestle.com/rankings/high_school/160 individual rankings can be a little deceiving for many reasons, but if you google pound for pound high school wrestling rankings flo might have a list that pops up you can see for no charge. One thing I dont like about wrestling when it comes to that stuff wrestling is controlled by one maybe 2 sites that have coverage on high school wrestling.
The way tOSU is recruiting you wrestle your best wrestlers. If 125 is not where it needs to be in a couple years they will recruit over him. There is a chance he could red shirt next year if Decatur can cut any weight to 125 then take over at 133 after pletcher leaves.
He got his shirt pulled in tonight's match. He has been wrestling unattached in open tournaments so that doesnt count towards wrestling for OSU. the moment he walked out in the duel for OSU his shirt was pulled.
It is still early for Romero, but if he doesnt jump a level he will get passed next year with the incoming class. There are some guys that are top guys coming in.
Read on another board that someone made which is a good one is that Ethan Smith might be able to cut down to 165. They were not sure if he could, but that would help the team for sure. I know you are only able to cut so much weight per week so dont know if he has the time to do it or not, but that would help the team for sure.
I actually know what she said, and wish she would stop banging a bunch of the players as she is passing on some doctors visits for the team.
We can agree on go bucks and happy new year, but maybe not on the definition of "opinion" "a view or judgment formed about something, not necessarily based on fact or knowledge." What he said is the very definition of an opinion.
caught that after I posted and not seeing the edit option so yea...lol
Come on, him giving an opinion on on something he is not an expert in is no different than you giving an opinion on something you are not an expert in. I love going to comedy shows, and there are jokes you see people laugh at that would offend someone else, but that same person who is offended will laugh at a joke that would offend another group or person. You said it yourself he had no bad intention with that comment so save the sacnamounious drivel for another topic.
I have thrown down over 180 scampi shrimp tails included. I love just about all shrimp!
I'm going with Michigan. I get low key, but no interviews and no ceremony tells me he is leaving from 32 thousand feet anyway. Also want to add the way he is doing it is very respectful.
Didnt even read Cincy post. I am guessing it is coming to the defense of either ESPN or something about not being anti OSU.