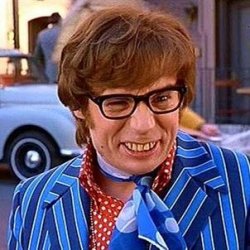 Stampeding Buckeye
---
MEMBER SINCE January 08, 2018
OSU alumni '11. Go Bucks!
Favorites
SPORTS MOMENT: Yeah, 85 yards through the heart of the south.
Recent Activity
I think it does as Alex Smith is listed (5th row, left).
This is great for recruiting, but we aren't really competing with Michigan. We are competing with Alabama and Clemson and Georgia. Bama had 4 first round selections and GA had 3.
Way to leave on a high note. Had a really persevered, had an amazing season, getting conference POY and All-American honors, and will get his degree. What more is there to accomplish? Great work, KBD and best of luck!
Congrats KBD! Best of luck!
Whenever a recruit chooses tOSU over Bama and Penn State, it's a good day. Happy to have you aboard, Tyreke!
Oh thank God. Now we just need to survive this next month(s)!
Good luck, Nick! That PT goal will pay pretty well too if the NFL misses out.
Yeaaaaaah! Go Tate! He has been such a great player, always bringing the energy and really fueling this team, one that is finally having the kind of season he deserved to be having the last 3 years.
That was a great match. Hopefully this means the Bucks are peaking at the right time, because they will need to be to take down PSU.
I hate the compressed schedule, it messed up my flow of when I watched games. And i am very worried it beat up our players a lot. I know there is "plenty of rest" before the NCAA tourney, but I am not sure that makes up for the wear and tear of the last 2.5 months.
And I'm glad Oden is out here with this team, he deserves to be able to have some fun, continue rebuilding his life, and definitely is a positive influence on the program.
Alright Bucks, let's go. Also definitely want to thank the seniors. Without the buy-in from the older players on this team, Holtmann would never have had the influence he clearly has had this year. It's gonna be hard to see Tate leave, though.
Sounds about right. There are clearly areas of improvement, such as point guard defense and getting KBD some open looks, but this is a good team that really is playing hard together and can definitely make a NCAA run. Say Sweet 16 anyone?
I am still pretty happy with how this season is turning out. I do hope that we make it to the Sweet 16 though because that will give Holtmann one more week of exposure to help win over recruits!!!!
Good luck, Trevon! Once a Buckeye, always a Buckeye. If the NFL doesn't work out, he will find a vast and well-connected Buckeye alumni network when goes job hunting.
The hard place is the fact that if you give people what they want (occasional games in St. John Arena), that'll only increase their desire for more games played there and likely lead to a decrease in basketball revenue.
But if OSU doesn't sell out the Schott anyway (which is definitely not a guarantee) are they really losing that much money? And OSU could probably charge a few dollars more for a game in a great basketball venue, especially if demand outstripped supply.
I'm definitely disappointed with last night's result, but I have thought our #8 ranking was a case of "what have you done for me lately" than a true indication of this team's ability. I think that this team is still in great position and can probably make a Sweet 16 run. Talk of a Final Four was clearly premature. If you had told me before the season we would be a potential Sweet 16 team, I would have been ecstatic.
I still am.
Well, a good QB can throw receivers open by making on time, accurate throws away from the defender.
I think KBD should be on these types of lists. ~20 pts and 9 reb a game is nothing to sneeze at, especially when combined with good defense, which KBD has definitely been playing this year. B1G POY is a lock, now finish strong to make a run for national POY awards!
"Ohio State was much better on the glass..." True, but still gave up 42 total rebounds, including 21 offensive! This is a huge problem for this team. There is too much talent to let a terrible team like Illinois even hang in at all.
I have been mostly very happy with Urban's hires over the last 6 seasons. Having assistant coaches who are the best in the business helps with recruiting and hopefully helps with developing creative, effective game plans specific to each opponent. I agree with the commenter above, that egos need to be kept in check and a vision needs to be established.
"He pushes me and makes me go hard on every rep," Johnson said. "And he demands nothing but greatness and excellence out of me."
Get used to that, it's how great players are #DevelopedHere. I love Johnson's attitude that he is great and wants to be great. Go Bucks!
I think Clemson losing their all world QB Watson had something to do with their loss this winter, just like us losing the Cardale to D. Smith 40 yds downfield hurt us in 2016. The fact that Bama plays a complex, matchup oriented defense (the kind I want us to play) probably plays a role also.
Thanks 11W for making sure we as fans get the background on some of these less heralded guys.
Synder's loss was heartbreaking. He just looked crushed under Coon, who really is massive, the whole match. Hopefully the loss here just fuels greater motivation for B1Gs and NCAAs.