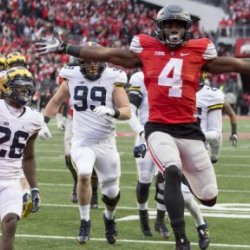 Srow_SpecialK
from Columbus
MEMBER SINCE August 03, 2015
I've been a Buckeye/ TBDBITL fan my whole life. Ohio State football and basketball are really the only two sports teams I care about, while wins from my other sports teams are simply icing on the cake. I tried out for TBDBITLin 2013 and was a member of S row for 4 years. I couldn't have asked for a better 4 years in the band, witnessing in person: Zeke's run 85 yards through the heart of the south, watching Bama crumble in the sugar bowl, and Oregon once again choking on the big stage.
Favorites
SPORTS MOMENT: Being in TBDBITL for the Sugar Bowl and National Championship wins against Bama and Oregon
COLLEGE FOOTBALL PLAYER: Chris Gamble
COLLEGE BASKETBALL PLAYER: Ron Lewis
NFL TEAM: Philadelphia Eagles
NHL TEAM: Blue Jackets
NBA TEAM: OKC Thunder/ Cleveland Cavaliers
MLB TEAM: Cincinnati Reds (unfortunately)
SOCCER TEAM: Columbus Crew (#SavedtheCrew)
Recent Activity
Ahhhh, their saltiness and tears sustain me https://twitter.com/UMichHotTakes/status/1151242568958656512?s=19
Great to see. Seemed like Duane had a solid game too until he tweaked his ankle. I'm excited to see how Gaffney develops. With his length and ability to spread the floor he could be a matchup nightmare. This team has length at almost every position.
Belein leaving ttun should help some, but sparty will always be tough to recruit against in basketball.
Wellllll, it's truly Fields or bust now.... yikes
This team would be so much better if they simply played smarter... never seen a team with so many mental lapses
NIT BABY!!
Awful decision making and passing on par with a middle school team... plus we are once again not getting any calls
Playing like complete ass on defense this half. Need to do better on switches and screens... way too many easy looks
I liked everything I heard from the video. At first I thought hiring someone from the Big 12 would equate to a more air raid attack. As long as we continue to be balanced and maintain a consistent rushing attack I'm excited for where this offense can go
Yet another shitastic start... I'm starting to sense a trend... they'll get beat by sparty next week if they play like this in the 1st half
Or the surprise is Darnell Wright.... one can hope right?
Any word on Nick Broeker? Haven't heard much about him in a while. If we could get him, along with ZH and McKenzie tomorrow that would be huge!
What's up with Birm putting in a CB for Daxton Hill to flip back to ttun 4 days after he decomitted and committed to Bama???
I don't believe that at all... all it shows is that he is a quiet kid and has been throughout the entire process
You can't say that everything points to him wanting to leave then if you also say that he has been quiet about his recruitment
Yeah, sorry but this is nothing like Jackson Carman. Harrison has been quiet throughout his recruitment and honestly I respect him for that. I'm almost 90% sure he chooses Ohio State in the end. I don't buy any stock into him making a decision this way because it fits his personality and how he has handled the whole thing.
Their tears sustain me
Has anyone heard when our in home visit with ZH is? I know they said it was supposed to be sometimes this week
Honestly not sure how the same fans who have such high expectations can be sooooo happy to be left out of the playoffs at 12-1 to play in a Rose Bowl that doesn't matter against a mediocre team. My expectation is to play for national championships, so this to me is disappointing
Zach Harrison bruh
For what it's worth I've heard from people close to him that he's coming to ohio state... safe to say no one really knows what he's thinking
I just want to know how anyone knows where Harrison is leaning? He hasn't said anything about how he's feeling and has been to ohio state more times than any other school... until he commits or comes out and says something no one really knows where he is going
I feel like I'm one of the few on here who actually took a lot of positives out of the game yesterday. We ran effectively and finally got out of the zone read to effectively run the ball and even the numbers in the box, we limited penalties and big plays on defense and found a stud in Brendan White. If we move fuller and white to starting safety with wade back at nickel and give browning more snaps at lb I think this defense will continue to improve. Take out the turnovers and this game is a lot more convincing. Plus Dwayne had arguably his worst game of the year which I don't expect from him the rest of the way.
Well that makes more sense then lol
Also the Cincy game is at 6:00 sooooooo not sure why you wouldn't watch it...