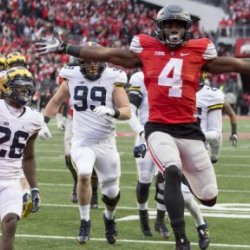 Srow_SpecialK
from Columbus
MEMBER SINCE August 03, 2015
I've been a Buckeye/ TBDBITL fan my whole life. Ohio State football and basketball are really the only two sports teams I care about, while wins from my other sports teams are simply icing on the cake. I tried out for TBDBITLin 2013 and was a member of S row for 4 years. I couldn't have asked for a better 4 years in the band, witnessing in person: Zeke's run 85 yards through the heart of the south, watching Bama crumble in the sugar bowl, and Oregon once again choking on the big stage.
Favorites
SPORTS MOMENT: Being in TBDBITL for the Sugar Bowl and National Championship wins against Bama and Oregon
COLLEGE FOOTBALL PLAYER: Tedd Ginn Jr
COLLEGE BASKETBALL PLAYER: Ron Lewis
NFL TEAM: Philadelphia Eagles
NHL TEAM: Blue Jackets
NBA TEAM: OKC Thunder/ Cleveland Cavaliers
MLB TEAM: Cincinnati Reds (unfortunately)
SOCCER TEAM: Columbus Crew (#SavedtheCrew)
Recent Activity
Any time, anywhere, let's go!
Any time, anywhere, let's go!
That team was absolutely loaded. Such a shame they didn't make the playoffs, but they never figured out how to use all their weapons in that offense
Signed and already approaching 10,000
I wonder if he will be saying this if/when other conferences play this fall and it significantly hurts our program in recruiting, with our current roster, and on a national level. What a joke. He acts like he has the players best interest in mind but he's just fooling everyone
The dreaded 1000% committed post... but in all seriousness this class is ridiculous lol
That should be forbidden... get them off our field!
Not sure how Olave is a longshot... he is a beast and should be one of the top WR prospects next year. Plus Shaun Wade would've been a 1st rounder this year had he declared for the draft so I think he is pretty much a lock as long as he doesn't get hurt.
Yes we could've won it all with JT! JT was special that year, and the offense was in such a rhythm before he went down. The offense worked with Cardale because we tailored it to his skill set, and had a pretty good running back in the backfield to help him out. The defense also stepped up. People choose to forget that JT was having a Heisman year before his injury. There's no doubt in my mind that he could've won us a natty that year
Clearly the answer to all their problems is simple... they need to just hire more bagmen like us!
I'm guessing Sam Hart. I think Wolfe is most likely in and maybe Pugh
I've been to Beaver stadium 3 times, and the Big House 3 times and the white out atmospheres are 1 million times better than the rivalry atmosphere up there. It doesn't get loud at all. However I've never been impressed with Beaver Stadium itself. If it wasn't for how crazy their fans are and how cool the white out looks Beaver Stadium wouldn't be ranked very high for me
#erectorset
Everyone needs a little positivity right now
We are gonna land Emeka, and Tunmise. Not sure why they aren't included on this list
That's what luther and Duane were suspended for according to insiders
I don't understand the culture of this team... players aren't available for no reason, players get in fights and get suspended, and players transfer... so much for the great recruiting class he had coming in... gaffney is probably next... we can't rely on grad transfers only to run the show, and once again depth at guard will be an issue
Would be absolutely hilarious if we end up with Pryor and Henderson and ttun couldn't even keep Edwards in their own state
Any truth to the rumblings that Gaffney is transferring? Would be a shame if he was... he had a ton of upside
The preseason champions of the west are back at it again
Talk about homecourt advantage... Kaleb gets mugged going up for the shot, no call... but CJ gets called for a touch foul that leads to 2 points the other way
Win or lose I'm extremely impressed with the way this team has battled in this game
Unlucky sequence at the end, but I'll take a 6 point deficit all day
Finally got some momentum and then walker does that lol
The inability to finish around the rim is astounding
CJ Walker should be shooting 2 free throws