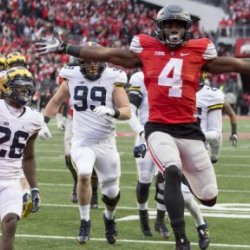 Srow_SpecialK
from Columbus
MEMBER SINCE August 03, 2015
I've been a Buckeye/ TBDBITL fan my whole life. Ohio State football and basketball are really the only two sports teams I care about, while wins from my other sports teams are simply icing on the cake. I tried out for TBDBITLin 2013 and was a member of S row for 4 years. I couldn't have asked for a better 4 years in the band, witnessing in person: Zeke's run 85 yards through the heart of the south, watching Bama crumble in the sugar bowl, and Oregon once again choking on the big stage.
Favorites
SPORTS MOMENT: Being in TBDBITL for the Sugar Bowl and National Championship wins against Bama and Oregon
COLLEGE FOOTBALL PLAYER: Tedd Ginn Jr
COLLEGE BASKETBALL PLAYER: Ron Lewis
NFL TEAM: Philadelphia Eagles
NHL TEAM: Blue Jackets
NBA TEAM: OKC Thunder/ Cleveland Cavaliers
MLB TEAM: Cincinnati Reds (unfortunately)
SOCCER TEAM: Columbus Crew (#SavedtheCrew)
Recent Activity
Must win games and they got them! Next 2 games will be extremely difficult
Game would be over already if we knew how to pass the ball
Ahrens needs to play more... I feel like a broken record saying this lol
No one from Ohio State
Even in the 3 straight wins the offense wasn't that great... this team has regressed so much since december is it unreal... put Kaleb on the bench for extended periods of time and there is literally no threat to score
Hire a coach who can run an offensive set... I'm sick of Holtmann teams having no offensive identity
Boom!!! Don't care how ugly it was, it always feels good to beat those assholes!!
Literal muggings are happening on the court and they aren't calling anything
I've been pretty hard on Holtmann this year because he hasn't gotten the most out of his players over the last month and we saw how good they could be at the beginning of the season, but I respect the hell out of him as a person. I hope carton gets the help he needs and appreciate the support the team and coaching staff has provided
Please give Ahrens more minutes... he gives us good spacing a consistent threat from 3 but hardly sees the floor
The last two possessions sums up this team... no offensive ball movement leads to a careless mistake by andre and then luther Muhammad offers no resistance and plays lazy defense allowing Indiana to hit that buzzer beater
Let's not jump to worrying about him transferring, how about worrying about him getting the help he needs... he has stated he loves ohio and his team... I don't think he will end up transferring but that's not what is important right now
DJ Carton was pushing the pace and making things happen on offense so what does Holtmann do? Takes him out... ridiculous
Not sure how he can sit up there and say we did some things well when we scored 22 points in the second half and basically had double the turnovers to assists... none of the problems we've had this year are getting fixed, the offense shows up for maybe 10 minutes a game, and the guards can't hold on to the ball... if we did just the little fundamental things better we would be looking at a 15-4 basketball team instead of this trainwreck
If I recall correctly wasn't Carton guarding Carr on that last possession when he hit the 3?
No basketball IQ... this team plays like a bunch of dipshits... that's all on Holtmann... he is a terrible coach
I'll keep posing the question but what exactly makes everyone think Holtmann the guy? It would be one thing if this team just wasn't good on offense, but they don't even do the simple things well... their collective basketball IQ is approximately 0 and that is all on the coach
This team makes mistakes that a middle school team wouldn't make
When it rains it pours I guess...
Shouldn't be ranked at all tbh
Holtmann has to be held accountable... this was supposed to be the year we broke threw... the fact of the matter is we have had our best success with guys that Thad Matta recruited... I can't point to a single guy he has recruited on this team that can consistently score... I thought I would be Washington, but apparently if he blows one assignment he gets benched the rest of the game, meanwhile luther plays 30 minutes a night and contributes nothing to the offensive or defensive side of the ball... this team is poorly coached on offense and is sloppy with the ball
Wouldn't having poor talent fall directly on the shoulders of the head coach? If that's the case then he needs to recruit better... the fact of the matter is we have had 2 straight top 3 classes in the conference and no one is developing on offense
Exactly... we punish Washington for a missed assignment but allow luther to waste minutes without being a threat on offense or playing hard on defense... at least Washington could hit a couple baskets... holtmann may be a good defensive coach but he has no clue what he's doing on offense... they run the same high ball action every play with 2 players while the other 3 stand around and watch... I dont see how holtmann is an upgrade from matta
Please explain to me what Holtmann brings to the table that Matta didn't bring? His best players were matta guys... no one develops on offense... you can't rely on anyone to score... it's a pathetic team
I'm done... tell me when it's August