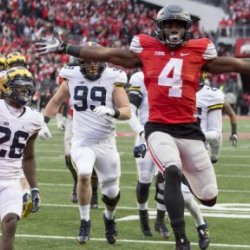 Srow_SpecialK
from Columbus
MEMBER SINCE August 03, 2015
I've been a Buckeye/ TBDBITL fan my whole life. Ohio State football and basketball are really the only two sports teams I care about, while wins from my other sports teams are simply icing on the cake. I tried out for TBDBITLin 2013 and was a member of S row for 4 years. I couldn't have asked for a better 4 years in the band, witnessing in person: Zeke's run 85 yards through the heart of the south, watching Bama crumble in the sugar bowl, and Oregon once again choking on the big stage.
Favorites
SPORTS MOMENT: Being in TBDBITL for the Sugar Bowl and National Championship wins against Bama and Oregon
COLLEGE FOOTBALL PLAYER: Tedd Ginn Jr
COLLEGE BASKETBALL PLAYER: Ron Lewis
NFL TEAM: Philadelphia Eagles
NHL TEAM: Blue Jackets
NBA TEAM: OKC Thunder/ Cleveland Cavaliers
MLB TEAM: Cincinnati Reds (unfortunately)
SOCCER TEAM: Columbus Crew (#SavedtheCrew)
Recent Activity
Illinois getting away with everything and no call
Going to miss olave and fields... sucks that they have to go out this way
I thought 4 or 5 stops could get the job done... we got 2 in the first half and were right on pace... didn't expect the offensive struggles
Yessir
Miss tress so much... what a great guy!!!
Well boo it looked like TT... my bad
TT is also in the ohio state video they posted on twitter at the hotel
Why are we being such debbie downers. We will find out soon enough if they are playing, but I took their tweets as an absolute positive
Damnit with the pessimism again!!! OHIO AGAINST THE FREAKING WORLD, 45-34 Buckeyes!!
Set the alarm to Fanfare for a New Era and now I'm ready to run through brick walls... LFG!!!
Great start on offense... need to tighten up on the other end though
Interesting that they are done testing after today. All season they tested up until the day of the game. Maybe Gene Smith and Ryan Day gave the big middle finger to the B1G for this game, and I'm all here for it lol.
Even if the game got moved back the players who tested positive this week would still be out on the 18th
At this point the decision should be the players and the coaches decision... screw the B1G... this game should be played at full strength
I mean it is January... this is typically the time of year where we lose like 6 straight
No maybe just recruit a quality 5 position
Time to get down voted again but Holtmann is just an average coach
There were other deserving defensive players for sure... but for all the shit tuf borland has gotten in his career good for him! The defense stepped up when they needed to and I was extremely impressed... what a freaking win!!!
I think your first point especially is huge, especially once dobbins got hurt... they didn't have to account for fields at all as he mostly just stood in the pocket... having him and sermon both in the backfield and mobile will cause their defense fits... especially when they have to account for wilson and olave in the passing game
Get out of here with that pessimism!! 45-34 Buckeyes!!!!!
Be careful posting this... I started a forum on this exact thing and got down voted into oblivion lol
Clemson strikes first, 11W melts down, then Buckeyes pull away late and win 45-34
I guess its too much to ask to have a top tier football and basketball program that can compete for championships... all I want is a basketball team that threatens to get past the 1st weekend of the tourney every year
I still stand by Holtmanna not being a great coach... I was impressed tonight with the resolve of the team, but it doesn't change the fact that his best team was with guys Matta had recruited and that we don't have a guy that can score when needed... this team will go as far as the guard play goes and that is inconsistent at best... ill happily eat crow tonight though... great win!