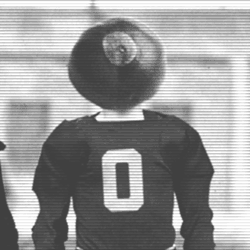 SPUD123
---
Member since 13 June 2013 | Blog
Recent Activity
Only 40% home. Still 9 games to go!
Just heard that Kareem Walker will be visiting Michigan this week? Any truth to that or anything to worry about there? F Michigan.
2010, you say? Police suspect Evan Turner and Jim Tressel.
Ohio State - 1
Rest of College Football - 0
Cardale's got a kid so he must have had game at one point.
Can we recruit the guy to the right of Zach Smith in the picture?
#1 - 2016 National Championship Game
Fuck Tom Brady, the most overrated QB of our generation.
(Proof - Matt Cassel won 11 games with that team.)
I'm not a Belichick fan either, but I admire his genius.
To me Beanie was the most dominant college RB of any of those guys. Looks like he's been spending a lot of time at IHOP.
It's Apple picking season, baby!
Those colors are just awful though.
Is it too late to call him up for the playoffs? Craft would make Harden his bitch.
Sorry everyone - didn't see the other post.
Interesting website. For the 2015 draft, the author predicts Devin Smith, Michael Bennett, and Doran Grant will all go to the Patriots. Is he over selling the Meyer/Belechick bromance?
Shane Morris?
that was suppose to be in italics
Funderburke was nasty to me when I was about 9 years old and asked for his autograph at a Worthington Summer League game. He implied that I would use the autograph to make money off of him - never even crossed my mind.
Based purely on college (not NBA): Scoonie Penn, Evan Turner, Jimmy Jackson, Jerry Lucas, John Havlicek.
Some players like Conley and Oden were left off because they only played one year.
Hey, Sam Thompson is my favorite.
For the love of God, somebody please post the GIF of Carlos Hyde bulldozing Drayton.