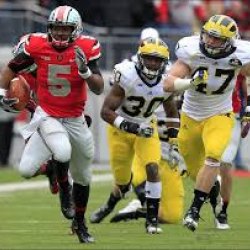 SpringfieldBuckeye
---
North Carolina, South Carolina, Georgia (via Springfield)
MEMBER SINCE May 26, 2015
Recent Activity
700. Kyle Lamb, you need better sources lol.
It's gonna get ugly my friends. Just prepare yourself.
Food poisoning
If the RB hits the right holes, they could be on the board. Multiple plays I've seen him hit the wrong hole
We could see Fields, Dobbins, and Chase all 3 in New York.
Had to get Big Thanos in there!
Sportsurge.net New place for links that were once on reddit.
Wet though. Seen G Wilson slip. And one other player
We may be able to score again before half. Come on D!
Knobby Dobby!
Most definitely need to keep em closed. But I think that's a result of them not calling the one on 25 for MSU on the TD.
Zach and Chase. Cooper and JJB have been not as dominant as expected.
I guess the kids do like the black outs
Okudah showing why he's next up for DBU.
Bad call. We dont need those ref. Good run JF. Thank you UGA lol
Chase is feeling that Carmen, Ohio! Lol
Get paid Chase lol
Had to overthrow that because of Baron. Good play for the D all the way around.
Just as I expected him to respond. 'C'mon Man!' LOL
He gotta get love for that mullet
If they beat Texas, and Bama, he better make plans for NY.
Well. Theres that. Lol. This is fun.
Gotta stay calm and collected here.
348
Never hurts to be a looker on top of all the other things.