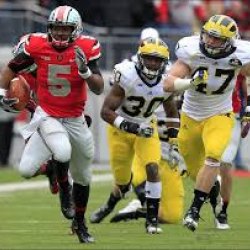 SpringfieldBuckeye
---
North Carolina, South Carolina, Georgia (via Springfield)
MEMBER SINCE May 26, 2015
Recent Activity
Never was for 12 Gauge
N'assty bastard
I just watched some game tape. His first step is crazy and he can move. I can definitely see why LJSr may be excited about him. Refine that technique and get good movement back in those hips and we h ave a winner. Excuse my ignorance from before.
These live streams are gonna have ads soon. This is crazy.
I hope it's because he has had surgery and may be a little out of shape, but he looked pretty stuff at OSUs one day camp as well as Rivals 5 Star camp. Of course, I wasnt there to see it in person, but the videos show him gettin beat a decent bit at the Rivals camp. Is it his athleticism at that size? Technique? Hand work? I'll probably look at the videos again, but I wasnt too impressed. Then again, I'm no recruiter/coach so who knows. Hopefully he shows up and shows out his Sr season.
In my opinion, it seems that these are 3 that would be doing the influencing of Mr. Jarrett. I think being around and committed with them will only help his cause. These 3 could be the return of our Captains.
Most definitely has more to do with early playing time at ASU. Especially if things on Robinson are as good as expected
Trayanum to ASU?
I think because of top end talent in Ohio for 2021, and the staffs ability to still recruit nationally, Top 5 is a foregone conclusion. Well in my eyes.
Not sure if they still are, but Schulers was always a fave as a child.
I think it was more about Bobby being confident we land him, and just giving him a little push. Speaking it into existence
I left my home in Vegas, currently poolside in Barbados. Enjoying this boom of a Friday. Let's get it started.
I'm feeling good about this next decade for the Buckeyes. I see multiple championships coming our way, just based on recruiting. But also in hearing how the players are talking about the defense and their cohesion and Justin Fields, I am going to thoroughly enjoy this year.
The ol' rope-a-dope! Setting 'em up for the knockout
Oct 5th. Coming to watch Michigan State get obliterated. They deserve it.
Now I'm kinda under the impression that when Urban talked about the WR room, it was probably a jab at them more then the kids.
Fuckin right!
We may be the only team that didn't have WRs mentioned. Good sign that not much is known after the departure of our captains?
Besides the Bengals. I'm done with them. Might rock with the Dawg Pound! And the Ohio State Saints as well.
This is the big one, Elizabeth!
They better lol
Yeaaaaaaaaaaaaaa sir!
Didnt Ledee win Mr Basketball as well?
It seems like Garret Wilson will see the field this year. Special teams and making good plays on bad balls. Good recipe for early playing time in a group where a decent bit played and had success last year. The best players will play.
Best wishes my man. Praying for you and your family. Strength your way.