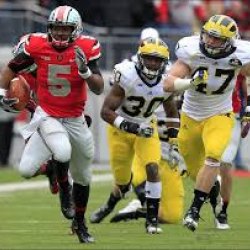 SpringfieldBuckeye
---
North Carolina, South Carolina, Georgia (via Springfield)
MEMBER SINCE May 26, 2015
Recent Activity
Chase is feeling that Carmen, Ohio! Lol
Get paid Chase lol
Had to overthrow that because of Baron. Good play for the D all the way around.
Just as I expected him to respond. 'C'mon Man!' LOL
He gotta get love for that mullet
If they beat Texas, and Bama, he better make plans for NY.
Well. Theres that. Lol. This is fun.
Gotta stay calm and collected here.
348
Never hurts to be a looker on top of all the other things.
I can picture Lane standing on a porch, hands perched on his hips, glaring into the night sky.
Birthday Buddy! Same presents as well. Must be twinsies
Betty "Betty White" White has to be the GOAT in nicknames!
As long as there is no interference with Buckeye games, I'm gonna try and catch a UGA as well as Ga Tech at some point this fall.
I'm not sure what twitter thing at the top of the box you speak of, but it's not at the top of mine. Just fyi. And thanks for the assist.
Linthicum dropped his top 3. Va Tech, Clemson, ttun. https://twitter.com/RyanLinthicum2/status/1166152063631446017?s=19 Cant embed on mobile.
I always watch the games from years past, watched Nebraska last night. Our O-line rarely ever made it to the 2nd level, where as UGAs line made it a point to hit the lineman and get to Devin White. Hopefully we can get to that second level this year
Clemson, Buckeyes, OU, and UGA
Champs: Buckeyes
Zaxbys is legit legit. Probably my favorite chicken spot fast food wise.
Knew that fake was coming lol. Looked like Buckeye tackling out there
"Why, What's he do?" Horrible follow up question to a simple question to begin. Do better reporters.
You're exactly right. I don't see him going past 3 though. The game wont be close. Just to get those reps. The only game he may play into the 4th should be Cinci, but I honestly don't think he plays past 3 in that one. I know I sound like a homer, and I am sometimes, but i see explosive plays from this team in all 3 aspects of the game. Especially after a couple of games played, and specific game planning.
what does him being 24 have to do with anything?
I think it was moreso Fromm not doing anything to lose the job. When you are an incumbent starter, I think you have to do something to lose the job instead of the other person winning it, especially after a season where you lead your team to a spot in the SEC CG. As well as almost beating Bama. Fromm is a good QB, in addition to being an excellent practice player as well as a leader. I'm not sure any QB could've unseated Fromm for that starting spot given those circumstances.
Patience is definitely needed, but I really don't think he plays a full game against FAU.