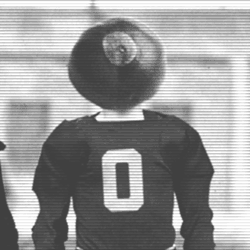 SpoonerBuck33
---
MEMBER SINCE September 08, 2012
Favorites
SPORTS MOMENT: Watching Dorsey's pass hit the ground and immediately getting drunk off Burnt Cheeseburgers (Brent Musberger) tears afterward
COLLEGE FOOTBALL PLAYER: James "Little Animal" Laurinaitis
COLLEGE BASKETBALL PLAYER: Aaron Craft
NFL TEAM: Browns, Packers
NBA TEAM: Cavs
MLB TEAM: Indians
Recent Activity
Any idea what the DE board does look like?
If we see a Barton Simmons CB come through then this one's a wrap
Jives with the report form the Rivals guys hearing we were the leader
The day they stop running their mouths is the day I'll worry that they've caught up
Some updates:
- Removed a good chunk of guys from the big board bc there have either been no updates on them or no connection to their recruitments for awhile
- Added TreyVeon and updated his height/weight to be 6-1 210 since Birm's article mentioned that is his current measurements: https://lettermenrow.com/ohio-state-football-recruiting/treveyon-henderson-ohio-state-buckeyes-football-running-back-analyzing-commit/
Just wanted to make sure the ridiculous hot take we had on here about him holding up in the big ten can be put to be put to bed
Ill be home shortly to start the next part
Unless we offered Robinson's brother this was prob never going to happen IMO.
AE with the CB for JT Tuimoloau :)
I'm sure that will be addressed on his visit
Florida insider with CB for Wilcoxson
Givler putting in a FC for Buckeyes
($) BK article where Wilcoxson says we're #1 on his list.
https://247sports.com/college/ohio-state/board/120/Contents/kamar-wilcoxson-decommits-from-florida-ohio-state-no-1-145436419/
There's been no confirmation on date and we won't know until the day Treyveon announces so really not worth getting worked up about.
BK article with Wilcoxson:
($) https://247sports.com/college/ohio-state/board/120/Contents/wilcoxson-talks-about-ohio-state-florida-and-what-comes-next-145415800/
Kamar says his official for June 12 is still on and if allowed on campus before then he will take an unofficial as soon as he can. Said his 6/12 official visit might be his first and last.
I think we should pull an Elaine and name names
Why do you feel like they're rushing? If Coombs has his targets and board picked out and kids want to commit you don't hold them off.
Jalyn Holmes comes to mind
He can def make plays when needed. However, IMO, when it comes to ball placement at the high school level he's the best we've landed maybe ever. He has an unbelievable feel for how to play the position and doesn't get fazed by anything.
Please always take the boarding house with a grain of salt. Like they have a freaking disclaimer on those articles for a reason.
Don't think it's much of a secret at this point IMO
For the love of everything holy please let us move to those uni's <heart eyes emoji>
Heard a rumor we were moving back to the big grey stripes. Really hoping those are it.
Distance from home was an issue before he committed per Loy. Wouldn't worry about it.