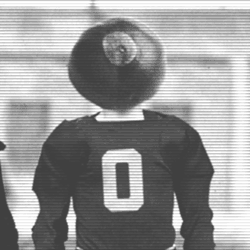 Spivan
---
Member since 15 December 2013 | Blog
Buckeye football fan for life. Army till they get sick of me.
Favorites
COLLEGE FOOTBALL PLAYER: Hyde
NFL TEAM: Cowboys
Recent Activity
Rarely does someone say Leetonia (Luh tone ya) right the first, or 50th time.
For a second I thought you were referring to Athens, GA. I love the dirty looks I get wearing my Buckeyes gear down here in EssEeeSee country.
My guess would be they have them already on a spreadsheet. Just a matter of copy/paste at that point.
I hated that saying till they handed me my DD214.
He did win the Pioneer League twice while at San Diego...
That's the plan. His mother wants him to be a UGA fan and her parents want Bama. Hopefully he wants to be just like his dad.
We have a son that will be here in the next 2.5 weeks. I have his first OSU themed shirt for him to wear during The Game. It says "I think I made an Michigan in my diaper."
Six days after this game I met my now wife. Turns out, her parents are huge Bama fans. I wore my 85 Yards shirt every time we would visit them over the next year.
Well, Nebraska won't have Joe Bauserman playing for them this time...
Seriously. I was about to go find this and preorder it.
As an Army vet, I'd love to see them make it a good game. As a lifetime Buckeye, I want to see this game over by the half.
Yes. I can confirm this is true.
If I lived there I would do it, but considering what my wife makes here and what she would there is easily a 40k a year difference, it's a no brainer...
UV for Fort Carson. My first duty station. Spent almost 6 years there.
I remember at a point during the Fiesta Bowl that they showed Clemson clapping on defense, presumably to screw with the OSU snaps. Makes what they said about stealing signals more believable.
The win over Arkansas (pronounced Are-Kansas) happened. I watched it live at the USO in Kuwait at about 4 AM waiting for my flight back to Afghanistan.
I always guessed it was a "holy shit, did that really just happen" look.
PSU has to come through Columbus to repeat. Their recent history there doesn't bode well for them. And there is no Happy Valley Voodoo in Ohio Stadium
Isn't any weather perfect bourbon weather?
Well reading these forums, seem like JT did exactly that...
I recall something about Bama supposed to beat OSU in the first playoff...
Well obviously selling your personal items is a sin much graver than what happened in Happy Valley...
Should have been a QB, bro.
So you are saying he's moved up a few?