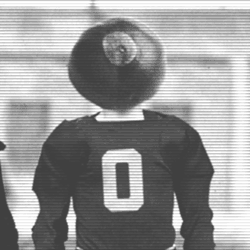 Spivan
Augusta, GA (via Leetonia, OH)
MEMBER SINCE December 15, 2013
Just a Buckeye living in the home of the Master's.
Recent Activity
The one who came out and said it shouldn't have been overturned?
Does that make all the out of state players on Ohio State's roster traitors too?
Herbstreit's boys play for Clemson don't they? Would be a bit of conflict of interest I think.
I'm hoping Vettix puts some up. I live 2 hours from ATL and went to the Peach Bowl as their guest last year. Trolled michigan fans all game. It was glorious.
All I want for Christmas is for Chase Young to come back for his senior season.
Saw a similar post over at Mgoblog. They are pretty confident they are going to win now.
Watch the Uncle Lou live stream instead, until Big Noon Kickoff comes on at 11.
Loved it. If it isn't the OSU game, I generally want Chaos.
As a Buckeye, living in Georgia, and married to a UGA fan, I love this.
Because 2 loss Auburn and Florida deserve to be there.
If there is one game that I haven't been worried about this year and the inexplicable loss, it's this one.
this team will be laser focused after what went down last year in College Park.
Teams play bad games and still end up winning... Remember Maryland last year? Ohio State should have lost that game.
That's because all losses in the EssEeeSee are quality losses.
That, and the fact that the top seed has yet to win the CFP.
He's just following ESPN policy.
Taylor still doesn't have 100 career yards against Ohio State.
Wish I could get there. Had tickets from them for the FAU game.
Where at? I live in Augusta, but was headed to Baxley this morning.
Listening to this while driving through BFE Georgia is a test in patience. 15 to 20 seconds of audio followed by a minute or two of buffering constantly... Hopefully it loads completely while I make this stop for work.
If only we weren't forced to read content on the internet that we didn't think was up to our standards.
If you don't have BTN, Hulu Live has a free 7 day trial that includes it.
This is what I remind people about every time TexAss whines about horns down. https://youtu.be/sXIWoL3_LdM
The best offense they have faced all year was Central michigan, which comes in at number 74.
I'm 38 and I wear a jersey every game day.
12 of the last 13 titles has absolutely no bearing on this years title. Thinking it does is how we get teams like aTm to be highly ranked to start the season and have wins over Lamar, Texas State, and a really bad Ar-Kansas team.