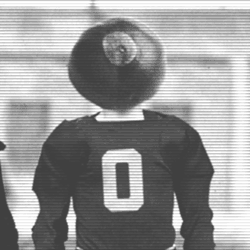 Spivan
Augusta, GA (via Leetonia, OH)
MEMBER SINCE December 15, 2013
Just a Buckeye living in the home of the Master's.
Recent Activity
The same fanbase still talks about Iowa and Purdont like they were their own wins.
Yes.
I've yet to meet a michigan fan doesn't believe they got away with one there.
If Wade doesn't lower his helmet, he doesn't get flagged.
This is the exact image I used, but the troglodyte thinks that leading with your helmet is automatic targeting, even when you don't make helmet contact. And that it shows Proctor launched.
It's only an NCAA violation if they sell memorabilia to buy said apple watches.
Yup. Living in the heart of EssEeeSee country, 11W and Letterman Row get me the Buckeye football info that keeps me sane.
Why does every good highlight video get ruined by bad music?
Already have a block O on my leg. Paid for with the winnings from Free Ink Friday on a rock station in Colorado.
Duck fans get really butt hurt when you tell them they will start the season 0-2.
It's actually a great way to increase the number of push ups you can do for a PT test.
The one who came out and said it shouldn't have been overturned?
Does that make all the out of state players on Ohio State's roster traitors too?
Herbstreit's boys play for Clemson don't they? Would be a bit of conflict of interest I think.
I'm hoping Vettix puts some up. I live 2 hours from ATL and went to the Peach Bowl as their guest last year. Trolled michigan fans all game. It was glorious.
All I want for Christmas is for Chase Young to come back for his senior season.
Saw a similar post over at Mgoblog. They are pretty confident they are going to win now.
Watch the Uncle Lou live stream instead, until Big Noon Kickoff comes on at 11.
Loved it. If it isn't the OSU game, I generally want Chaos.
As a Buckeye, living in Georgia, and married to a UGA fan, I love this.
Because 2 loss Auburn and Florida deserve to be there.
If there is one game that I haven't been worried about this year and the inexplicable loss, it's this one.
this team will be laser focused after what went down last year in College Park.
Teams play bad games and still end up winning... Remember Maryland last year? Ohio State should have lost that game.
That's because all losses in the EssEeeSee are quality losses.