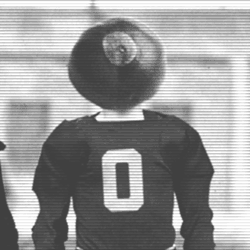 Spivan
Augusta, GA (via Leetonia, OH)
MEMBER SINCE December 15, 2013
Just a Buckeye living in the home of the Master's.
Recent Activity
Yep. One more reason I really don't care for preseason polls.
I actually had a Bama fan try to claim the 2017 FSU game as a "ranked win" for them.
I'm gonna say at least 5 of these teams are no longer ranked come December
My statement was a bit of an exaggeration, but Joel Klatt was talking about it at the end of the season. Think he said 10 or 20% of the voters sent theirs in before conference championship games even took place.
The team was also in the top 15 in the nation in TFL this year as well. Teams were either going to bust a big play or go backwards.
That's the problem. Most don't vote with their head. They just see gaudy stats on ESPN and send their ballot in early.
I'm guessing you weren't either, so same same.
Rooting for him to fail? Nah.
I just laugh at the way he ran his mouth, guaranteed he would win the starting job, then bolted for greener pastures. And now didn't win the job there either.
I hope he has all the success in the world, but when you act like you don't have to work for it, I'm going to chuckle at life telling you to sit your ass down.
They can. They just don't care to.
Clemson meanwhile, has an actual bye week before their in state rivalry game with USC(Jr).
Whenever i get an ad for something michigan related on Facebook, I report it as offensive.
Currently it is only available in 4 locations. Augusta, St. Louis, Alexandria, and San Mateo. If you or a veteran you know are interested and able to get to those locations, let me know. I am in regular contact with the director of the company contracted by the CoE to run it.
The fossil article is interesting. I recently worked in a program ran by the Corps of Engineers that gets veterans back into the work force by curating artifacts owned by the CoE that have been sitting in storage for years. Called the Veterans Curation Program.
Well, it works for Oklahoma.
Yep. That's him.
His podcast after the 2018 edition of The Game is pretty good though.
Covington isn't bad and neither is Stona Mountain, depending on the side of town you go to. I really don't get to Atlanta much as the traffic isn't really worth the headache and Augusta and Columbia have most of the stuff ATL does.
How far from Atlanta are you looking? I'm 2 hours East in Augusta. My wife has a friend who lives in Acworth, whichbis north and pretty nice, but pricey.
I've posted a few times, but generally don't frequent forums and boards like I did 10 years ago.
I don't know about a loss, but they will struggle with them. Army is no joke.
I don't know why they would have said that. Haskins carved them up in THE GAME just the year prior when he spelled JT for awhile. Plus i can't remember an OSU qb in the last two decades who's had a problem vs them..
The excuse I heard the most was, that they just weren't prepared for him.
Neither did Haskins when he played in it.
That's all I ever hear. I work with several UGA fans and that was what one of them said about Fields, and now this guy.
I think Collins in better than DPJ. If Shea Butter can actually get the ball to them this year. Hoping for another season of shorting his receivers when they are wide open.
Agreed. This defense is going to be seething to right the ship from last season. I see at least 3 shut outs this year.