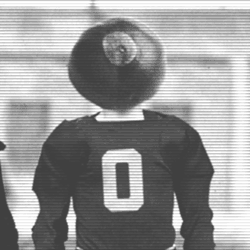 Spivan
---
MEMBER SINCE December 15, 2013
Buckeye football fan for life. Army till they get sick of me.
Favorites
COLLEGE FOOTBALL PLAYER: Hyde
NFL TEAM: Cowboys
Recent Activity
The answer is, it doesn't. They showed that in 2017 when they put Bama in.
It was only a 28 point loss. Not a 31 point loss. It won't have any basis in the selection this season.
He wasn't kidding about recruiting Ohio.
Jalen could be the poster child for the argument that the NCAA should let players that go undrafted come back to school.
Most Bama fans I have talked to say they knew after that run, it was over.
Could also be someone close to him.
Well... DJ was slightly obsessed with McCall...
Speaking from personal experience... an achilles injury will do that to you...
He needs to put one in Dublin, GA as well.
I think the big play were the thing that drove me craziest last year. If only because when they weren't giving up huge plays, the defense was actually pretty good. They ranked 28th in the country with 99 TFL. Even more than michigan had. They were 15 in 3rd down defense with teams converting less than 1/3 of attempts. Stop giving up huge plays on 1st and second down!
When UGA doesn't, they are bragging about how the EssEeeSee does.
I live in Augusta, GA.
On Friday's the morning show on one of the country radio stations does a "what are you doing for the weekend" segment. I wasn't going to call in, but the one dj (Dub) made a comment that his family from Ohio is coming into town. The other one (Cash) stated that he might have to leave because someone from michigan can't be in the same state as someone from Ohio.
I had to now... I called in (this was the Friday before Memorial Day) and said I would be spending time with family and friends, and reflecting on the ones we have lost over the years, because that is what the weekend is about. They commented on it, and I asked Cash if he was from michigan, He said yes, so I asked if he was a UM fan. He said he tries to be. I replied 62 - 39, and he groans loudly.
My kill time plans...
Go to the beach. I live in GA, so this isn't that difficult.
Spend time with the kids and dogs...
Work...
Aren't you just a ray of sunshine?
That was my thought too. Nothing against Fields, but I'd love to see Baldwin win the job.
Any of y'all in Augusta for the tourney?
Was stationed in the Springs for almost 6 years. Been trying to get my wife to let us move out there... but she's a Southern girl.
Always pick the Colorado option.
but they do also have a handful of egos on their team
Hell, Baker and ODB's egos alone are more than most teams should have to deal with.
I never cared that he did it honestly. Don't want it to happen? Don't lose. But then again, there isn't enough alcohol in the world to make me be a Browns fan, so it's a moot point anyway.
But... he knows kung fu...
I did read somewhere that Disney might create a movie production unit that does PG13/R-Rated films which would be perfect for Deadpool and any reincarnations of Wolverine.
My sources (ie random interweb sites) tell me that this is the reason Disney is looking to buy or invest heavily into Hulu... because they wouldn't be able to have that stuff on the Disney streaming service...
I love me some Quaker Steak. I do my best to head to Sharon at least once when I am back in Ohio. I have seen signs for one in Columbia, SC which is about an hour east of me... just haven't made it there yet. Maybe next time I hit the VA hospital there I'll get lunch.
He's so good, that he blocked a punt in The Game, without even being on the field because of injuries...
This right here is further proof that no matter how much the committee says schedule matters.... it really doesn't.