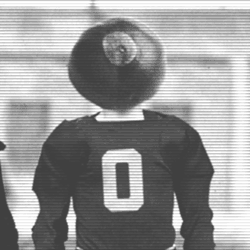 Spirit
---
Chester, W.Va. (via East Liverpool Ohio)
MEMBER SINCE December 07, 2012
Fan since mid sixties. Only team I care about. These may be my most fun fan years,yet. Saw em carry Coach Tress at Urban's first win against ttun, felt so good.
Favorites
SPORTS MOMENT: Bucks beat unbeatable OJ's Trojans or Coach Tress' team whoops the unbeatable , (ha ha) Canes and listening to ALL the EXCUSES, like we will all do again, soon!!! Beating Bama/Ducks
COLLEGE FOOTBALL PLAYER: J.T. /Cardale/Brax
COLLEGE BASKETBALL PLAYER: Mr. Craft
NFL TEAM: Who cares?
NHL TEAM: Ditto
NBA TEAM: They aren't worth watching.
MLB TEAM: Pirates til they became a farm team for the good t
SOCCER TEAM: European sport, isn't it?
Recent Activity
Thanks for showing your Spirit.........
A spot in my heart, forever.......
Thanks to you, Kevin, for your labor of love.
You have shown your Spirit.
Many of us far from Columbus get our only real information from you and EW staff.
Hoping your Christmas is fabulous.
Now, on to the next championship! GO BUCKS!
Then OSU will stand alone as the school with the most Heismans.
The play he made against Johnathon Taylor was magnificent.
Hoping great blessings keep happening for this wonderful young man.
He has earned his way, and is a perfect representative of OSU.
One of THE coolest vids/ pics ever.
Made me drop a tear.
Show your Spirit.
Go Bucks!
Easy, brother, I don't want Chase coming for me...........
Give him the keys to the caddy.
That's why he's here.
He'll take good care of her!
Cardale Jones. That man has a spot in my heart, FOREVER!
Dat man.....(Cardale) he got a spot in my heart,forever.
I have thought about this for years.
My 2 cents; stay there as long as possible. (Sacred ground)
First they out coached us.
Then they curb stomped us.
Now, they take the recruits we desire.
We have work to do, Mr. Day. Show all our Spirit and the new best coach in the land!
GO BUCKS!
Miller's TD was one of my all time great Buckeye plays. LJ hugging him on the sideline, afterwards, oh boy. Wow! What Spirit.
We all know there will be learning curves and growing pains.
Maybe by the time we head north, we can make them our Bitchagain!
Thanks for coming our way, big guy!
We were never in trouble with Cardale. He played the finest 3 game set in NCAA history. And he has a spot in my heart, forever.
If I'm him, my most important question is" do I want L.J. to teach me to be a good nfl prospect?"
Mr. Williams, there are no instant leaders on Ohio State's defense.
These positions are learned, then earned...
Curtis Grant and Raekwon McMillan can help you, here.
For the rest of my life, I will wonder how many passing yards DH would have had with a year starting under his belt......
So DH just left, and just like that, a new era has begun. We are blessed. Whose got it better than us?
Go Bucks!
Show your Spirit!