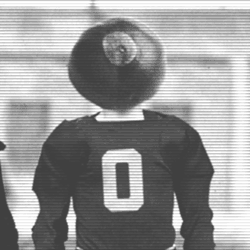 Spirit
---
Chester, W.Va. (via East Liverpool Ohio)
MEMBER SINCE December 07, 2012
Fan since mid sixties. Only team I care about. These may be my most fun fan years,yet. Saw em carry Coach Tress at Urban's first win against ttun, felt so good.
Favorites
SPORTS MOMENT: Bucks beat unbeatable OJ's Trojans or Coach Tress' team whoops the unbeatable , (ha ha) Canes and listening to ALL the EXCUSES, like we will all do again, soon!!! Beating Bama/Ducks
COLLEGE FOOTBALL PLAYER: J.T. /Cardale/Brax
COLLEGE BASKETBALL PLAYER: Mr. Craft
NFL TEAM: Who cares?
NHL TEAM: Ditto
NBA TEAM: They aren't worth watching.
MLB TEAM: Pirates til they became a farm team for the good t
SOCCER TEAM: European sport, isn't it?
Recent Activity
If he wins the Heisman, OSU will stand alone as the school with the most winners.
He might need a janitor to push a broom in his toy barn. That might be a place for you......
The thing we are all missing is it's quickly getting worse. Recruits are cognizant that they aren't going to win Big/ natty titles. His days are numbered, rigor mortis is beginning.
One of the most underrated Buckeyes in the all time group.
Watching him run away from those Golden Domers is one of the greatest plays I remember (since 1964.)
Rest in peace, my dear brother.
You've got a spot in our hearts.......forever.
Chase Young, Predator, Ruler of the North, First of his Kind, Owner of Big 10, Son of LJ the Wild and Free, Holy Buckeye, Once in a Lifetime Dominator, Sack King. We will NEVER see the likes on him, again.
Yeah, I'm a 10 time grandpa, and I said it. And, I'll love that man for the rest of my days.
Curtis Samuel's outstretched arms crossing the goal line in O.T. with SAD piss and blue faces trying to catch him -
FOREVER etched in my mind!
Wait and see if the rioters get an outbreak.
If they don't........................
If EE plans on receiving in the league, one would guess OSU to be the favorite...........
Willie Davis is one of my childhood heroes. They won 5 out of 7 NFL championships. NO other team has accomplished that. Had no idea Wyatt had royals blood in his veins.......Go Bucks! Go Wyatt! On to a championship! ( they cannot be underrated if defense won championships then, they, alone won 5 out of 7, and there are as many all pros and HOF players on the first at once as any team)
Watching "Places video" was the high point of my week.
Chuck ichigan. We OWN them.
Imagine a new recruit comparing the two schools.....lol!
GO BUCKS!
Ef ND.
They had theirs chances. Big 10 doesn't need them.
I'm in Florida.
Our return flight is cancelled.
You just breathed a little life into my tumultuous day!
GO BUCKS! Onwards to another title.
If we get this kid,(Edwards) it will be the beginning of the end for Hairball.........
Thanks for showing your Spirit.........
A spot in my heart, forever.......
Thanks to you, Kevin, for your labor of love.
You have shown your Spirit.
Many of us far from Columbus get our only real information from you and EW staff.
Hoping your Christmas is fabulous.
Now, on to the next championship! GO BUCKS!
Then OSU will stand alone as the school with the most Heismans.
The play he made against Johnathon Taylor was magnificent.
Hoping great blessings keep happening for this wonderful young man.
He has earned his way, and is a perfect representative of OSU.
One of THE coolest vids/ pics ever.
Made me drop a tear.
Show your Spirit.
Go Bucks!
Easy, brother, I don't want Chase coming for me...........
Give him the keys to the caddy.
That's why he's here.
He'll take good care of her!
Cardale Jones. That man has a spot in my heart, FOREVER!