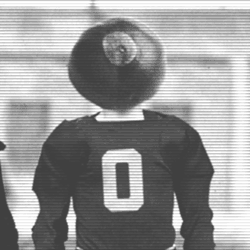 SpielzWheelz
---
MEMBER SINCE January 06, 2019
Recent Activity
This needs updated after the show after that last block on air.... ALOTTA love for THE on that set... which is totally different from yrs past.
CLASSIC!!! Could you imagine if we were known for those older fine young gentleman being in-game entertainment?
PahAHAHAHAHA !!!!! Michigans pieee-pinwheel chart looks like a shitty cut ghost costume on Halloween
New team, New Coach, New era. #1 THE ... No need to worry, this team has a totally different MO
Great job!!! I always look forward to film study each week!
BOOM!!!! This team is so sound, what a VICTORY!!! The 'Shoe was a rockin! Great Team W Buckeyes!!!
Wow is that Hunter Wohler a ball player! My gawd can he cover ground quickly and lay the wood when he gets there. I hope we get him, and not his hometown University. He kinda reminds me of Rob Kelley.
Straight outta Saban/Tress school of Coaching. I don't know how true it was, but I read an article back in '12 after Urb got the OSU job and Dino didn't get a sniff that he planned on becoming Urb/OSU biggest thorn. Well he did and spoiled TWO of Urbans chances at possibly 2 more Natty's. Thank goodness that train never left the station, he would have been totally the wrong choice and Buckeye Nation would not have ever warmed up to him.
Is it me or does Okudah look like Malcom X here? Maybe its Woody's specs, I dunno.
Did we recruit him out of HS? I had never heard of him until he came after quitting baseball.
The way some of these "beat" reporters needle, dig, and poke these Players for a negative response kills me "Does it bother you that you don't have a catch yet" ~~Lori Schmidt, Dan Hope, and DougLESS ... try some positive questions, clearly your negative probing is not gonna crack the cohesiveness of this team. If I was Jerry I would revoke some of these clown's passes if they can't work some angles of positivity once in awhile.
I too appreciate that we have TWO great leaders (Young, Fields) each on one side of the ball... if you wanna throw Olave in there as a Captain on special teams, he seems to really have a knack for blocking kicks. When The Man says at the podium that Olave is really good at this, hes our leader with that particular Group of young men in my eyes. We are just untapping the potential this team has, this Coaching staff is figuring this out with each game and it shows.
This OL group have a nastiness about them that I have not seen since some of those dominant lines that Earle Bruce had. I concur!
I said the same thing (statement win) to a group of friends/fam gathered at my home watching the game... some disagreed. I also said that the days of us struggling at House Hoosiers is over. Crazy part of this, it seemed rather easy on our part.
Cooper's Bowl game record was less than stellar as well.
The only thing more amazing than this piece, was Kris's life. I visit this read every 9/11 and leave with a bigger pit in my stomach and more tears than the year before, good food for the soul as my Mother always said. Thx Ramzy.
Hafley is the best Coach for our young guys this year... luv that dude
Hafley is must see tv "shit I was right"
Its Football... the pageantry of CFB has got so outta control, they can't go back. I mean TTUN took their team on African Safari this year? Team building is outta control in some places, maybe he should save that coin and put more of an effort towards the best rivalry from days GONE by. Wild to even think that a "Xichigan Xan" who delivered on his own guarantee has lost focus of what its even all about. I thank God for Tress every day, not for him what is the record of the last 16 games. As a Buckeye fan, I can speak for many when I say, we were beat down by the time Tress arrived. Things can change on a dime, I hope Day totally understands and gets this.
We have to wait till the 19th of Aug to get some insight from Hafley? I hope Emig gets him out there at least every 3-4 practices, I really like his style of coaching.
What if.... Coach Day goes 2-0 ballbuster start against TTUN. What if.... Harbaugh "leaves" after yr 6 to return to the NFL. What if.... They turn the tables and go after Hafley? Would he go? Would we see Transfer Portal get polluted with some of his recruits if he did? They are paying Harb 9-10,000,000, Offer of 5 Mil is savings for them, better Coach and shiv your Rival back. LOCK that Man up with "Brent Venables money" best thing I read today.