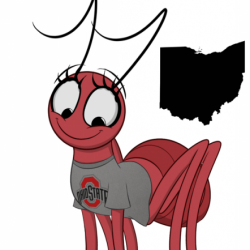 SpicyBoy
---
MEMBER SINCE July 19, 2016
Recent Activity
Do these look too much like maroon instead of scarlet to anyone else?
Man I love that bulldozing gif of Cardale. Collins goes back 5 yards.
I hereby pledge my 5'10", 33 year old services to be OSU's backup QB. If ever called upon, I would excel at handing the ball off to Dobbins or Teague. Just don't ask me to throw or run. Please.
The NCAA tourney has been a nice distraction but, man, I'm ready for fucking football to begin.
Hopefully he has a good showing at OSU's Pro Day. Dude is huge, so if he shows some athleticism and does well in the interviews, seems like he's gotta be a late round pick a team will take a chance on.
I remember all the hoopla around Pryor's commitment. I was a junior at the time on campus and had my sister texting updates on his press conference decision (WiFi and smartphones were not anywhere near as prevalent as they are now). Then he delayed his decision. He later committed anyway, but at least I didn't skip class to see him delay his decision.
Who decided to make Murray's and Haskins' pass chart in Comic Sans?
Good luck, my dude. Hope wherever you land works out for you.
I wish more highlight videos featured some of those darts Barrett threw on the final two drives. Those were some tight windows and the passes were perfect.
I'm late to the comment party but damn, Ramzy, A+ as always.
I say stick with Barrett right now to develop some rhythm with the receivers. If we suffer a Big Ten loss, then making the playoffs is almost certainly not happening. Plug in Haskins/Burrow to start to prepare for next season and get them some meaningful snaps.
Campbell seems ideal for kick returning because of his speed. But that seems all he is able to consistently do well. Would really like to see McCall supplant him if he can provide that consistency in all facets of the H-Back.
I get annoyed when some says it's THEE Ohio State University. Even more so if they correct me when I say I went to Ohio State.
Assuming he can stay healthy, I'm really expecting Dontre Wilson to break out this year. His sophomore year was going really well until that broken foot. Now there is less proven talent to take away snaps from him and we're told he's in good health. This is his year.
I completely forgot about that kid flipping off the camera and the camera quickly panning away. I remember seeing that live and rewinding about 10 times laughing my ass off.
On a different note, I'd love to see us play Cincinnati more often. My family all hates OSU and complains that they never play UC. So to shut them up on a yearly basis by stomping UC would be enjoyable. Could also be another fun rivalry to add to the season.
I wonder if it's just a lack of experience that has the coaching staff reluctant to name Weber the starter or if there's something else going on with him.