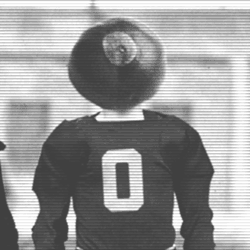 spacemonkey57
---
Member since 14 July 2012 | Blog
Recent Activity
I don't know who they are but fuck them
Come on, you think just any idiot could have figured out to hire Urban Meyer? Gene deserves every nickel of that $1.5M. Administrators are the best thing about college sports.
That's problematic because of the implication that the players aren't human beings. Also it sounds like the worlds most terrifying adult film.
Here's a handy guide on twitter and how you should tweet college football players you don't know:
1. Don't tweet at college football players - it's creepy, what's wrong with you? Go and slam your head in your car door if you really need to get that frustration out.
I feel like I'm taking crazy pills here. Do people honestly not remember how bad Ohio State's offensive lines were under Bollman? Tressel called the plays. Bollman was too busy turning five star recruits into UDFAs to actually coordinate the offense.
I buy the 24 for them but I'd say we'll score at least 60.
"Am I going to rush home from a tennis game on Saturday to watch Minnesota and Rutgers if I live on Long Island?"
The only question I have this week is how many points do you think we'll be ahead by when the defense gets distracted and gives up two long touchdown passes? My bet is it'll be at least 35-3 before they score a TD. Final 58-17.
That and if you're going to commit pass interference make it flagrant enough that the guy can't catch the ball for a TD anyway.
You know who wears a visor under 40 in Ohio? Dudes in the caddy fraternity.
Agreed. I don't know what's wrong with you people who don't think Michigan being mediocre to bad is hilarious.
I am required by law to whine about how much I hate Maryland and Rutgers joining the conference in every post about Maryland and Rutgers.
I may be wrong but I thought that if Wisconsin had beaten Iowa in the 3:30 game that day they would have gone to the Rose Bowl and we would have cost Michigan a Rose Bowl berth. They would have been 7-1 in the conference with a 10-2 overall record vs. Michigan's 9-3.
Tell him Steve Dave, I bet he didn't even serve in World War I
I'm old and I wish they'd put the grey stripe back on the sleeves.
Did anyone take it as a bad thing?
In the immortal words of Jay Cutler "Don't Caaaaaaaaaaaaaaaaaaaaaaaaaaaaaaaaaaaaaare"
Truth. You can't even write bullshit "Defensive end looks unblockable" or "Quarterback finally learning to read defenses" articles in July.
In a dispute between private companies that write parking tickets and anyone the parking ticket company is in the wrong. That's assuming they weren't giving a ticket to some horrible monster like Hitler or Charles Woodson.
This is right. Minnesota? It's not 1947. Although I bet Minnesota has won as many national championships since 1947 as Michigan has.
I'm talking about his South Carolina tenure only. I'm sure he was trying harder at Florida. SEC wasn't nearly as tough when he was at UF as it is now either.
Saban has infinity times as many SEC titles as Spurrier. South Carolina is a perfect semi-retirement role for him, an Outback Bowl win is a great season. They've probably won as many games in the last ten years as they did in the fifty prior. Anywhere that actually gave a damn about winning would probably be getting a little salty now.
Maybe they could give Gene Smith a pay cut to offset the increased expenses.
Plus he was the best part of Deuce Bigelow.
This. Far be it from me to say anything good about Gene Smith, but have you seen the clown costumes Michigan and Nebraska play in?
On the plus side every time he gets one of these bonuses it highlights how broken NCAA sports are. All the money for the administrators, they're the real stars!