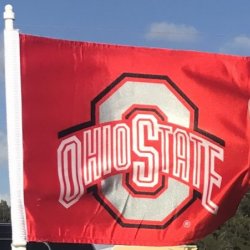 SpaceCoast
---
from Dayton
MEMBER SINCE August 30, 2018
Buckeye grad in '85 and '87. Saw the Buckeyes beat #1 Chuck Long and Iowa in '85.
Favorites
SPORTS MOMENT: Reds sweeping the Yankees in '76, followed closely by the Buckeyes over the Canes in '03.
Recent Activity
I was at the Superdome for the first Rams game last year. He's a monster, may end up re-writing the record books, and already has a good start.
When you're six feet down and staring at blue sky there is nowhere to go but up.
Everyone knows that your social media presence is what counts.
Craft... 63.8% from the line?

August 1 seems like an earlier start than usual.
Comment removed for violating the site's commenting policy.
Interesting that only one "negative" stat is mentioned... Schlicter's. Despite his moral shortcomings, he was a fantastic athlete and great to watch. Were it not for USC's cheating, he would have brought us another Natty.
Andrade seems to throw sidearm.
What kind of versatile athletes do we have (like Chris Gamble or Evan Spencer) do we have who could step in if necessary and make a go of it in a pinch?
Hopefully the uncertainty is being used as a tool to make them both try harder and get better faster. Fear (or hopefulness) can be great motivators.
Those rings are ridiculous, not classy at all.
They needed witnesses to the massacre of their defensive backfield.
Hard to believe a savvy guard couldn't get a 7-footer with wings like Diallo 3 or 4 easy dunks a game.
Are they going to be fast enough to catch backs who make it through the D-line?
Let's not go there, water under the bridge.
If there's "not" a "situation", then you wonder why he didn't think that through two months ago.
Nice to have 12 guys who could all see significant minutes. That's a lot of depth.

Native Daytonian here. PLEASE... leave Triangle Park the way it is, warts and all.
Nice to hear we are getting a slasher. Our lack of an answer against Houston's guards was painfully obvious.

The "experts" didn't think we could hang with Iowa State, let alone Houston. I think Holtmann got the most + some out of what he had to work with. Really looking forward to next season (and the next, and the next).
Would like to see Ahrens or another outside shooter get a hot hand against Houston.
Very proud of this team. They played a smart, tough and controlled game. A very sweet victory. Extra kudos to Kaleb for staying out of foul trouble.