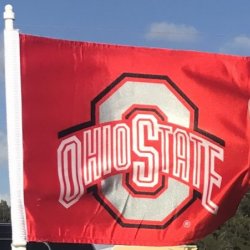 SpaceCoast
---
from Dayton
MEMBER SINCE August 30, 2018
Buckeye grad in '85 and '87. Saw the Buckeyes beat #1 Chuck Long and Iowa in '85.
Favorites
SPORTS MOMENT: Reds sweeping the Yankees in '76, followed closely by the Buckeyes over the Canes in '03.
Recent Activity
Yeah, it's a little like seeing Christmas decorations in September. Too early.
Same here, after a night loss in the Tressel era my wife made the mistake of saying "It's only a game" when I came to bed. After which I spent 15 minutes trying to (calmly) explain that it's NEVER "only a game" when it comes to Buckeye football.
We still talk about that one...
While the line has been blowing giant holes for JK, the team is tied for 71st in sacks allowed with 13 in 6 games. That needs to improve, not sure if it's mainly Fields' issue or not. We appear to be thinnest at our most important position.
The Flourish chart is cool but it needs a title to tell you that it's plotting the number of wins. It also needs to be noted that Nebraska and Penn State didn't get the vast majority of those wins vs. Big 10 competition.
It seemed as if KJ should have tried a little harder to tackle the guy after the interception before he ran back up the field. He was right there.
Note that JK is averaging 7.1 yards per carry vs. Chuba's 6.8
Put another way, the teams we have beaten so far this year are 20-6 in games where they didn't have to play us.
Right, OU isn't exactly known for its defense, more like the lack of it.
Day swapped out the plugs and fuel filter and has that baby purring like a kitten.
I don't think it was quite that simple - maybe an engine rebuild and new tires.
Once the game is comfortably in hand, take Fields off the field. It reduces the chance of him getting hurt and gets the backups into the flow of running offense.
Is that a throw back or a throw up?
I wouldn't be surprised to see Nebraska break through for an early score on sheer talent alone, but I expect that we will be in control by halftime and put the pedal to the metal in the 2nd half.
It's hard not to root for Rutgers, but do we really want to see Hairball shown the door so soon???
Now that's Speed in Space.
I would love to be a fly on the wall in the _ichigan's coaches meeting this morning.
If OU and a B1G rep both go undefeated, they will be chosen before a 1-loss SEC team, JMHO.

Glad to see they won yesterday so they don't increase the pressure on Brees to rush back. Cowboys will be a tough out though.
The memory of the Purdue game is still fresh enough to be used as extra motivation for every single Buckeye.
Pat Forde put us in his top 4 today, unbelievable. Says he was at the Indiana game.
I was at the Superdome for the first Rams game last year. He's a monster, may end up re-writing the record books, and already has a good start.
When you're six feet down and staring at blue sky there is nowhere to go but up.
Everyone knows that your social media presence is what counts.
Craft... 63.8% from the line?

August 1 seems like an earlier start than usual.