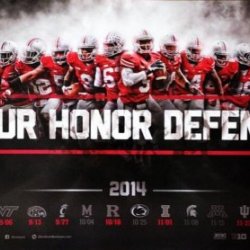 southernbuckeye
---
Valdosta, Ga. (via Painesville, Oh.)
Member since 16 October 2010 | Blog
Southerns are still fighting the war. I didn't believe it till I lived here. It's crazy.
Favorites
SPORTS MOMENT: 2003 Football National Championship
COLLEGE FOOTBALL PLAYER: Carlos Hyde
NFL TEAM: Browns
NHL TEAM: Blackhawks
NBA TEAM: Cavs
MLB TEAM: Indians
SOCCER TEAM: Chelsea
Recent Activity
Still can't believe we gave up 10 goals to scUM.
This just in................ Russell is really good. I'm going to enjoy him, this one year we have him.
Good old fashion ass whippin'...... Once they lost there center, and had to move the line around... The defense really turned it up. The wheels fell off shortly there after for wiskey. Hate them almost as much as SCum. Go Bucks!
Born and raised in Ohio. Moved to the deep south about 17 years ago. It has been an eye opener. Mrs. Meyer is spot on, the mentality down here is bizarre at times. I think part of it is ignorance, but a lot of it is this us against the rest of the country mind set southerners have. They are still fight the "war of northern aggression", as they call it down here. It's hard to appreciate the backwards thinking of the south till you have lived here for awhile.
Great job guys!! Keep it rolling!
The spring game should not be about a profit. It should be used to grow a fan base, for the future, and the games that matter.
That letter was ...........ON THE MONEY!!!!
It was at least worth a mention.
Fatty hoke is mearly showing up for the buffet.
always knew he had some thug in him.
going to miss him next year.
this team simply is not that good. they can improve by the end of the season, but they just don't have a ton of talent on this team. hate to say it.....
How about we don't dig a big hole today too!!
this team needs ross to play well EVERY night.
Don't like the early start time. We have played without passion at that time this season. Little worried........
that was painful to watch.
Bucks 78 msu 63
We have a new team to hate from up north. Rematch will be fun to watch!
wow, that was interesting?
I agree. It should read, "Diebler steal seals victory after BS foul call!"
going to be at the game tuesday. looking forward to it!