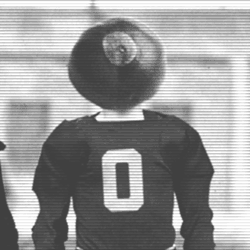 SouthernBuck
---
Member since 14 February 2011 | Blog
Favorites
SPORTS MOMENT: 2006 TSUN Game
COLLEGE FOOTBALL PLAYER: EDDIE
COLLEGE BASKETBALL PLAYER: Jay Burson
NFL TEAM: Bengals
NBA TEAM: Celtics
MLB TEAM: Da Reds!
Recent Activity
Somebody tell OleMiss this is how you call a "Hooker."
I trust Urbs. 4 to 6, A to B. Nine strong! OSU 42 - Clemson 24
Regardless of the results, I want to thank this Buckeye team for giving all that they have. I always try to remember that both teams are full of kids. Yeah, technically adults, but kids in reality. Both teams want to win, only one will.
Thank you 11W for keeping me informed and entertained throughout the season. Go Bucks!
So proud of Noah. Glad he chose to not let his mistakes define him.
Looks like an awesome time! I will one day make it to this!!
Anybody know where I can buy my wife a pair of the pants like Allison and Madison have on?
The head pro at that club, who is a great friend of mine, vowed that neither would ever be back. And so far, neither has.
We called a rules official.
For sure my fault for not paying attention. I was just upset because they allowed me to break a rule unknowingly.
Typical students don't make the university bookoo bucks.
I had an interesting event involving this rule....I was playing in my clubs version of the ryder cup in which we play a neighboring club and rotate venues each year.It was a two man best ball format. I had hit my approach close (4 or 5 feet) After hitting, i went to help my partner find his ball in the gooch. Meanwhile, the other team's players also hit their approaches.
After finding my partner's ball, we proceeded to the green. I marked my ball, the other players played out and I proceeded to make my putt. (blind squirrel) I was then informed by my opponents that one of their balls had hit mine knocking it closer to the hole. Because I had been looking for my partner's ball I didn't see it happen. My opponents allowed me to play without informing me of the incident. After threatening to throw them both in a pond, cursing, and a ruling, I was forced to forfeit the hole making the match all square after 16.
I managed to birdie the par 5 18th to win. Walked off without a handshake. Looking back, I should have behaved better than that but that was the maddest I've ever been on a golf course.
The best Tosh skit I've ever seen.....NSFW obviously
https://www.youtube.com/watch?v=0TvJy2Ot48M
I feel like the OC(s) are in a tough position because of the questions at QB. It seems like we don't have an identity. Plain and simple, we can't run the same plays with Cardale as we do with JT. They are different types of players. One is a threat to throw it over the defense. The other is a threat to run. Who are we? We can do either well. Not both.
Coaches need to....Pick one. Either one. Give him trust.
QB needs to....Let her rip. You are in this position because of your talent. Trust it.
I'm pretty sure they'll be back to school by then. The semester switch has changed everything.
why wouldn't there be students?
If you come down 33 from Columbus, you'll go by Athens. On down the road an hour you could hit Parkersburg, WV and that's a good time. After that it's just Charleston.
Headed to Duck the second week of June. Hope the riptides are a little less intense than they were the last time I was there.
if you're a "great outdoors" family, West Virginia has some beautiful state parks. Great whitewater rafting and fishing in the Fayetteville area. Snowshoe Mountain Resort, Stonewall Jackson Resort, and The Greenbrier are a little more expensive private resorts but really nice with lots of things for the family.
Meso is locked up with a new contract and is about to go on the DL for the year. We can only hope he gets healthy enough to catch. I'd keep Frazier. He's a solid 3rd baseman, is getting better at the plate, and most of all he's a vocal leader. I'd keep Billy but I wouldn't have him in the lead off spot just yet. I'd keep Cozart and put him in the leadoff spot for now with the hopes of him batting 2nd or 3rd when Billy grows up. I'm not sure anyone will touch Votto's contract so we're set at 1st. I hate to say it but I'm afraid BP is headed out.
The truth about Bruce is that he is a great right fielder and a very streaky hitter. The belief was that as he matured he would become more consistent at the plate. He hasn't. .200 and 20 is what he is. He shouldn't be put in a spot of the lineup that needs hits, he should be in spot of the lineup that getting a hit is gravy. As for trading, good luck.
Votto, on the the other hand, is a guy who gets on base. His streaks don't involve average so much as they do power. He has weeks where everything he hits goes to the wall or over it. Then he'll go a week without hitting a ball hard. In my mind, Votto is a 2 hole hitter.
I have no idea how much money the reds are willing to spend but if I had to guess, I'd say both Cueto and Leake are headed elsewhere.
Very excited to watch Jashon earn his way into Buckeye Grove.