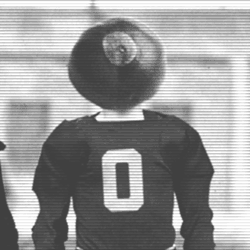 southbymidwest
---
MEMBER SINCE December 06, 2011
Favorites
COLLEGE FOOTBALL PLAYER: My favorite brother in law who played D-1 until he tore his ACL.
COLLEGE BASKETBALL PLAYER: Larry Byrd
NFL TEAM: Washington Redskins. But not their owner.
NHL TEAM: 1) Washington Caps 2) Detroit Red Wings
NBA TEAM: Don't care. Nuke
MLB TEAM: 1) Boston Red Sox 2) Boston Red Sox 3) Red Sox
SOCCER TEAM: USA Women's team
Recent Activity
So tired of the whataboutisms these days!
What a dick
My sister sent me a video taken by his dad? when he left the hospital with all of the staff clapping and cheering for him-I must admit, it made me tear up. I agree with you, I do hope advances in medicine in the future will help him and others who now have pulmonary or other issues resulting from this virus.
Bingo on the state legislature-there has been a tacit agreement for decades that OSU would play Ohio-based MAC teams at least every couple of years to "spread the wealth" as it were to make the legislature happy. Dad was in admin at BG, and they dealt with legislators getting teed off that there were too many Canadians or out-of-staters on hockey and other sports teams or as a percentage of students on campus, or felt that OSU was a big bully in sports and needed to be cut down, or other issues. Not everyone in the Ohio legislature is an OSU backer especially if they have a MAC team in their district. Playing Ohio based MAC teams helps sooth the cranky ones.
Yup. My sister lives in the NJ suburbs of NYC. Good family friends' 25 year old son who was a 2 time college AA in lacrosse got it, ended up on a ventilator at UPenn Medical Center for around 3 weeks, in hospital for a month, he was so sick that they enrolled him in a medical drug research trial at the hospital. It was touch and go there at some points. His parents couldn't visit him, neither could anyone else. He is still recovering, about 2 months later. He will have lifelong lung health issues from this. Odds would have shown that he should have just had a glancing blow of this, but that's not the way it worked for him.
NBC presented a live production of JC Superstar in 2018, with John Legend as Jesus Christ, Alice was King Herod. On another note, I saw Alice Cooper (including the original band) in the Toledo Sports Arena in 1972-ZZ Top opened for them, what a odd pairing. It was my first rock concert, and my mom drove my best friend and me to it. Some idiot threw an M-80 or the like onstage soon after Alice came on. The band exited the stage and never came back out. What a cluster. The MC kept coming back out on stage saying that the band would be back on in a little bit, that we had to be patient, but onviously never did. Management was quite concerned that people would riot if they told them right off the bat that the band had left the building within minutes of leaving the stage.
Best name - Jonny Cool from McDonough (what was his parent's second name choice? Sheesh)
Second best name - Jimmy McCool from New Hampton
Yeah, the New York Post is the Fox News of newspapers in NYC. So of course they are going to take aim at someone who was in the Obama administration.
Quite frankly, if she ended up on the boards of Battelle, Ross Labs or Nationwide, that would be great.
Cutting and running? Yeah, every college and university in the US is feeling the pain of COVID-19. OSU has lost upwards of 300 million dollars, and its balance sheet is far stronger than most other universities. SUN'y has to be hurting too. NY will probably be cutting their subsidies to state universities just like pretty much every other state that has been creamed by COVID-19. Doubt she had much to do with the money issues that popped up because of it.
How many donors were at her inauguration? If it made SUNY any money, I would be fine with that.
From her resume, it looks like OSU wants to increase the prestige of OSU as an academic and research based institution of higher learning-gotta grow the big donor pool and grant money coming into the school, because that's where the big bucks are-certainly not from the state or the in state tuition.
This is following what Notre Dame and U of South Carolina are doing (there might be others too), they were the first announced their plans maybe a month ago or so. Glad to see students getting the chance to get back/start the school year off on campus.
You might also want to look at a Toyota RAV-4. We had one for 10 years, and got rid of it because I wanted a new car-this one was awesome in every way, I don't think we paid for anything outside of normal maintenance. I just had 10 year old car fatigue. We test drove CR-Vs, but found that we felt a bit squished in the shoulder and head room. It also didnt have the pep that the RAV-4 did. But regardless, you have some really solid choices to choose from.
It used to be that the state would pay for the construction of new buildings on campus. Now, state universities have to foot the bill for new buildings and refurbishments unless a new program is being added. Donors can now donate to construction of non-athletic buildings in a way that they couldn't before.. Some of the buildings, like the dorms and frat/sorority row were pits or very outdated-the cost to refurb wasn't much less than rebuilding. I think BG, along with most state universities, had budgets that were quite tight, and didn't allow for anything to go wrong, certainly not any disruptions like COVID-19, but who knew something like this would come along? What the state used to pay for and no longer does is pretty mindblowing, and has had a significant impact on budgets, tuition and fees the past 30 years.
Yeah, it just sounded kind of odd. BG is going to have a really, really tough year, as will the vast majority of state supported universities in Ohio. Dewine has cut state support to universities by 20%, schools are reeling from the cost of shutting down due to COVID-19, many are experiencing a decline in enrollment due to a variety of factors, provosts (basically a university's vp of operations) are going to have to make some difficult and unpopular decisions, I'm afraid.
Was listening to ESPNU radio this afternoon, and Mark Packer had Dennis Dodd on. Dodd also expressed the possibility of teams only playing others in their conference that they could bus to. I also wondered about that, wouldnt it be better to be on a plane for an hour vs being on a bus for 8? They are both enclosed spaces with airflow ventilation that circulate the air and viruses/bacteria, correct?
I know the BGSU baseball alumni are livid that they were given no heads up and had no chance to fundraise to try to save the program like the hockey program was able to do a few years ago when it was on the chopping block. I really feel for those kids and coaches.
Idiot boy is lucky he is alive, running into a pole/tree can be deadly. Getting a suspension is easy compared to that.
UVA absolutely does not have higher standards for athletes. A friend's daughter was a cheerleader there, and spoke about the many athletes that she knew that had to take the 050 level athlete heavy classes (where 100 level classes are considered freshman level). Dirty secret there was all the scholarship athletes who were still taking freshman level classes their 3rd year (as what they call it) because they came in unprepared for the rigors of an excellent scholastic university. Blew my mind when she told us that.
Lived in Lincoln freshman year, '76-'77, 13 girls to a suite. That was a bit tough. By Winter quarter it was down to 11, which helped. Walking through the tundra to classes near South Campus was rough, but we were freshmen. Helped keep the freshman 15 at bay a little, ha. Hiking to Papa Joe's took a while, but that didn't stop us. All in all, a great experience.
Well said, Greenbriar, well said. It's almost impossible to succeed when you have that front office acting as a boat anchor.
Such an important issue. OSU daughter's best friend's dad (who was my daughter's favorite dad of all her friends' dads) was an acclaimed surgeon here in the DC area, graduate of TSUN and UVA med school, long story short, was diagnosed with a type of cardiomyopathy where the heart muscle hardens, leaving one with the distinct possibility of dropping suddenly from a heart attack or fainting spell. He had to give up his practice, as you can't be in the middle of a complicated surgery and drop to the floor. He went into a terrible depression, became an alcoholic, went to a rehab facility just for doctors more than once. His marriage crumbled. One lovely Fall day, during daughter's sophomore year in college ten years ago, he hung himself from the big old oak tree in their back yard with the rope from the swing that he had set up in the branches there years before. My daughter's friend found him. That act shattered his four kids, all with a variety of negative effects. Daughter's friend has been dating effed up guys since then, guys that need to be "fixed"- because she couldn't fix her father. Her sister is anorexic-couldnt control her dad's issues so she controls her body. Older brother has rage and drug issues that he didn't have before his dad died. Younger brother moved as far away as possible as soon as he could, because he couldn't deal with the family dynamics. I wish this brilliant, funny, acclaimed, beloved life saver of a man who loved his children with his whole heart and soul had realized what his one act would do to his children. He was in pain and probably thought their lives would be better without him. He was wrong. Oh, and his autopsy revealed that he did NOT have cardiomyopathy after all.
Watched the Fox pre-game and half-time shows today. Will be watching them every Saturday, so long ESPN Gameday! (I will miss the great signs though...) I enjoyed the easy camaraderie on the set, and the vibe. I thought Urban looked relaxed and comfortable, both with his assignment and with his cohorts. Matt and Reggie especially looked happy to have him with them. I'm looking forward to watching them this season. And I love me some Gus Johnson and Joel Klatt.
Sigh, sounds like our garage in Northern Virginia. My husband has somehow turned it into his man cave with the decorating you have described. I don't think I will ever get my car in the garage again.
So many good pieces of advice on here! As a long time resident here (married an Arlingtonian), I would say the Wharf is a great area to check out. Caps hockey games are great fun, as is Chinatown, the area around the Caps Center. Nothing better than a Nationals baseball game in the Summer. If you are into pro soccer (men's), D.C. United is very popular. The Redskins are popular, their owner, not so much. He is deeply, deeply unpopular. He has pretty much wrecked the team. Annapolis and the beaches are great. The museums are great. The local Buckeye alumni club is one of the best. They usually have 4 places for OSU football viewing parties, based on locations in the DMV. There are a bazillion Big 10 alumni in the area (including UM, Maryland and PSU especially), almost everyone here is from someplace else. There also are a lot of SECers, whatever. Harris Teeter and Wegmans grocery stores are best, and the DC Costco carries booze. Real estate prices are horrid. Having lived in both the NYC and DC suburbs, this Ohio girl would pick DC every.single.time. But I have to admit, if I could, I would move back to Columbus, if my husband and daughters were amenable to that.
Yeah, he couldn't tell any of his guy friends, and he knew I would just laugh at him but not question his sexuality. Although I did tell him that it had to be a pretty dark bar and/or he had to have had a couple drinks too many to not figure things out sooner.
An ex boyfriend of mine (I'm female) that I was still friends with after our breakup (he finished grad school when I was a senior and moved halfway across the country) came back to Columbus for some meeting, so we had dinner together. Turned out he had been on some interesting dates. He met a beautiful woman who looked like she could be a model in a bar, they hit it off, he ended up going home with her. Turned out she was a male transvestite. He figured it out when he felt the guy's umm, arousal. He couldn't get out of there fast enough. I laughed and laughed. The expression on his face while he was telling his story was priceless. How he didn't figure things out before that point is still surprising to me. That was in the early 80's .
Go, Fight, Win CalPoppy! Prayers for you to beat this, your family and friends to see you healed, and your medical team who will be working with you to get you past this bump in the road. Go Bucks, Go CalPoppy!