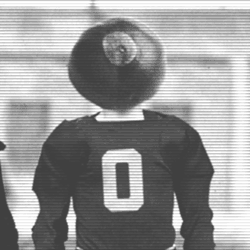 southbymidwest
---
Member since 06 December 2011 | Blog
Favorites
COLLEGE FOOTBALL PLAYER: My favorite brother in law who played D-1 until he tore his ACL.
COLLEGE BASKETBALL PLAYER: Larry Byrd
NFL TEAM: Washington Redskins. But not their owner.
NHL TEAM: 1) Washington Caps 2) Detroit Red Wings
NBA TEAM: Don't care. Nuke
MLB TEAM: 1) Boston Red Sox 2) Boston Red Sox 3) Red Sox
SOCCER TEAM: USA Women's team
Recent Activity
Plus he gives the team some added maturity.
What a complete team win-stifling defense, killer offense, goalie on fire today. Loved the unique haircuts and bleach jobs that a number of the guys sported. Congratulations guys! Looking forward to next weekend, just wish it was in Baltimore this year instead of Foxboro!
It was a great game to watch. I am also a big Joe Beninati fan, as he is the eccellent play by play guy for the Washington Capitals pro hockey team.
Growing up in Northwest Ohio, we listened to the Detroit radio stations. I can still sing the Elias Brothers Frisch's radio jingle decades later. Damn, now it is stuck in my head.
Growing up in Northwest Ohio, we listened to the Detroit radio stations. I can still sing the Elias Brothers Frisch's radio jingle decades later. Damn, now it is stuck in my head.
Heinz used to have a ketchup/canned tomatoes plant in Bowling Green back in the day, and when the wind blew the right way, the whole town would smell like it when the tomatoes came in. In the winter, the plant made canned dog food. The whole town would then smell like dog food, gak.
We also used to have a hometown potato chip- Cains. Every year we would have school field trips to see how they made them.
Congratulations Men's Volleybucks! Way to go!
Stephen is a young man who gets it. It is obvious he loves his teammates and school, and was important to the team despite not playing much. All the best to him, i hope he has a great life.
What a man, and let's not forget his wife, Barbara. What Buckeyes. Incredible people.
OSU daughter went to this every year when she was there, always had a fun time. Great charity, great job ATO!
So now Maycock is supposedly in the running for Redskins' GM, and might be enamored of Peppers. Oh barf.
Must admit, I love hearing about the Buckeyes in the NFL and former teammates coming to give support to and watch the Pro Day participants.
Mr. SBMW also misses Sonny (Jurgenson), Sam (Huff) and Frank (Herzog) broadcasting Skins games on the radio. As much as SS and F loved their team, they called them as they saw them. Frank was put out to pasture when they brought in a Redskins VP, Larry Michaels to call the game, Sam was retired when he started showing signs of dementia (possibly from CTE from his many years in football), and Sonny, while still on the broadcasts, sounds old, frail, and a step behind. They have him reading a lot of the ads and announcements, and not so much color. What is left is suck ups to "Mr. Snyder" (don't you dare call him Dan), and members of the clown show over in Ashburnistan (aptly named by Skins beat writer Dan Steinberg). Oh well, hopefully nowhere to go but up, ehh? But hey, it could be worse, I could be a Redskins fan AND a _ichigan (wo)Man. Shudders.
The Sports Junkies remarked this morning that millenials and gen xers only know the Redskins as an immensely frustrating joke of a team with a despised weenie Napoleon of an owner. They don't remember the Joe Gibbs/Beathard/Casserly era. My husband, a home grown Redskins fan since the 1960s might maybe watch part of a game if they are playing someone interesting and if he has nothing else going on. That is so sad considering that he was such a dyed in tbe wool fan for so long. Now he'd rather watch college football any day any time. Or practically anything else, including rom coms and ice skating. Or even the Damn Evil Dallas Cowboys, gasp.
Can't forget Corey Linsley, starting center for Green Bay...
Win WIn. Kyle gets his degree from OSU, then gets his Masters and hopefully lots of playing time at UC. Nice!
Grew up in BG. Really nice little college town. Lots of professors' and farmers' kids. Went to all the football, hockey and basketball games with my dad/family. Hockey was huge back then. Lots of people were BGSU and OSU fans except in hockey. Big rivalry there, as they both were in the WCHA (dissolved when the Big 10 started their own hockey league). Went to OSU because I knew the BG campus like the back of my hand, and was ready to try a bigger school. Loved my time at OSU, but have a very soft spot in my heart for BG.
Undergrad degree from OSU, grad degree from Duke, great decision.
Agreed. Gleitmann on buckets is saying basically that Urban is less than pleased with Studwara's OL coaching this year. Warinner killed on O Line, but not so much as OC. What I can't understand is that when they moved Warinner into the booth for the last few games last year, the offense suddenly clicked, and looked great. What happened this year to change it? Under developed OL and WRs?? Poor QB coaching?
Fabulous opportunity for Kenny. Good for him!
So I guess this is Zeke's NFL twist on the OSU mandate to "find an OL guy and give him a hug" when he reaches the end zone... he totally gets it, without good blocking by the OL, he's not getting those nice runs, so good for him!
I thought Tate looked a little stunned at first when he saw Eddie George, and tried to look nonchalant. I would imagine internally he wanted to jump up and down and run around the house hollering "holy effing sh#t Eddie George is in my kitchen making buckeyes and he gave me the Gatorade award!" and then collapse in a pile. But that would be seriously uncool, ya know?
I firmly believe that he will do quite well at UC. That painful season in 2011, where he had 2 hands tied behind his back due to being thrust into that position, having no say in hiring/firing assistant coaches and not having some of the best playmakers on the team including the QB would have made lesser men wither. He had the chance to study under master head coaches, and absorb new defensive schemes from Ash and Schiano. He will be fine. Godspeed Luke.
Could also be the way OSU runs academics- until you are accepted into the major/college of your choice, often after your sophomore year, you are technically still "exploring". For example, to get into Fisher, you have a bunch of prereqs and gpa requirements, then you have to petition to get in, if I recall correctly. Pretty hard to meet those reqs until end of sophomore year/beginning of junior year. Pretty sure it's the same with a number of other majors.
That's what I don't get with this booster's rant. He lives in Texas. He knows what U Texas football is. The reality is that most schools are stepping stones to the top of the college football food chain schools like Texas, OSU, Michigan, Alabama and a few others. Houston just came up against the reality of a hot assistant/young whiz kid coach that is destined to go farther. Ask those at BGSU when Urban left there. After Urban's first hair on fire year, they were hoping for another couple of years, but knew he would probably be moving on at some point. It is the nature if college football in the vast majority of cases.