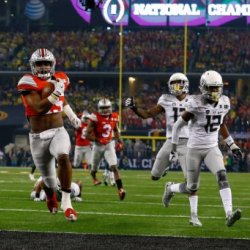 SouthBend Buckeye
South Bend, Indiana (via South Bend, Indiana)
MEMBER SINCE June 12, 2015
Favorites
SPORTS MOMENT: Attending 2015 B1G Championship game
COLLEGE FOOTBALL PLAYER: Ezekiel Elliott
NFL TEAM: Miami Dolphins
NBA TEAM: Indiana Pacers
Recent Activity
I can confirm everything about ND sucks
Will someone with the wherewithal update Coach Johnson's Wikipedia page? It lists rarely anything of his accomplishments as a Coach. Nothing about his B1G Championships, Bowl wins, National Championships...etc. and only lists Bosa, Bosa, Young as his OSU guys...no Hubbard, Lewis, Holmes, Harrison (TBD). I feel like he needs a better list of accomplishments...this guy is a legend! Before you ask - no I do not know how to update Wiki pages.
The most tragic season long occurrence this year has been that they continue to play Tuf Borland all those snaps while Brendon White plays sparingly. I understand they are different positions but have you seen Tuf play? Do you remember what White did last year? There is no reason they shouldn't move people around to get White on the field and Tuf off it.
Game was amazing to watch. The talent level on this team won't be matched for years. Makes the national title tough to watch knowing OSU should be there. But a great win nonetheless
That guy needs to quit drinking before submitting responses like that. Not taking Zeke over their average RB's? Get out of here.
I was born, raised, and still live in South Bend, IN (check my name). I am in the camp that absolutely despises ND and everything about them. It's in my DNA. Michigan is obviously my first hate, but ND is a close second.
At least we've already beat michigan
One of the greatest Buckeyes of all time. Can't blame him for declaring. Thanks for the memories Zeke.
Bye week is the worst. The absolute worst.
I know it's just a pessimistic attitude but I really think Walker is on his way out. Every sign looks to be pointing that way.
Best one of the year so far
I'm surprisingly impressed with the Coaches this week. Not too many things to complain about with this poll
Complete idiots. We have faith in you Cardale if you're reading this. Keep winning.
93.4% of the country missed a good game
Man he did look good last night. Hope he stays healthy all year
Players like this willing to give up the individual accolades for the greater good of the team is what's going to make our Buckeyes successful this year
As a fellow Hoosier what i love most is that he calls it "pop" and not soda