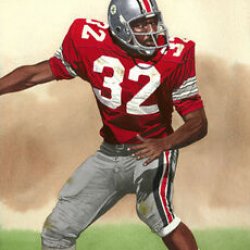 SoulPatrol32
---
Norman, OK
MEMBER SINCE February 03, 2015
Favorites
COLLEGE FOOTBALL PLAYER: Jack Tatum
Recent Activity
Stock Up: Senior WR's stepped up huge this past weekend. Hill already discussed but Victor and Mack also making some big time catches and some nice blocking on the outside.
The Schott is great for concerts but sucks for basketball.
#movebacktoStJohn
The Predator likes trophies!
Great job Jordan! A wonderful representative of OSU.
Josh's Mom straight going for the jugular!! Savage as hell.
And hey Troy someone got put in his rightful place, Coan by Proctor.
I just hope him signing his players card and giving it to J.K. isn't a NCAA impermissible benefit as we all know he's a Michigan Man.
This would be awesome if it happens. Can never have enough bodies on the interior DL.
I thought this whole year that Olave had the best hands of the receivers but Wilson has me rethinking this.
Classy J Taylor after the game. Young man did all he could and played a hell of a game. He's right about bringing it home for the Big10.
Tatumesque hit right there.
That he did and Cornell on the defensive side really stood out. Seniors stepping up big time tonight.
CHAMPIONS!! Way to go Bucks!!
Great career and stepping up big time tonight.
I also thought Decatur at first but like you I'm pleasantly surprised at what's going on with on our in Vegas. I'd still like to see Jordan get the nod though.
Andy, do you think Koontz replaces Kinner moving forward?
That is great news!! Jordan a true representation of a wonderful student athlete.
Congrats Kevin and welcome to team #outkickedtheircoverage.
Great tough tournament for the Bucks and good barometer to see where we are at against outstanding competition. I've been kind of surprised with Hoffman's struggles but I think he can be one of those that with more experience will make some noise in his weight class. I know Jaden personally and he has all sorts of swagger so excited to see how he does out West.
I know that with Justin Fields at QB has helped him alot but he took this past offseason seriously to improve on what seemed to be lacking last year. Last year he seemed to make a jump cut when he didn't have to while this year as you said he's making it where the hole will appear. I love the way he is running, catching and blocking this year and he has become such a complete back. J.K. is the best back in the nation and I've watched alot of Hubbard and Taylor.
Since they are so much smarter than all the OSU players and coaches they feel they can win with mental games.