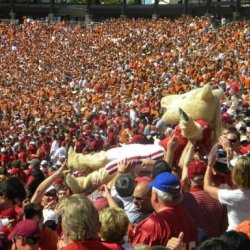 SoonerBred
---
from Tulsa, OK
MEMBER SINCE August 12, 2016
Favorites
COLLEGE FOOTBALL PLAYER: Samaje
COLLEGE BASKETBALL PLAYER: Buddy Hield
NHL TEAM: Blues
NBA TEAM: Thunder
Recent Activity
LOL regarding the rematch comment.
Sooner Magic is what has happened to Baylor.
Yeah, thanks for Grinch. Anyone take note of the short field Baylor had to negotiate to score those first half TDs? Or just that Grinch is the D Coordinator?
The loan did not come from Family which would include an aunt or uncle but from a family friend who he has known for 2-3 years.
Actually, at this point, anything anyone says on this thread, is total conjecture, speculation, a preconceived notion, an opinion.
It's nearly 100 in Oklahoma where the humidity is much higher than Pasadena.
The pass interference call in favor of Michigan State. I did not see any contact during the play or while watching one replay. Call that an incomplete pass and Michigan State is not kicking any field goals from a reasonable distance.
This list on Wikapedia. Shows national titles awarded by the AP, and in more recent years, under the BCS format.
1942, 1954, 1968, 2002, 2014.
https://en.wikipedia.org/wiki/List_of_Ohio_State_Buckeyes_football_seasons
Yes. Grinch pulled starters late in 3rd quarter. Part of his plan to see who will step up.
Defensive starters are out of the game for OU. Grinch wants to play backups to see who can play.
And Lincoln's playcalling is Vanilla.
OU has 4 new OL and new QB, as well.
Take your research from 40 to 60 years. 1948 to 2018.
Ohio State 634 wins; 177 losses; 17 ties; won 76.57 percent of games.
Oklahoma 638 wins; 179 losses; 12 ties; won 76.96 percent of games.
Conference championships for Buckeyes 31; for Sooners 40.
National championships for Buckeyes 4; for Sooners 7. (1948-2018; per AP/BCS game/CFP game)
Average Rank, AP Poll at Season End for Buckeyes 5.5; for Sooners 5.4.
Seasons not ranked by AP Poll end of Season Buckeyes 19; Sooners 17.
Bowl wins/losses/ties. Ohio State 25-24-0. Oklahoma 29-19-1. (since 1948)
I have no time or data to measure Strength of Schedule back to 1948.
Looks pretty darn close to me.
My Tie Breaker: Longest Winning Streak!! Buckeyes 23 consecutive 2012-2013 and 22 consecutive 1967-1969.
Sooners 47 consecutive 1953-1957; 31 consecutive 1948-1950; and 28 consecutive 1976-1975.
Got the numbers from Wikepedia by searching for List of Ohio State Football Seasons and List of Oklahoma Sooners Football Seasons.
I have not used Hulu but Sling to stream during the peak of the bowl season.
I watch in the stadium. On TV, over the air broadcasts on ABC and Fox and hopefully that is my game coverage needs. During bowl season, I have enrolled in Hulu the past 2 years right before New Years bowls to get ESPN's. Wife is a college basketball fan so we usually keep it for the full basketball season, then cancel
Lincoln Riley just received a commitment from 2021 quarterback, 5 star, Brock Vandagriff of Bogart, Georgia.
They left off Bill Bedenbaugh, the offensive line coach at Oklahoma.
Grinch has only proven himself while at Washington State. Only a couple seasons and the PAC-12 questionable in strength compared to other power conferences. Will be interesting to see what happens at OU over the next few seasons.
Venables had some of the very best defenses in the nation for several seasons. Prior to about 2007 or 2008 when the no huddle offenses began in the Big XII.
I will be at the Tulsa games. Any Buckeyes coming to Oklahoma?
Singing the Alma Mater is fine. Singing it to the opposing team's student section while holding at least 2 of those Basic Defense signs is like a knife in the gut to diehard OU fans. I laughed it off but Baker is a competitor and took it different. He wouldn't have cared if the Bucks had sung it following an OU win.. For the flag planting ceremony, the stadium was well more than half empty.
What makes Kyler trigger Buckeye Nation so much is they desperately want Nick Bosa to be the number 1 pick and now the media has replaced Bosa with Murray.