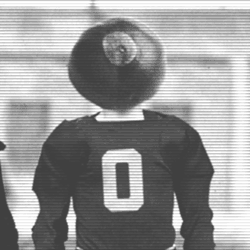 sonofsarek
---
Member since 08 May 2012 | Blog
Recent Activity
Listed above: all the adjectives "analysts" use to describe white athletes.
Erin Andrews? Not distracting? People either think she is hot or hella annoying (or both). Either way, she is distracting.
Role model? If by role model you mean shamelessly sleeping with players to get news stories, likely contracting HPV in the process which led to her getting cervical cancer, then sure, she's a role model.
It's like furry cosplay meets plantation owning slave holder. How much creepier can you get?
Dont like home night games.
Texas. USC. Penn State. Virginia Tech.
Plus 8pm games end at like midnight. I'm not 20 anymore. 6pm start would be better, but the TV dictators have another opinion.
That player eval meeting at the U looked incredibly disorganized, even with the editing. Say hello to another 8-4 year.
1) re: img - whether it's a math, acting, arts, military, or football academy, they all do the same thing: offer specialized training. Not right or wrong - just is.
2) not much osu or the ncaa can do about ppl tweeting recruits. If 100k bucks fans knocked on nick bosa's door, what are they going to do about it? Silly request that serves no purpose.
3) nothing can stop coaches from making fake twitter accounts to follow that 15 year old kid. That kid probably feels sorry for TSUN and pities them.
Too many RBs, TEs, and OL. Safe bet it is one of those position groups. I'll guess RB.
Dang....braxton's passes look sweet. Tight, sharp spirals. Good form.
Not to be debbie downer, but here are three reasons they won't:
1) it's extremely difficult.
2) complacence.
3) coaching turnover.
Oh look, Indiana's memorial stadium has an ugly cousin!
Tennessee:
Where tacky backgrounds, dollar store floor mats, and Hooters rejects....happens.
1) add 2nd deck to south stands
2) move southside scoreboard to northside over the rotunda pillars.
3) move students out of south stands
4) have south stands as dedicated alcohol section. Keep rest of stadium dry.
Tom Herman is just trying to floss in a state with four power conference teams.
five?
tech, baylor, ut, tcu, A&m.
Based on their performance, i have a hard time justifying anything higher than a 9 seed. They are a 1st round exit waiting to happen. No post game, lazy rebounding, mediocre FT%, no deep 3 threat = formula for disaster. It's Russell and a bunch of 1 (or 0) dimensional players. I'll let you determine who the 0 dimensional player is.
Agreed. Why would I want to go to a website that only delivered good news? That's not reality.
As of now, OSU's rpi is 40-ish, making them a 10 seed. They need to win a lot more to improve their seed due to their turrrible schedule.
You can coach speed, don't let other ppl tell you otherwise.
You can coach speed, strength, brains, and agility. The only thing you can't coach is height. #fact.
91 scholarships down to 88. Three more to go. Probably a combo of academic DQs and transfers for PT.
Espn has at least 4 buckeyes on staff: herbie, galloway, rob smith, and spielman.
They need an anti-osu guy to balance the tables.
Espn has at least 4 buckeyes on staff: herbie, galloway, rob smith, and spielman.
They need an anti-osu guy to balance the tables.
1) he should worry more about his morbid obesity than bama football
2) what language is he speaking? Hilljack? Redneck? Hillneck? Redjack? Proof positive that alabama deserves that ranking as 49th best in education.
3) if bama wins, so what? They beat a third string Qb with a rebuilt O-line. You want a cookie for that?
An ideal scenario would be to rotate chicago/nyc with the Big East.
Zone defense is fine against these glorified community colleges, but they need to can it once they face real competition. Way too many open jumpers and open lanes. Cuse has done this for years and it doesnt work come tourney time.
Navy!! Pays their coach more than Indiana and Rutgers. Come on man! You gotta be kidding me!