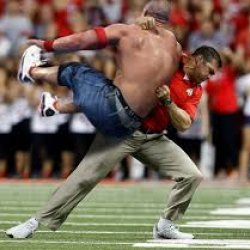 SonOfCarmen
---
MEMBER SINCE September 14, 2014
Recent Activity
I think C is the easy answer
I would never say no to Winfield and Tatum in the same Def backfield, sprinkle in Ward as a lockdown corner and Bell roaming
...and in a sport that chews young men up and spits them out as cripples, it is the only move.
+1
I'll agree to disagree with the defensive improvements. When you give up the second highest passing yd total to a true freshman walk-on QB (second to New Mexico...), it's pretty telling. Yeah, we got some turnovers, but that should happen in that situation. Everyone, DL, LBs, and safeties just seem out of position and unprepared for the offensive scheme. Those RPOs have been killing us for what seems like 3 years now. It doesn't seem like we're making any adjustments to our system to fix problems. And that is a coaching issue, not a player issue
I'm no lawyer, but I thought title referenced student against student and staff again student situations. Courtney is not to my knowledge a student of the university. I don't think urban failing to report these allegations falls under title ix.
Don't get me wrong, if he knew and did nothing, that's still on him and whatever repercussions are deserved. But I don't think this is equivalent to Michigan state in regards to title ix
good write up, Hawk SHOULD have a Butkus with his name too, I'm still pretty sore about that
I would disagree with the DE weight argument, in a 3-4 DE range from 280-310; see Cam Hayward, Stephen Tuitt, JJ watt, etc. I would actually say our current listed DE aren't big enough, as well as our NT/DT as you said.
I had thought about this when we lost Hubbard and lost some of the DE recruits we were wanting, and they could mix up the personnel packages to accommodate for the lack of current DE depth and still get a good rotation to keep guys fresh. It would incorporate fudging some roster position names like calling a Joe Cooper like player a DE/WLB, or HLB, or Viper.
I think they get some kids in the weight room, improve some quickness and get to an ideal weight and we may see some change of positions; maybe even bring down some LBs to play DE. And we will remain an even front 4-3 over.
Ibleedscarletandgray, were gonna have to get DJ a shirt
I knew it would be an answer while I was writing the thread
May have said it before, but very Vonn Bell...like style of play
Pitching in?...that's some next level sh*t
Noah Brown most definitely. That kid has to be motivated to show what he can do as the primary option at WR.
I would agree with Squirrel. This article seems to simply present information about the team and position breakdowns per class. Your post seemed to want the naming of names and speculation on who's career is over at OSU, to which the only point of would be a negative one in my opinion. Yes it is a fact that this will happen, but it is a negative fact and I don't think you can rationally argue that it is not negative. It's also a fact (more of a high likelihood) that player(s) will sustain an injury next year and miss football games; I believe it would be just as unproductive and pointless to speculate on which players will sustain an injury next year.
"Did somebody say Manbear?"
He's killing it at WR, may have been his best position. Could he have played there during his early years at OSU??...maybe play Kenny G at QB???...it's intriguing to think about for sure.
I believe McCoy was the rushing champ in Kelly's first year (1600+ yds, 2013), and then rushed for 1300+ in Kelly's second year. I get the square peg/ round hole idea, but I don't think you can say the Eagles were running a "read option" offense with Sam Bradford at QB.