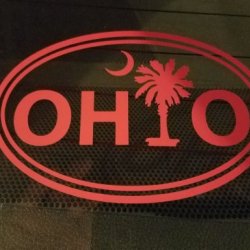 sonofbuck
---
Simpsonville SC (via Dayton OH-IO)
MEMBER SINCE December 13, 2014
Buckeye relocated to South Carolina
Favorites
SPORTS MOMENT: Watching EZ-E run 85 yards vs 'bama in a bar in sec country. A close second was meeting Earle Bruce at the Scarlet & Gray Game in Dayton back in the 80's. Earle was a fraternity brother of my Old Man.
NFL TEAM: BENGALS
NHL TEAM: hockey??
NBA TEAM: Celtics, because Dad loved Havlicek's game
MLB TEAM: Cincinnati Reds
SOCCER TEAM: Don't watch skinny euros who can't catch or throw
Recent Activity
Put Pete in the HOF!
dat boy is a dirty drug dispenser
Ramzy for the Win!
Very excited to see Hartline develope this young talent and keep the moniker WRU.
Get Dumped then Pat!
Hope Curtis can stay healthy all year. Dude is electric. Congrats to Carmen's Crew!
I'd Love to finish ahead of clemson if at all possible. Living in SC I get pretty tired of listening to their fans
Been waiting on this BOOM
Muck fichigan!
Great to see the Big Man dunk again!
I must concur. I don't understand why Dirty dabo is getting a Total Pass on this by the national media
Sorry Duke, just my impression of Canton. Traveled there 3 times with my wife for her job, not impressed. She made me accompany her for the last two visits as she didn't feel safe there. Visited the CFB HOF the summer before and found it much more impressive than the NFL HOF.
I was much more impressed with my visit to the CFB HOF in Atlanta. Sorry, but Canton is a dump.
Dirty dabo should test the other 100 kids and relinquish the title. But we all know that won't happen. Not like it was tatoos......
Zeke needs to chill the F out
I image those young ladies were feeling the after effects of that pub crawl for awhile
If it's brown, flush it down
The best guys in their best positions on the field should yield the best results.
Great to see a much needed victory!
I was expecting 2 National Championships. Still bewildered by 2015
The video of TMac as the gunner on the punt was pretty impressive. Looks like he's the total package
Sec will still hold on to that media narrative of being the best for awhile
Warrior, I'm in Greenville SC and I totally agree. Don't want to hear the clemson fans chirp
I O!
Sounds like possible good news for our Buckeyes