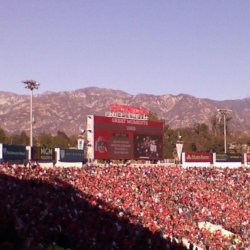 Sonof'47alum
---
MEMBER SINCE March 26, 2015
I have been a Buckeyes fan since the 1960s.
Favorites
SPORTS MOMENT: Earliest favorite moments as Buckeyes fan (all from '68 season): 1) reading newspaper account of upset of #1 Purdue, 13-0 (couldn't get the game on TV or radio in NY metro area back then); 2) listening to The Game on radio: a 50-14 rout; 3)!watching the Rose Bowl on a b & w TV with my mom and dad as the #1 Buckeyes beat #2 USC (with OJ Simpson) to secure the national title. What was great back then too was that they actually showed the Script Ohio in its entirety on TV.

Two favorite specific moments of recent years: 1) Cie Grant's blitz on 4th-and-goal at the end of the 2nd OT against Miami that resulted in the Buckeyes' first national title in 34 years--what an incredible feeling; 2) Zeke's 85-yard TD run that all but secured the win over Alabama.

And, how can I possibly omit this: finally making a trip to the ''Shoe and seeing the band come down the ramp and perform the Script Ohio; and, of course, seeing the Buckeyes play in person.

And the latest: seeing my first Rose Bowl—the Buckeyes' 28-23 win over Washington.
Recent Activity
Looking on the bright side, the stats are almost guaranteed to be better this season.
Fascinating numbers, thanks. These stats reinforce the long history of excellence Ohio State has had—especially in comparison to some other big-name programs. I never would have guessed the disparity between the Buckeyes and Alabama and Oklahoma.
PB, I'm not calling him a liar by any means. Baldwin's tweet spoke in general terms re his decision to transfer. I was merely defending him against the criticism that, if his transfer was indeed due to the prospect of sitting behind Fields, I totally understand that from my perspective as a former player. And, if his transfer has to do with a desire to be closer to home, I understand that as well.
Geez, I just saw this about Baldwin. I have long felt that QB is such a tough position to play because, unlike other positions, there is typically no chance of getting playing time in meaningful parts of the game in significant games if you are not the starting QB.
i played another varsity sport in college—soccer—and one of the pluses was that, even if you were not a starter, you could still be making a major game contribution (except for the goalie position which was pretty much the equivalent of a starting quarterback in terms of the absence of subbing).
So, there is a part of me that understands where Baldwin is coming from. Athletes in general want to get out on the field in a real game when it matters—not simply in mopup duty.
Having said that, I guess this must mean that Baldwin feels the starting job is clearly going to Fields.
I'm inclined to agree. The college I went to has had a longstanding tradition of one captain in each varsity sport (including football). I can see having co-captains—one each from the offense and defense—but, beyond that, it's probably excessive.
Sorry for triggering that memory.
I wasn't sure with the original post; that's fine with me.
I generally do prefer a close loss and knowing that my team belonged there. I'm talking here about an agonizingly close loss where your team should have won the game.
I also saw in the 2018 Media Guide that Kevin received his first varsity letter in 2017. I imagine there are a number of players who take getting a varsity letter for granted but I also imagine that Kevin was very proud to have achieved that milestone as a walk-on.
His mom gave him bad advice. His teams went 1-3 vs Buckeyes (from 1979-82).
Love your description of Bama. I would give up two upvotes for that if I could.
Gr, I guess I didn't express myself clearly enough. All I'm trying to say is that, given the format of conference play in the Big Ten (and the number of quality teams in the Buckeyes' division), it's more conducive to upsets happening. I'm not disputing the fact that whoever emerges as champion in the existing format deserves to be recognized as champion.
We could look at this from another angle: in national recruiting, Alabama has had the number one class I think every single year but one in the past six or seven seasons. Yet, during the six years Urban's teams were eligible to compete for the natty, Alabama won it all "only" twice, Clemson won the natty twice, Ohio State and Florida State each won one.
Surprises happen on the field regardless of recruiting rankings—always have and always will.
Unless you turn have Big Ten football emulate the Premier League—that is, schedule it so that all teams play one another home and away, and let the best overall record determine the champion—the truly "best" team is less likely to prevail.
I can relate in a way to this story because I set an unofficial record in the 100-yard-dash: slowest time ever by a varsity soccer player.
I would not overlook Larry Siegfried (and I say this as a diehard Knicks fan who feels the same way about the Celtics as Buckeye fans feel about Michigan).
I think Woody would have disagreed with you. I believe he had a special rug made with the score from the '69 Upset of the Century and placed that at the entrance to the football locker room, so that the team would see it every day in the 1970 season.
That fantasy Buckeye lineup would have indeed been mind-boggling. I'm just not sure it would have been clearly the greatest of all time. My freshman year in college, UCLA had a perfect season and featured two future HOFers in Bill Walton and Jamaal Wilkes, as well as a starting point guard and backup center who had pretty successful careers in the NBA: Henry Bibby and Swen Nater.
I totally forgot about Dudley's dual sports participation, thanks.
I believe he played through junior year.
It's hard for me to say which team would be best. But, as for Jerry Lucas having to match up against Zion: he played both power forward and center in the NBA and, at different points of his career, had to guard Wilt Chamberlain, Kareem Abdul-Jabbar, Willis Reed, Gus Johnson, Elgin Baylor...
I don't think he would have been intimidated by having to guard Zion.
Johnny, I spent over half of my childhood and a good part of my adult life in New England, specifically Connecticut. So, yes, I am fully familiar with what a Turkey Bowl is. But I had no idea this was a regional term. They don't play Turkey Bowls in Ohio or elsewhere in the Midwest?
PS I have complete confidence in Rysn Day—and that has nothing to do with regional loyalty.
PPS While I have complete confidence in Day, I hope people are not counting on his going 7-0 in his first seven games against TTUN. I'm just trying to be realistic here.