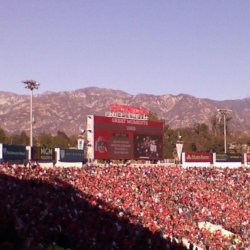 Sonof'47alum
---
MEMBER SINCE March 26, 2015
I have been a Buckeyes fan since the 1960s.
Favorites
SPORTS MOMENT: Earliest favorite moments as Buckeyes fan (all from '68 season): 1) reading newspaper account of upset of #1 Purdue, 13-0 (couldn't get the game on TV or radio in NY metro area back then); 2) listening to The Game on radio: a 50-14 rout; 3)!watching the Rose Bowl on a b & w TV with my mom and dad as the #1 Buckeyes beat #2 USC (with OJ Simpson) to secure the national title. What was great back then too was that they actually showed the Script Ohio in its entirety on TV.

Two favorite specific moments of recent years: 1) Cie Grant's blitz on 4th-and-goal at the end of the 2nd OT against Miami that resulted in the Buckeyes' first national title in 34 years--what an incredible feeling; 2) Zeke's 85-yard TD run that all but secured the win over Alabama.

And, how can I possibly omit this: finally making a trip to the ''Shoe and seeing the band come down the ramp and perform the Script Ohio; and, of course, seeing the Buckeyes play in person.

And the latest: seeing my first Rose Bowl—the Buckeyes' 28-23 win over Washington.
Recent Activity
Dan, a couple of questions:
—wasn't this really a 97-yard return?
—I heard or read somewhere that this was the fifth longest interception return in Ohio State history. If that's accurate—which is mind-boggling to me, do you know what the other longer interceptions were? Thanks.
A fitting finale to a fantastic afternoon.
I have never been to Indiana. But one of my all-time favorite movies, "Hoosiers," was set there and, as many know, inspired by a true story that happened in Indiana in the 1950s. So I can't hate the state.
Ramzy, I realize most of us are partial to the music we grew up with. Having seen Jr. Walker and the All Stars at a concert in a relatively small auditorium in 1970 while I was still in high school, I have a hard time imagining anyone surpassing his combination performance as both a vocalist and sax player that night.
Typing too fast. That should read Earle. And I can't believe I was already downvoted for a partial defense of Coop.
I meant to add: as a former player (soccer) in high school and college, I can attest that the players were defintely more psyched for the biggest games regardless of what a coach might say.
I have yet to see any contemporaneous accounts from the beginning of Cooper's time at Ohio State where it clearly showed he was treating Michigan like any other game on the schedule. Maybe he started doing that (in what turned out to be a poor choice of a psychological ploy) once his record in The Game was not measuring up.
But, at the beginning, one would think everyone was psyched—especially after Earl's final game in the rivalry.
A lot of great QBs to choose from in the past decade. It's a tough choice.
But, all I know is, I'm pretty sure there has been only one Ohio State QB in the past 50+ years of my being a fan who, up in Ann Arbor, led the Buckeyes on two TD drives with less than 8 minutes left in the 4th quarter to overcome a 9-point deficit against a ranked Michigan squad. How sweet it was!
https://m.youtube.com/watch?v=JLE-ZOsLcIo
Thanks to the moderators for the title edit clarification.
I posted this because I couldn't get over how hostile this alum was towards Harbaugh and that he didn't hesitate to express that to an Ohio State fan he just met. It made me wonder whether he was an outlier or possibly representative of a not insignificant portion of the fan base.
Of course, I never had such hostility towards Cooper but I know there were Buckeye fans who did.
I think Teevens' approach is all about practice, not the actual games.
Interesting analysis. What I have learned though from decades of watching college football is that the losses that do take place during the season can frequently come in the games you would never pick in the preseason.
I wholeheartedly agree with you that Michigan's offense will absolutely be better (and a lot more watchable for you), which alone gives me good reason to be very wary of The Game this year—and seemingly greater hope for M fans.
You seem like a nice guy and, this is nothing personal, but I hope you and Harbaugh are once again in very low spirits after this year's edition of The Game.
30+ concussions playing soccer? Wow, that is unfortunate and based on what I have read and my own experiences, I think that quantity is an outlier. I played soccer into my mid-50s and I suffered two possible concussions in all that time.
Coming back to the big picture, kids' brains are still developing in their pre-teen years. I know US youth soccer banned heading for kids under 11—at least that I think is the cut-off age.
From my perspective, tackle football and heading in soccer should not be allowed for kids under 13, period. Also, from everything I have seen, soccer remains a safer sport with respect to both head and back injuries.
Two are right up there as a fan of the team: 1) Easter Sunday 1973 Game 4 of the Eastern Conference Finals—double overtime!—between the Knicks and the Celtics at Madison Square Garden. The Knicks overcame a 16-point deficit at the end of the third period—in the era before the 3-point shot—and that remained a record comeback in the playoffs for many years. The Garden was as loud as anything I have ever witnessed—and the fact that it happened against the rival Celtics made it all the sweeter; plus, it happened on the way to what is still the Knicks' most recent NBA title.
2) 1965 County Championship game between my older brother's varsity high school soccer team and its arch-rivals, which my brother's team won, 2-1, on a very late goal. It doesn't get much better than that when you're a diehard sports fan in 7th grade.
As a neutral spectator: Game 6 of the 1975 World Series—the Carlton Fisk home run game. It was my first and only game ever at Fenway Park. As a baseball fan, I recognized what an amazing game it already was as we headed into the 10th inning and I told the guy sitting next to me at that point that it will probably go down as one of the greatest games in World Series history.
Are Harbaugh and Michigan truly pure as freshly fallen snow? Are any top D1 program and coach truly 100% controversy free? For one thing, I would imagine the admissions standards for Harbaugh's players are not the same as those for typical Michigan undergrads. So by that example alone, Harbaugh needs only to look in the mirror.
Maybe Jim should coach in the Ivy League or the Patriot League.
I think the coolest story I can relate here is that a good friend and former high school teammate played professionally in the NASL and he scored a goal at Giants Stadium against the Cosmos in their heyday with Pele, Beckenbauer, Carlos Alberto et al all on the field. I was so excited it felt almost as if I had scored that goal.
Sunny, I hear you. The flip side of that coin is that the tie still spoiled a perfect season for Michigan and prevented them from going to the Rose Bowl. But yes Woody, like Bo, could be very stubborn about wanting to cram it down the middle.
Great list, but I'm a bit surprised you and the others of our approximate age and stage didn't include 1973 and 2012. Undefeated speaks volumes to me—plus 1973 ended with that wonderful Rose Bowl revenge rout of USC++and a perfect season has been so rare in Ohio State history (plus 2012 was such a turnaround season in terms of the record and a come-from-behind victory over Michigan to preserve the perfect season).
Buck95: first-rate analysis and presentation. I have a feeling you were a star on the Debate team in high school and college. If not, you could have been.
I guess I will never understand parents who get worked up over refs in youth matches or high school games or anything of that nature.
The first time I ever recall seeing something involving a parent was when I was in 9th grade in the 1960s when my local high school won the state soccer title over our arch-rival, which was located in the next town over. It was naturally an intense match. Our team won 3-0 and shut down our opponent's top player who was the state's leading scorer.
At the game's conclusion, the father of that top player ran out in the field and verbally accosted the refs. He was a Greek immigrant, so people tried to minimize it by saying, in essence, well that's the kind of stuff that goes on in European or South American soccer matches. In other words, it was viewed as an aberration and wasn't the type of conduct we'd expect to see here.
Little did we know that berating refs would ultimately become so commonplace at youth and school games here.
Well, I'll provide another number.
I'm in my mid-60s with heart disease so I try not to get too worked up anymore about games...OK, admittedly that hasn't gone precisely to my intentions. So...I was a combination of being annoyed and exceptionally tense in the latter part of the Maryland game that I checked my heart rate, which was in the high 120s. I decided not to check my blood pressure.
My friend who is the local high school coach encourages his kids to play other varsity sports and/or intramural sports (other than soccer) during the winter and spring seasons. He's long been a firm believer in that.
The person who is probably our school's most successful soccer alum, Kyle Martino, enjoyed playing sports other than soccer (and thought that was helpful to his development).
Way back in my day, it was standard MO for the soccer stars to play—and star in—other high school varsity sports.
The simplicity of it all was one of the positives back in the day. I spent the first part of my childhood in Queens and a favorite game was stoopball. All you needed was a Spaldeen and your imagination in competing against a friend. It was an absolute blast as we pretended we were Willie Mays and Mickey Mantle.