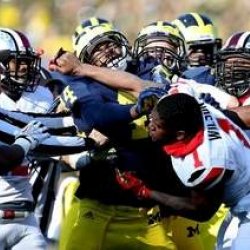 SomethingOriginal
---
Member since 08 September 2013 | Blog
Recent Activity
Why did that get me fired up... hell yes
Chip Kelly has too big of an ego to be a coordinator at this stage in his career
This is amazing! Thank you Brian
I know Im probably going to get hate for this, but maybe EZE shouldnt have played that game. Not saying that he was the problem, but OSU has tons of talent.
North Carolina WILL beat Clemson, the only issue is what happens to the bucks after that happens?
Also, what happened to hurry up? I saw we started moving quickly towards the end of the *ichigan game
I said it in a different thread, but as much as I like to see *ichigan lose, that botched punt lost us our chance to play in the Big 10 championship :(. I am still happy we did as well as we did!
Agreed
I was going to make this a separate post, but I don't have enough stickers. But I was thinking about how happy I was to see *ichigan lose to sparty, but if *ichigan would have won that game, then we still would have a better chance to get into the big 10 championship. :(
Yes! Such a leap from last year
Haha I would upvote if I could
So they said he had trouble maintaining balance, and couldn't walk. That loss of equilibrium is a symptom. The rest is pure speculation based on the fact that he probably doesn't want a concussion on his record
Alabama
OSU
Clemson
Oklahoma
I even thought that Oklahoma would jump Clemson based on SOS.
Braxton got a concussion... I have had several, and I knew it instantly. I really hope he sits out this week
I feel like the wildcat is just a set up for when we play ttun. Brax will set up in the wildcat, the play will start, he will step back and bomb it out to Thomas.. Just a set up
Who is #5 on offense? They look amazing..
I tore my first ACL playing soccer in noncontact, then my second 8 months later playing soccer again.... Terrible experience, I don't think I will ever fully recover and I am 30
I bough uppewr bowl tickets for around a grand each, going with my brother in law, brother and dad. Staying at thew days inn across from the stadium. Also I bought my ticket from DCA to DAL for around 300.
Just above the writing, right where the bottle stops curving. I don't know if that is clear enough. I also only used two small Granny Smiths because it would have been so much to empty out.
Haha I poured all of the excess into an empty cranberry juice bottle.. Saving it for later