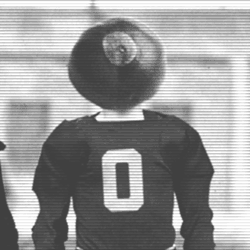 soldierdad
---
MEMBER SINCE December 01, 2013
Recent Activity
Kyle, STRONG point on Coach Yurcich.
It will be interesting to see if Burrow's numbers standup through the SEC cannibalization phase. Hope so, more than anything to solidify his draft status. Best of Luck Jeaux.
Went to sleep on the Browns for like two decades. Then they drafted J Peppers. That day the music died.
Baby Bear knows that "He who laughs last, laughs best." Clowns and all their shiny toys somehow never learn the game is all about blocking and tackling. F-em. Way to go all out savage Nick.
Jashon Cornell way to see it thru. You and Davon are just a testament to hanging tough. Coach Johnson, keeping these guys going and interested wins my respect. Man the feel goods abound.
Didn't they add an additional bowl for Sr.s? But you're right that it isn't a given to be given a slot.
Mack has an injury history, not great tape in terms of opportunities but has a few big time grabs, but also the melt down against TCU. Hope he stays healthy and finishes strong.
Victor is an enigma. Reminds me of Collinsworth. Fast, lanky, but certainly skilled. I'm hoping he gets a chance to make some catches using his length and gets a shot. No given for sure
Pro day and combines matter. KJ and Arnette get hurt there. Cornell, Dobbins, and Harrison will help themselves. Sr Bowl can help Mack, Bowen, Fuller to get late round grades, maybe Saunders to UDFA status.
For fun let's say Belichek drafts Landers as Mr Irrelevant and converts him to fullback. New Orleans drafts Victor in the 6th round and Wade late in the first keeping the future cupboard stocked with Nuts. LAC trade up to bookend Young with Big Bosa.
Hardest to predict is Jackson, KJ, and Fuller as far as possible early or really late, kind of like Weber last year.
Saban was just talking about resiliency on Gameday. Says it's the process of getting back to normal. That kind of underwhelms what that process is. That Coop was almost broken and had to fight through that process showed great character. The gulf between being broken to joyous is more than a process it's an act of will and grit. Revel in your joy and wreak havoc Coop.
Got a commit, the Fickells won over a ranked UCF, big Mo is rolling with us. Time to dispatch Sparty and cap the weekend.
Losing to UM is a local burden to bear with not much national significance. Winning a Natty brings bricks for the long term house of domination. I'd stub my toe for the benefit of Buckeye Nation getting stronger.
Latitude
Coalesces
Treasures
There were some similar articles as this about Josh in the run up to the Rose Bowl. Since then, I tell myself he is one of my favorites. Then I think we'll dang, who isn't one of my favorites. The feel good is real.
With you on your comment. Persevering through adversity is nothing that anyone chooses. The Refiner's fire in his case, will surely have him as pure gold in his faith and life. Nothing but the best for you Mr. Alabi.
Don't know who Dinich is. Don't care. However, if she contributes to "Ohio against the world" in our locker room all the better.
Whenever did money not attract players. If you pay them they will come. The NCAA (though it wouldn't happen at the onset) simply cannot be perceived as the less talented football organization. Think of the difference between FBS and FCS.
There are a lot of Cali schools that we don't pay much attention to that players will flood to to get paid.
Say good bye to good football in rural areas. The NCAA is to fair football competition in the same manner the electoral college keeps population megacenters from determining Presidential elections.
Love Dobbins in space, but man when Teague comes knocking with his pad level low, damn.
Agree the throw was not only great, but got out of Fields' hand on time.
I think the players are back in "The Chase" motto mode. Ironically its being spearheaded by a Chase. The year after the 2014 NC Meyer's new motto was "The Grind". The psychology of the two are akin to staying aggressive with a lead or going into the prevent D. As Fuller eluded to, the winning makes them even want to go faster. They know what can happen. The sting of the Committee disrespect because of Buckeye trip ups the past two years, is keeping the hunter mentality fresh. Jimmy Johnson used to say when you have talent to, "turn em loose." Coach Day doesn't need to stay up at night worrying how to keep these guys grounded. Turn em loose. These kids know there are potholes, but they want to go wide open.
Agree with Coach Day and tip your cap to Josh Alabi!
Yes, completely understand.
Temple was the Terrapin trap game they had live with through a bye. As much as teams have been raiding the Delmarva talent, time to build the wall, and make Penn State pay for it.
Trust but verify. Keep on eye on this young brother. I'm all for the start but I'd have Mr. Alabi warming up in the bullpen.
I hope Bowen is ready to go sooner than later. He needs a strong campaign, relatively injury free to get a sniff at the League.