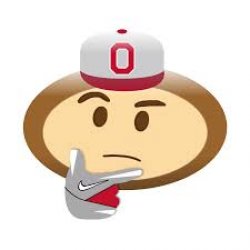 So Ill Buckeye
---
from Newark
MEMBER SINCE December 31, 2016
Recent Activity
Ha! same thought, just 30 seconds slower...
As a proud member of the 'down the depth chart squad' myself in HS (basketball division), I'm looking forward to seeing a lot of guys getting extra playing time again this week.
Also, clearly none of my business, but I wish they'd create one list of 'Still hurt' and another list of 'Could play, but resting because it's Rutgers'. Alabi for instance?
Wertheim's acting like a pitcher who won't change his underwear while he's on a winning streak. I appreciate his willingness to let his overall percentage drop by staying consistent, picking the other guys, and not jinxing us.
How exactly is he supposed to transfer to a school within a 100 mile radius of his hometown, when there isn't a FBS school in that radius? SMH. U of I is the closest FBS school to Carterville, IL. Ridiculous!
By the third paragraph - this is not a typical comment...instant light bulb (scrolls up)...yep, Buck 68. Maybe I've just missed them, but I haven't seen many of your comments lately. Hope all is well!

Read the Mike Leach story yesterday. Watching the replay posted above for a few minutes just to see the trickeration in action. The first OU touchdown (replay at 7:10) does that ball cross the goal line? He may have just flung it backward, but it definitely hits the ground around the 1-2 yard line.
Hmm...I really need Saturday to get here quick.
Side note - anyone else wish ESPN still allowed comments for the weekly Bottom 10?
Revised: Two down, 13 to go!
Circle the date 11/21/20. Winner keeps the Illibuck until 2024.
I was going to snark on that before I checked the keeper of all human knowledge (wikipedia) and noticed: The Illibuck Trophy is the centerpiece of an American college football rivalry between the Illinois Fighting Illini football team of the University of Illinois and Ohio State Buckeyes football team of The Ohio State University...
I can't pick on a centerpiece.
Carbondale, IL (via Newark and Chillicothe)
If true, I'm struggling with the Mullens issue. My knee jerk reaction is: should be simple, everyone gets a equal cut. But would he refuse to sign with an NBA team because he wasn't getting the same salary as Lebron or Curry? If you're Scoonie Penn, and you think you have a better chance of winning the tourney if you can convince Sully player X and/or player Y to participate, isn't that the smart thing to do (for everyone's sake)?
Yeah, it's strange math. More FBS schools + fewer non-conference games (at least for the B1G/PAC) = $1.8 million for Toledo to come to the Shoe?
You'd think the non-conference payouts would be on the decline as a greater number of non-power 5 teams compete for fewer games...
1AA (FBS) status won't help. See James Madison, Southern Illinois (ahem) and plenty of other FBS schools on the list from the USA Today report.
Div III possibly, but athletic departments shouldn't be funded at the levels many are, on the backs/debt load of the general student population.
Alabama is clearly in the 'haves' category. No, they don't need 2 mil in support. It's the staggering 144 of 230 schools on this list that get over 50% of their revenue from their student bodies through athletic fees. Are all of these schools inflating expenses - even the ones who are showing a deficit despite the astounding support they receive?

So here's my takeaway: apparently only 14 programs have the ability to run a program without assistance from the non-athlete portion of their student population.
Granted students receive something from their athletic fees - but at what cost - which obviously varies dramatically by program. let's throw in some leeway for fees - I'd like to see this broken down by allocation per student.
Here's an interesting look at fees for state universities in Virginia: http://research.schev.edu//tuitionfees/tfrb_NEG_report.asp which I found when looking up the top of the list for 'student allocated' dollars. I hope James Madison students received $1677 worth of value over the past year, or enjoyed the extra (1677 x 4) $6708 added to their student loans over four years. VMI - $3.243 for one year??
College athletics is truly in an age of haves and have nots, and I question the morality (too tough a word?) of imposing these fees on the backs of students who have little say over the matter.
Pay to play? Sure, right now at no more than 14 schools. Everyone else appears to need the assistance of their student body.
Clearly, it's not as simple as that. But to me, it's a huge wake up call to as to the expenses paid by the students at the non-Ohio States/Texas's of this world.
I'm calling it 58-50-6. If we're going to count games prior to helmets and the forward pass, I'm including the 2010 game that we all saw with our own eyes.
It looked to me that in a couple of his receptions Mack was very smart about knowing where the first down marker was, and showed a fight to make sure he surpassed it. No dancing around, just full steam forward.
Penn State finishes with one loss but is snubbed again

The Nittany Lions won the Big Ten last year but were left out because they had two losses. What if this year, Penn State's only loss is on the road to Ohio State? That's exactly what ESPN's FPI forecasts. If that happens, PSU probably wouldn't win the Big Ten because it would need Ohio State to lose twice, which is unlikely. The Buckeyes are favored by FPI to win out, but they face Michigan in Ann Arbor to end the regular season. It's very possible PSU has a better season but ends with the same CFP result.
I'll take all of that to go, please. I want to spend the next 10 days meditating that into existence.
The only way I can envision that happening: PSU (loses to OSU, and) has a better season, but ends with the same CFP result, would mean the Bucks suffer a second loss. Otherwise, Penn State wouldn't have a better season.
D.J. Please place an immediate stop to your meditation.
The hole in one wasn't that impressive, though. Being the course designer, he had an advantage on how to play it.

Unfortunately, I can't yet upvote, but I'm giving one to you in spirit Earle.
Grumble, grumble. As a (not particularly good) 5 during my playing days, can I complain about how the scoring rules in 3v3 further devalues someone with those skill sets, to basically defensive use only. It's bad enough my shot only counts as 2/3 the points in our old man games.
At the risk of not sounding as devoted as the rest, I prefer to DVR the games and start watching 1-2 hours into them. I had to start doing this when the kids had youth sports Saturday mornings that didn't end until around 1pm. I get finished at ~ the same time, fast-forwarding through commercials/halftime, and save myself a bunch of time. Can't really do that with 7pm games (central time) as I've already waited too long for it to start. Though I do admit the atmosphere is worth it for big games.
D.J.,
I try to read every day, but can't remember why you dislike Miami ('90)? If i mention my girlfriend at the time was from Piqua, would that mean we can still be friends?
3M, the other thing is that we are looking at this from a glass way over half full perspective at OSU. How many universities are in this situation where paying is even possible? Also, it can't be 'to heck with everyone else', or the universe of your competition shrinks dramatically.
It may just be envy, but I'm still of the opinion that for a vast majority, even in Power 5 conferences, athletes still get a pretty good deal with a full ride.
A side note. My daughter pays $393.75/semester (three guesses where) as an Athletic Fund Fee The university states that: 'The Athletic Fund Fee partially funds the University's men's and women's intercollegiate athletic programs, including repair, replacement, and modernization of facilities and equipment used by them'. There's no money to spare, at what I believe could be/might be/are many institutions.
While we were back home over Christmas, I bought tickets for both my son and I to see the UNC Ashville game for $6 (total). We promptly upgraded our seats to the lower bowl because there were huge groups of open sections. As you mentioned, $10 to park. Grumble.
I want to support Thad, but when we're consistently the 3rd, 4th, 5th? (my vote is 4th) best team in the state, with unparalleled resources (in Ohio) something has to change.

What's that you say? A capable return man? Yes, please! How soon can we get him on the field?