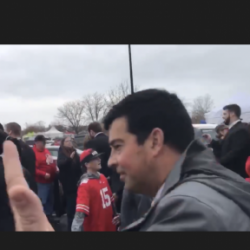 SnGinWV
---
West Virginia (via Small town Ohio )
MEMBER SINCE May 01, 2018
Born and raised in the great state of Ohio.
Favorites
SPORTS MOMENT: Kirk Gibson's home run ... Zekes 85 through the heart of the south
Personal moment ... running the Boston Marathon

COLLEGE FOOTBALL PLAYER: Chris Spielman or Eddie George ...
COLLEGE BASKETBALL PLAYER: Chris Jent
NFL TEAM: Whatever team has Buckeyes
NBA TEAM: The Lebrons
MLB TEAM: none since the strike
Recent Activity
I hope Gus Johnson gets an invite
I agree... that's why I usually get it to go . . . :)
I agree..Giuseppi's pizza is a little better especially the plaza location
Jimmy's pizza - Ashville, Ohio . . it's now Mike's pizza and not the same
Lorobi's pizza - Gallipolis, Ohio
Grazianio's - Charleston, WV
Knarcisi . . . shit is offended
Coach Holtmann making all the right moves
Zach Harrison . . the build up .. his classmates producing it.. the shut down of this site.
it was crazy!
We were in Hilton Head last year for Thanksgiving.. My two sons ( 15-13) and I were on a bike ride to south beach for some ice cream. My boys were a little ahead of me.... I see two 18-19ish looking guys coming toward us, both wearing rival M gear. One of them says to my little guy ( who is wearing a Buckeye Nation hat) .. you guys are going down Saturday.. without missing a beat little man says...
were you even alive the last time Michigan won a big game..... I almost wrecked my bike laughing so hard.
Art Schlichter . . . regardless of how it all played out.. he was extremely talented
I watched him absolutely crush my High School.
Most of the 90's rival games.... sadly. We were the better team so many times.... damn.. it still hurts
I've never left the Shoe early. Win or lose I'm always one of the last to leave.
a lot of money to be made.... coaching utes
Yes... that's a lot of food.. but it was like $7.95 a platter. that's a lot of bang for your buck
DAMONS . . I loved the combo platters ..they were cheap. I'd eat two and then head to Scioto Downs and kill the $1 drafts
I hope we crush them . . I am still taking crap from the 2008 buttwhoopin they put on us in Cols. pretty sure it's our worst home defeat ever.
Jameson... give that kid the #7
Teddy Ginn 2.0
Wow!
awesome job, Nick
Congrats on breaking the legends record
I have an autographed helmet from him . . . kids, wife, dog, Eddies helmet. that's where it ranks..
this is awesome!
I love it when Cane fans still bring up the pass interference … or when our rival talks about the spot
it brings joy to my heart that it still bothers them.
the thrill of victory is the best feeling.... but a not too distant second is the agony of your foes defeat
As a dad who's son dreams of running cross country for the Buckeyes... I second this X a trillion
Brtutal ... listening at work .. glad I'm not watching this shit show
I am happy for you... somehow you've been able to let go of the 90's .... ahhh... wish I could say the same.
Day did say he remembers watching the OSU vs Michigan game with his grandpa as a kid, and dreamed of coaching here.
I hope he's able to live up to the lofty goals I expect of him :)
We make the drive to Lorobis all the time .... the pizza around here is terrible
She's wrong.... I'm still not over the Cooper years.
never will be