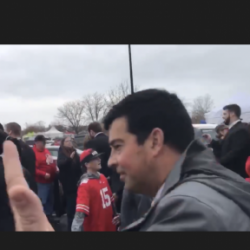 SnGinWV
---
West Virginia (via Small town Ohio )
MEMBER SINCE May 01, 2018
Born and raised in the great state of Ohio.
Favorites
SPORTS MOMENT: Kirk Gibson's home run ... Zekes 85 through the heart of the south
Personal moment ... running the Boston Marathon

COLLEGE FOOTBALL PLAYER: Chris Spielman or Eddie George ...
COLLEGE BASKETBALL PLAYER: Chris Jent
NFL TEAM: Whatever team has Buckeyes
NBA TEAM: The Lebrons
MLB TEAM: none since the strike
Recent Activity
55 on wet tall grass ... money !!
Leeeeetttttttttsssssss
Gooooooooooooooooo
Buckeyes!!!!
They're talking about you over at mgoblog … your take on the fumble problem they have.
Have you ever been on that site? and do you read other team sites?
keep up the good work.. you're doing great, JP
In the Nebraska post game interview... When Maria Taylor brought it up to coach Day... you can see ( lip read) him say
"don't jinx us"
His cover of the Dolly/Whitney hit.. I will always love you. is so F'n good
Great write up, KB
RIP..Chris
damn... Josh Perry with the hang time
major hops!
If Day can retain this staff . . . might want to make plans to expand the showroom at the Woddy
the QB run on 3rd and 10 … my son and I just looked at each other and smiled.. didn't have to say anything. friggin genius
your thoughts on the alt uniforms? like them? if so which ones were your favorites?
Josh
clearly this weeks game is one we should win easily … so I'm curious.
Will they dedicate some of this weeks prep on our rival? How often during the year did you guys do prep work on the rivalry game?
thank you!
thanks for the link to Ramzys story about Kris. it's a story I hadn't heard before.
rest in peace Kris 7-19-71 - 9-11-01 and to my mom 7-19-43 - 9-11-17
He and I were in the Shoe for a lot of the same games . . . hopefully we shared a random OH ...IO or a random high five to a stranger when your team makes a big play … life is full of crazy coincidences like that.
Haskins . . but my all time choice would be... Troy Smith
My new favorite... great job, Walt
I was in the Shoe for most of Ficks home games. He was an absolute menace. He'll always be one if my favorites. .. just not this Saturday.
Go Bucks!
Go Army!
In mid to late 90's there was a local band named crabapple .. they were pretty good.
They played Donato's on High quite a bit
Nice start
now let's go D
Damn.. I miss Chris Cornell
Go Bucks
As in Middle Tennessee State.. Blue Raiders
Go...Bucks!!
Go ...Blue Raiders!!!
my wife is a Marshall alum, and one of my best friends is a WVU alum . . so I usually go to at least one game of each every year
the atmosphere for a WVU game is pretty good.. but their fans are garbage. Marshall is a snoozefest.