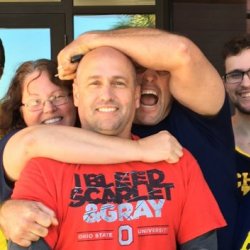 SneidReMark
---
Sumter, SC (via Helena, OH)
MEMBER SINCE December 01, 2017
Raised in the Buckeye state. Living in the south.
Favorites
NHL TEAM: Red Wings (Blue Jackets weren't around then)
Recent Activity
I've seen a few "targeting" calls where the defensive player was going in to make a clean hit when the ball carrier stuck his head down and made the ultimate 'crown of the helmet' penalty. As with a pass interference call, this should be able to go against the offense as well. If I were to be evil about this, it almost seemed like justice served on the couple of occasions where the ball carrier (at fault) actually did get their bell rung - but I would never take that approach.
27-3 in rivalry games. The post from Sports Source Analytics was wrong. Bowling Green's arch-rival, Toledo was 1-1 against Meyer in those seasons. Still an awesome coach and awesome legacy.
A lot of talk about TSUN's "best defense in the country". I don't really agree how that is calculated... by simple final game tallies. Shouldn't this be calculated like baseball calculates an ERA? I mean if your offense is on the field 2/3 of the game, you would expect the defense to give up less yardage and points, right? What if it was all calculated based on 1/2 of the game (30 minutes of regulation)? If I pitched and gave up 3 earned runs and only got 1 out, I'd have what... a 27 ERA? If you give up 200 yards and 20 points, but only played 15 minutes because your offense is a time hog, then by a "1/2 game" calculation, you'd have a 400 yards / game & 40 points / game equivalent. OSU's offense scores so quickly, that the defense is out there 2/3 of the game or more. I'd like to see how the teams around the country stack up if we used an ERA equivalent calculation for Defenses (& similarly, offenses). If anyone wants to run that calculation, I'd welcome it. My day job and other schedule prevents me from even starting it.