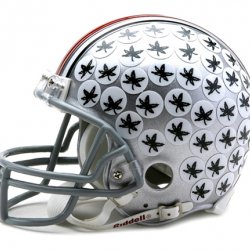 Smudman
---
MEMBER SINCE August 28, 2018
Recent Activity
I knew, like many others, that dude is special. Go Terry!
David is smoking Crack if he thinks the Buckeyes can get to the CFP with 2 losses! My book, were going 13-0, headed to the CFP!
He is a classless Douche. Like all of his type, his day of reckoning is coming. I'm guessing he'll mouth off about a lineman on his team, then they will kindly let a monster on the opposing teams D-line come through unblocked, and send him to the hospital. I'll be laughing.
I hope he does great. Last year, DH was awesome, but he had been with the program for a couple years. However, Trevor Lawrence at Clemson was a true Freshman, and he did okay (sarcasm) but he didn't start the season as the starter. Nevertheless, I hope Fields is an amazing dual threat that takes the Buckeyes back to the CFP. Let's Go Buckeyes!
Make this kid run the steps at The Shoe! Never give them any bulletin board material.
Everyone knows the most annoying fanbase is Wisconsin! No doubt about it.
Can they make one with Fake Jewels and cheap metal for fans? :o)
So many memories. Cooper did recruit at a high level. That's what was frustrating about it. Our rosters we stacked and we should have beaten TTUN practically every time we played them, but we didn't. Back then, the rivalry was in full force. Back then, it was gut wrenching losing time and time again to a team that everyone knew as inferior. Back then, losing those games to TTUN blanketed all the great Cooper had built. I have great memories of beating Notre Dame, Penn State, being at the game when Eddie thrashed Illinois. But I also remember all the losses to TTUN and the Ugly showings in Bowl Games. Again, losing to teams we should have beaten. The cheap shots in those games. He had to go. The fact that Tressell won it all with 'His' players is a testament to how great of a Coach Tressell was, back then. I love everything that Meyer did for the program, but I still have a place in my heart for Tressell. When Tressell took over I told a friend "I don't care if we lose every other game, just BEAT TTUN", he did!
Never again do I want to see the Buckeye Football program suffer to TTUN like it did during the COOP era. I know many disagree with me. Many have only known the Rivalry to be tilted in Our favor and therefore don't see it as the only game that matters, but I still do.
Beat IOWA, Beat Purdue. Tell Delany to go home. That's it.
It's pretty simple. If you're going to play everyone up, you gotta have STUDS in the secondary, covering and tackling.
TE Blocking is good? Mmm, didn't I just read an article about our blocking problems and the TE's were in that conversation?
If that's true, that explains quite a bit. Db's and LB's are shooting the gaps on us.
I say, get Larry Johnson to coach the O-line. He can teach them how to counter all of the great D-line moves. He is the best.
I appreciate this article, because I'm going nuts trying to figure out why we have so much trouble running the football. Are our blocking schemes too ridiculous or too obvious? Our big monsters up front should be commanding the line. Are teams rushing the gaps with linebackers and DB's? If so, do we not see it and audible out to a pass? We have too much talent to have such low production. I hope the get it together before our last 3 B1G games.
Ptua----whoops, I dribbled a bit.
Hey, what's growing out of Holtman's head? ;o)
This guy is a stud in the making. Possesses all the tools to be a real game changer. He played a HUGE role in the comeback, with the batted passes and the final defensive play for the Bucks. I know a lot of people think PSU deserved to win, but that's why we play 4 quarters. We were way behind in the stats at halftime, but look at the end game stats. You win in the 4th quarter, where the conditioning and training really kicks in! Bucks earned that win!
This is one of the big keys to the game, for certain. Haskins release will certainly help a great deal, as well as Weber and Dobbins having a solid night. I'm still saying 35-10 Buckeyes!
We will win the game. They're D-line is undersized compared to our O-line. Our D-line will be way too much for they're O-line. I'm guessing we'll give up some yardage (probably on a trick play or two) because our back 7 is still young, and McSorley will hit a couple jump pass deep shots. But in the end, we'll be too much to handle. Especially with Haskins throwing it all over the field. Their DB's will be gassed chasing our receivers. Buckeyes win 35-10.
I think the perception about OSU is, there's a New sheriff in town and his name is Haskins. Run the table and look good doing it (we don't have to blow everyone out, just the creampuffs) and we're in.
The best thing about Thursdays, the game Trailer!
Or, he could go on to be a famous person at something else, like coaching! Don't get me wrong, I love JT. Without a doubt my favorite Buckeye player of all time. (no offense to any others, I love them all) JT was a stand up guy. I know he had his DUI thing, but I was a kid once as well. He really ran the ship great for 4 years. I consider him a championship quarterback, even though he didn't get to play in it. No offense to Jones, but if there was no JT, there was no CFP Trophy. (IMHO) Nevertheless, if he does pursue coaching someday, I hope he's great and finds his way back to Columbus.