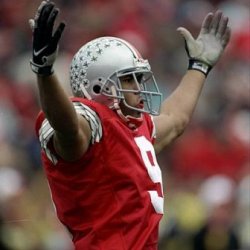 Smitty516
---
Columbus, OH (via Grove City, OH)
MEMBER SINCE November 04, 2018
Favorites
SPORTS MOMENT: Zeke's 85 Yard run through the heart of the south.
COLLEGE FOOTBALL PLAYER: David Boston
COLLEGE BASKETBALL PLAYER: Greg Oden
NFL TEAM: Cincinnati Bengals
NHL TEAM: Columbus Blue Jackets
MLB TEAM: Cincinnati Reds
Recent Activity
The dang basketball team isn't doing anything to help get things here faster. Come on fellas!
Nice. Gotta be pumped for that! Openers are always fun regardless of opponent. We will smack BG around similarly to the 2016 opener I imagine...
Slowly but surely we will get there. Dang I have the offseason blues...
It would be the first time I would watch it. Joey Freshwater on The Bachelor? Can't miss TV
I don't know, but banana fish might be the best explanation of Jim Harbaugh yet...
Nah, it's his everyday vehicle...
That would be awesome news Dubs. Any insight?
Looks like Kerry Coombs should be arriving soon...
Great list and blessed to be a Buckeye. Living through the 90s, I could never imagine a list like this. The list for the 2000s would be great as well...I might personally switch 1 and 2 around considering ttun was better in 2016 and the stakes were higher though both plays were great!
Does anyone hate Tate? I don't have sympathy for him, but at the same time this isn't a Kyle Kalis situation or anything...
He had some pretty big snaps against ttun! Thanks Chug. Go Bucks!
Lets go! 83 days until spring game!
This isn't an sec recruiting board ;)
Victor had a sick TD catch on a flea flicker in the Shrine game. Stole an INT from a Bama db...
Maybe things have changed and a DB is leaving? I have no idea, but would be surprising nonetheless...
Have you bought any Rutgers gear so you can cheer on your favorite all-time player in Brenden White? Knightbornbred...
Dang, 33 weeks from today!
Still gives me chills to think about.
Ole Miss, Zach Evans and Lane Kiffin? Nothing bad can happen here right?
The offseason is so cruel...
I enjoyed listening to him back in 2005 until I figured out he didn't actually watch the games, was ignorant of what was happening and thinks he is better than every other human being ever...
It had nothing to do with or first half struggle against Wisconsin as much as the make believe rankings of Georgia being the "4th best team" and Wisconsin only being the "8th best team" and the college football committee wanting to keep LSU in the south knowing Ohio State would still pack out the Fiesta Bowl.
Thanks for the thread Buckiowa, will definitely be checking in on this one. Some of the best recruiting tools for Ohio State is watching our guys tear up these practices, games and combine and of course the draft!...and somewhat pacifies the long, cruel offseason...