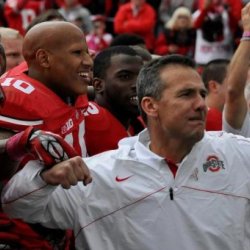 SmithStreetWoody
---
from Belle Center, OH
MEMBER SINCE November 19, 2014
There is Buckeye Football....and then there is everything else!
Favorites
SPORTS MOMENT: Entire 2002 season
COLLEGE FOOTBALL PLAYER: Chris Spielman
COLLEGE BASKETBALL PLAYER: Travis Ford
NFL TEAM: Browns
NHL TEAM: Jackets
NBA TEAM: Cavs
MLB TEAM: Tribe
SOCCER TEAM: Please....
Recent Activity
This is great for the B1G. scUM needs to be better! For the sake of the B1G they need to get back on track.
This is great for the B1G. scUM needs to be better! For the sake of the B1G they need to get back on track.
My dads family is in Campbell County. Whenever we go down I get A LOT of sideways looks lol. I just smile and wave.
First off, not everyone has Twitter. Second, this is BS. Every away game I have been too has been or damn near been a home away from home. This just plays into the malarkey the national media loves to push on us. There is nothing like Buckeye Nation!
We are seeing something that has been missing in Columbus for yrs. A completely competent staff! Its a damn fine time to be a Buckeye!
My bad...must not have gave it the once over before posting.

If you took 40 times from each school and labeled them "Team A" & "Team B" they look the same. You could do this for any stat really. To be a D1 athlete you have got to be in top condition. That gets even more across the board the higher level of play a school has. The top teams all have speed, power, size...etc. The dif is the kids will to work and the coaching staffs will to push and teach. Urban knows Saban and knows he has his hands full. He also knows Saban has HIS hands full as well. By the time kickoff gets here both these teams will be ready to run through walls and stop traffic. Im sure Urban is sitting back back wringing his hands knowing he has Bama right where he wants them. "Keep telling my team we are a bunch of lucky bums...keep sayin it". All OSU has to do is stay focused and execute. Jan 1st can't get here quick enough!
OSU is beyond lucky to have found this guy! Thank you Cam for being a Buckeye! I'm still waiting for him to just take off running and house one...
Word! It would just have been another nail in the coffin OSU has been buried in. A coffin that the talking heads and "experts" are quick to throw in the ground and dig back up at any time.....eSECpn. I can't wait to see their beady little eyes as they try to explain how OSU beat the $hit out of Bama. Oh and for "SEC speed"...the Varsity Club that Beanie pulled out against LSU speaks for that BS. Not only did he out run the LSU D...but he showed the B1G POWER. Tossed that poor kid aside like a White Castle bag on 23...
Turn down for what?!? Own that speech son! Dude kinda just renewed my faith in today's youth. Urban needs to hire this guy as their hype man.
It would be nice if he took care of the ball as well...
My bad....forgot about the kid from Oklahoma.
This is a just win situation. Be it by 30 or 1. The thing is though...to win any games form here on out its gonna have to be balls out and up on 11. Not being stupid, but relentlessly aggressive. The level of opponent is no bs now. Purdue is not taking the field in Indy....Wisconsin and Gordon are. Urban and his staff have a week to cook something up. I feel confident they will have a plan...just hope they do not have to bail out on it. Job number one here is stopping Gordon. Let that dude get off and it would not matter who was QB. This is where we see the genius of Urban Meyer. If pulls off the unthinkable and wins the whole damn thing...where should the statue be built?
BG
Arizona
Bama
GT
Buckeyes
After a day or two I had a bad feeling something happened. Its not always a good thing to be right. Heartbreaking really...22...way too young. Prayers for his family and friends.
I want to throw some shine on Cam Johnston. This guy is a lethal weapon! If you have a guy who can pin people down the way he does that takes a HUGE amount of pressure off the entire situation. Punters do not get the credit they deserve usually, but this dude should get the game ball! Keep it up and this guy will def be playing on Sunday.
Marshall and these young guys are just the tip of the iceberg! The coaching staff is doing some damn work on the recruiting trail. Not that any of the talent in the past 15 yrs or so has been bad. OSU always gets top guys. Just now maybe seeing a different athlete deciding OSU is the place for them. Look at who these most recent classes chose OSU over. Reads like a whos who of college football. Urban is building a monster.
We can only hope. OSU can win out and still its out of their hands. Hope the powers that be can see that this team is for real! This is not he team that shat down its leg against VTech. That team is long gone. This team is poised to smack someone in the damn mouth...just needs a chance.
LOL...YES! Thank you Football Gods for the bounty thou hast provided!
What Urban and the staff is doing is nothing but incredible! We are seeing the top athletes deciding OSU is a more attractive place than some schools across the Ohio River. OSU has always had a big reach nationally, but now it feels more like they can go where they want and get who they want. This is only the foundation! Its a damn good time to be a Buckeye...
WOW! Is this really happening? I'm about to go wonder aimlessly in heavy traffic...
This all the way. eSECpn may be whores...but hey are not stupid. Its good for business if OSU gets in. Massive loyal fan base that moves the dial. Not to mention the $$$ they stand to make. OSU is trending up so of course the gold diggers are calling. But yes...it feels nice!
56-17....14 of that 17 in garbage time. Bucks looks solid and confident.