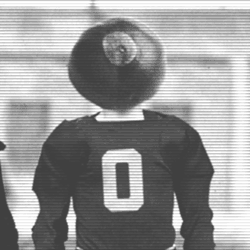 smiesguy
---
Member since 20 November 2013 | Blog
Recent Activity
Wish he would have let me know so I could have avoided that NYE nightmare!
Taking my 5yr old son to his first game ever for the Army matchup! Ticket prices are still crazy though!
EGW alone has the potential to salvage this class....
Endowment doesn't cover the cost of staff and maintenance on the new buildings.
Wonder if TTUN will have Peppers shadow Saumuel?
You're a braver man than I am if you're touching a Brazilian gas station bathroom door with anything but the bottom of your shoe...
This was a total shakedown including the crazy fines they are making these guys pay to leave that hell hole.
I'm so fired up I'm going to go push mow the lawn without using the self-propel!
Any chance the Browns can claim eminent domain and draft them all?
As a long suffering Browns fan, I see the Steelers snagging Brax, watch him marinade for a couple years and then let Antonio Brown walk in free agency as Brax becomes an All-Pro.
I can see the BOOM, but I just can't hear it yet, cause you know light travels faster then sound...
Herman is quickly following the Dantonio trajectory of beloved to respected to not quite hated...but close.
Maybe if you're talking Courtney Cox from the Friends era or better yet Counting Crows video.
That Houston coach is a genius!
Guessing that U-H on the helmets is University of Herman?
I Wonder how many NFL GM's would prefer Cook and Zeke on their squad over Henry and Fournette?
People from the same state had no love loss for UFM either.
Hi my name is Tim Beck and no one has my back.
While the wound is still very fresh, this was very helpful. Its so apparent now how this goes beyond just offensive play calling.
Sounds like you just described MSU's strategy.
Remember when we were good?
Rutgers is the fourth common opponent not Minnesota.
Call me old fashioned, but we don't need any new gimmicks for the offense this week, just solid execution on what we do well. Its all in on Barrett, Thomas, Zeke. The other stuff is noise. This is barely a Top 50 defense we're playing, so the worst thing we can do is make them bigger then they are. Spread them out, and attack.
Have to say I'm nervous about the QB run game here. Watching their game last week against a team that shall remain nameless, that QB run will be a big challenge for us. Feels like a game where its critical to jump on them early to force them away from a balanced attack.
With the way this week is going, I fully expect Gene Smith to announce tomorrow that Urban is done and Brady Hoke is our new head coach....
If only there were more then 20 ridiculously talented high schoolers that were willing and able to play football for the Buckeyes!