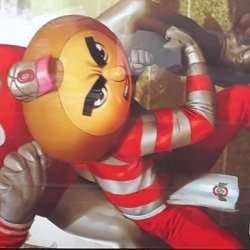 smibr37
Long Island, NY (via West Sayville)
MEMBER SINCE August 10, 2015
Born a Buckeye. My story reads much like Ms. Mona Lisa Vito's background as a mechanic: My father was a Buckeye. 2 aunts and 2 uncles on my father's side were Buckeyes. My Mother was a Buckeye. Her brother was a Buckeye. My cousin was a Buckeye. It goes on and on . . .
Favorites
SPORTS MOMENT: Going to a Dallas Cowboy game as 12 year old and realizing that I was staying in the same hotel as the team. Met a ton of players including my all-time favorite, Tony Dorsett.
NFL TEAM: Dallas Cowboys
NHL TEAM: NY Rangers
MLB TEAM: NY Mets
SOCCER TEAM: BU10 Baymen Maelstrom
Recent Activity
Apparently, they are dusting off the Ocho soon.
My alma mater, Springfield (Coach Myers' too), plays a heavy NESCAC OOC schedule. They have lost 3 games due to the cancellations, including one of their Spring break games. I'm surprised that the Ivy league cancelled their post-season basketball tourney, but allow the Spring sports to play, with exceptions. And if your Harvard, they cancelled everything else on campus and told students to move out, but still has Spring sports.
EMO was 6-6 yesterday. Leclaire's last goal (open net) was Man Up thanks to the delay of game on the sidelines re-start.
Cornell isn't the only one who likes Teat.
I love this series. How do you figure out who to choose and how do you go about getting the contact info? My apologies if it was covered in earlier rounds.
Besides Alex Stump, has there been any other recent OSU to Vandy transfers?
Who is graduating in the Spring/already graduated and can transfer without any of the eligibility hoops to jump through?
I'd say a LB. Only graduating Harrison and having signed a couple more is going to make for a very crowded room.
This is one reason why I bet his parents don't mind him enrolling early. The money they'll save is akin to finishing your car payments.
This hashtag does not meet the Coombs minimum requirement of 27 letters.
The OSU ones will probably start to show up more frequently as the game approaches on the 28th.
Do they still place tombstones in the ground for big wins? SMH
Pretty soon there will be more pictures of him in scarlet and gray than neon banana.
Great to hear that Hilliard was able to get another year. With the graduation of only Harrison, this room is stacked. It will be tough to spread the PT around to a very experienced group. Many of the reserves played well in their limited time and will want expanded minutes. It's going to be an interesting off-season for the LB's and the coaches.
Holy crap, Barf, you're on fire with these!
Their site must be down because I can't get on it. Shorted out by Wolverine tears?
Part of the issue with Rutgers is that since it is a state school, all the non-sports personnel gets their knickers all twisted when the athletics program gets more funds allocated.
The private jet usage is not out of the ordinary. Doesn't Coach Day get a certain number of hours of use of a private jet?
My sons are 8-1 and 13-1. They don't understand the anxiety on game day.
The pic showed up in the preview, not showing up here. . .
The flipping thing seems to be a frequent occurrence in lacrosse. The #1 recruit O'Neill was an original PSU commitment that flipped to Duke. Plenty of transfers after playing a year or two at an original school. Maybe we'll find another Ben Randall down the road. Also - there are a couple of more Islips: Central Islip, home of Malcom Pridgeon from the OSU gridiron (no lax team), and East Islip, home of Boomer Esiason. Actually, Islip is the better of the lax Islips lately. They won the NYS Class C championship in 2018.