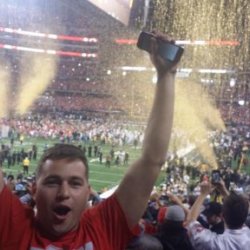 SLVRBLLTS
Tampa, FL
MEMBER SINCE January 12, 2011
Favorites
SPORTS MOMENT: See picture
COLLEGE FOOTBALL PLAYER: Chris Spielman
NFL TEAM: They play football on Sundays?
NHL TEAM: Tampa Bay Lightning
Recent Activity
I'll take 4 more top ten matchups to watch in December for any reason.
"Ok guys, if anyone asks you on camera, the message no matter what is 'we're just thrilled to have the chance to play for a national championship.' Period." - Ryan Day probably.
The mistake was erroneously ranking Georgia as a top 4 team to begin with. I don't believe they even watched that SEC championship game. LSU's defense gifted them with 3 or 4 easy TDs in the first half but either Fromm missed the WR or the WR dropped it. That game would have been much closer if Georgia wasn't garbage.
How did the committee not consider this exact point? Add in an FCS opponent in November too, and of course your defense improves. What a joke.
"Anybody anywhere anytime" which apparently includes an FCS team at home in November.
In that header photo it looks like that reporter wants a little more than an interview.
Been saying that all season. A calming presence. He's the steady heartbeat that sets the tone for this whole team.
This team is too disciplined to come this far and lose focus.
Olave simply didn't play enough minutes. Most of the voters put a lot of emphasis on stat sheets. Due to the fact that he split time with Mack (and neither of them played many full 2nd halves), he's been more of a quality over quantity type of WR this season.
Do you prefer noon games vs 3:30 or night games?
They play 2 different positions.
Fields has thrown about 2/3 of the total pass attempts that Burrow has so far this season.
Burrow - 348 attempts (38 TD/6 INT) vs Fields - 230 attempts (31 TD/1 INT)
Priorities:
1) Beat the rival
2) Win NC
3) Individual awards
Until Clemson proves otherwise, I'm going to assume they're going to be plenty competitive in the playoffs.
Cardale didn't go over well being on my list for our boy either. It's not over until the birth certificate is signed. Keep fighting.
Was secretly hoping Fields was on this list due to a hangnail or something.
SHI Stadium actually, which is even funnier.
Bingo. Auburn just inherited a whole bunch of new fans for the next couple weeks.
Georgia has beaten better teams than Bama has. But so has Minnesota.
Dobbins is gonna leave his mark by the end of the season too.