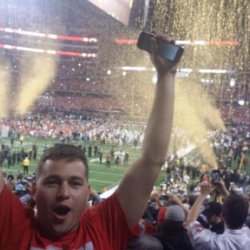 SLVRBLLTS
Tampa, FL
Member since 12 January 2011 | Blog
Favorites
SPORTS MOMENT: See picture
COLLEGE FOOTBALL PLAYER: Chris Spielman
NFL TEAM: They play football on Sundays?
NHL TEAM: Tampa Bay Lightning
Recent Activity
Beanie Wells was such a beast
Does that work? I figured there would be a delay/lag issue and it wouldn't sync well.
That was an excellent read. I loved the quote from Mike Doss:
DOSS: We had 45 days to prepare. We'd call out the play before they snapped it. 'Power right!' 'Stretch right!' ... I shot my gun and Willis shot his and we hit. And right then I knew: We can play with these guys ... Everyone was looking for that first contact between me and Willis. After that, those guys had to know it was going to be a long night. It was like, you better buckle your chin strap because we're right here.
I would disagree considering what happened last October. They won the Big Ten last year.
GOAT sighting
Ok I'll say it... I'm a fan of James Franklin. That program could have taken a nose dive and he's a big reason why it didn't. A competitive Penn State every year is what Ohio State needs and he's delivering that.
It's named after Yum! Brands (KFC, Pizza Hut, Taco Bell) headquartered in Louisville.
#loggedinjusttogivethatahelmetsticker
Yeah that was a 6pm kick and was ideal in my book. The only drawback to that start is that you're missing the final quarter of what could be good 3:30 games. It is better than a game that ends after midnight.
Whether he played poorly or not, booing your own team, namely the guy who stepped in and gave us that postseason to remember forever, is selfish and classless.
There was plenty of booing to do in that game but it was for the guys wearing the stripes (calling Conley and then ignoring the hit on JT out of bounds, Darron Lee was getting held all night).
You may have also noticed we blitzed the A gap quite a bit, which will leave the short middle open. If the blitz is effective (which I think it was for the most part), the QB is forced to look laterally to get rid of the ball (which he did), while also forcing a downhill RB (which Maryland has) outside as well. The game plan was perfect against a QB who cannot run as well as Hills. It seems like we prepared to play against Caleb Rowe and never adjusted to Hills.
Likely that Weber redshirts?
I'm almost certain that is Gus Malzahn, not Hugh Freeze.
Pretty sure out of market you'll be able to see it on ESPN2. That's where it is broadcasting here in Tampa.
Username is obviously after the buckeye defense. Avatar is me from the national championship in Dallas. I got free all access pass in exchange for selling programs before the game for a couple hours. Any open seat was mine for the taking and I ended up in section 120. Most badass day of my life.
Jalin if he doesn't go pro by then.